US Senator Rick Scott's Week in Review 09/23/2022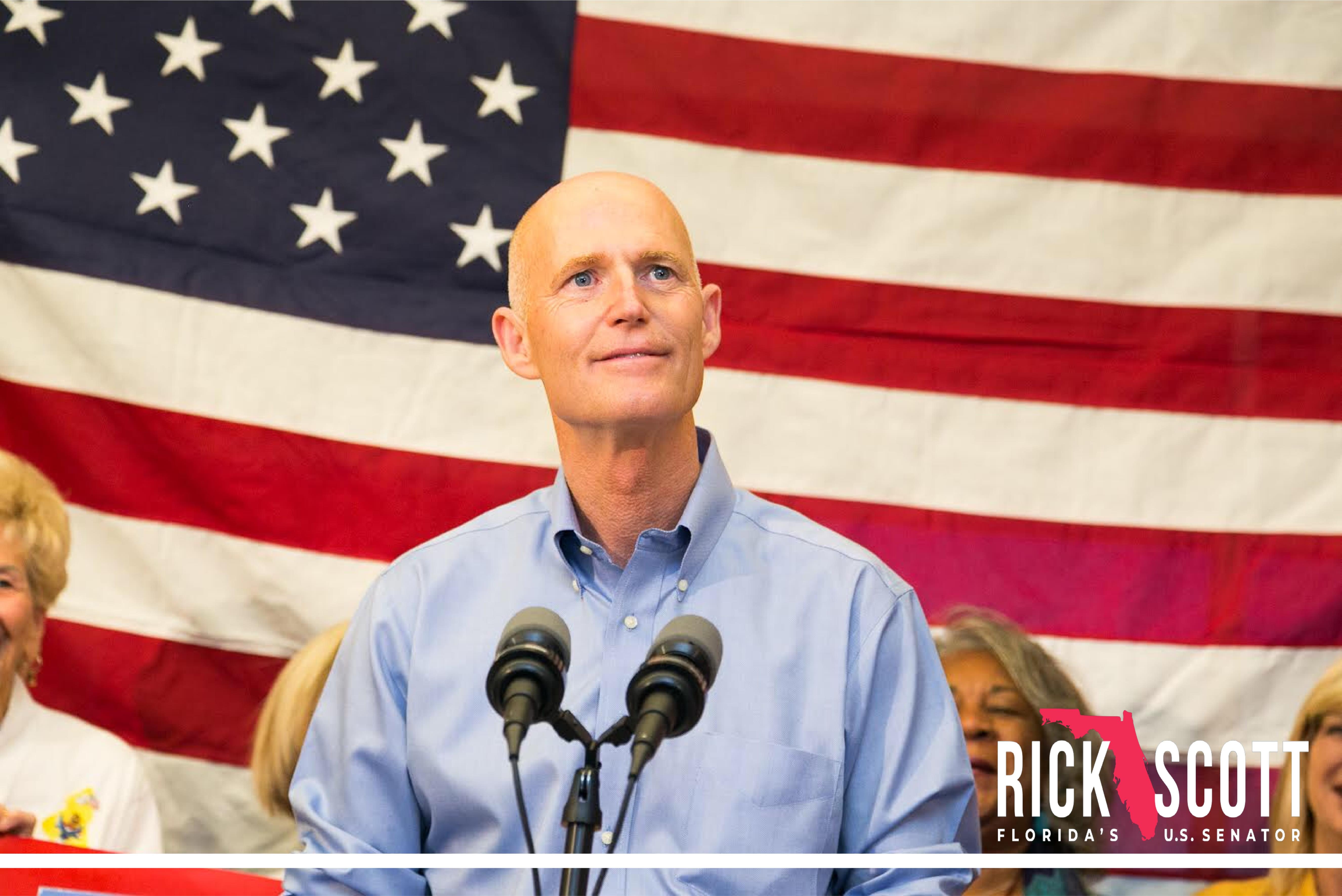 Senator Rick Scott released the following statement urging Floridians to stay alert and get prepared this weekend as the state monitors the path of Tropical Depression Nine, which currently the National Hurricane Center (NHC) forecasts to possibly become a major hurricane that could impact Florida as early as Tuesday, September 27.

Senator Rick Scott said, "Every Floridian needs to stay alert and take this storm seriously. If a major hurricane hits Florida, it could be absolutely devastating. We know how quickly severe weather can change and even though the current NHC forecast has a potential landfall days from now, it cannot be ignored. Starting today, I will be receiving regular briefings from Ken Graham, the Director of the U.S. National Weather Service, and my team and I will be in contact with local and state officials to make sure Florida is ready. Right now, my message to all Floridians is simple: get prepared. Florida is resilient because Floridians know how to prepare and now is the time for every family to make sure they have a plan, gas in their vehicles, seven days of food and water, medication and emergency supplies. Preparedness saves lives and Floridians must be ready."
Read more HERE. Lea más en español AQUÍ.
Click HERE for information on how to keep you and your family safe.
To be the first to find out about Senator Scott's actions and statements, follow him on Twitter, Facebook, Instagram, and LinkedIn.
—
See more of what Senator Scott has been up to this week below.
Sen. Rick Scott: Pete Antonacci Leaves a Remarkable Legacy of Service to Florida
Senator Rick Scott released the following statement following the passing of Pete Antonacci. During his two terms as Governor of Florida, Senator Scott appointed Mr. Antonacci as State Attorney for the Fifteenth Judicial Circuit, General Counsel in the Executive Office of the Governor, Executive Director of the South Florida Water Management District, Secretary of Commerce and CEO of Enterprise Florida, and Broward County Supervisor of Elections.

Senator Rick Scott said, "Pete Antonacci was a dedicated public servant and a devoted family man. Ann and I are devastated to learn of his loss and are praying for his family, friends and the countless Floridians who knew and loved Pete as we did. Pete was a proud Floridian, raised in Hialeah, and devoted decades of his life to serving Florida families as a prosecutor, master of the law and leader. When it came to his work, Pete could get anything done. From his time as my General Counsel in the Governor's Office, to being the Broward County Supervisor of Elections, Pete worked hard, with total integrity, and knew how to bring people together and solve problems. I was honored to call him a friend and proud to work with him. Pete will be terribly missed, but leaves behind a remarkable legacy of honorable service to our great State of Florida."
Read more HERE.
—
Sens. Rick Scott, Marco Rubio and Rep. González-Colón to FEMA: Puerto Rico's Recovery from Hurricane Fiona Must be a Top Priority
Senator Rick Scott led a letter with Senator Marco Rubio and Representative Jenniffer González-Colón to Federal Emergency Management Agency (FEMA) Administrator Deanne Criswell urging her to prioritize the recovery of Puerto Rico following the devastating impacts caused by Hurricane Fiona.

Read more HERE. Lea más en español AQUÍ.
—
Sen. Rick Scott, Sen. Marshall & Colleagues to FDA Commissioner: Quit Ignoring Baby Formula Applications
Senator Rick Scott joined Senator Roger Marshall and 11 of their colleagues in a letter to the U.S. Food and Drug Administration (FDA) regarding the agency's ongoing strategy to replenish the supply of baby formula across the country. In particular, the Senators expressed their concerns that the FDA has not approved enough formula applications to restore national baby formula supplies or prevent another shortage from occurring.

Read more from Senator Marshall's office HERE.
—
Sen. Rick Scott: Kigali Amendment is Soft on Communist China, Fails to Protect U.S. Interests
Senator Rick Scott released the following statement slamming the proposed Kigali Amendment to the Montreal Protocol for its failure to protect U.S. interests and softness on Communist China – the world's largest polluter – which it classifies as a "developing nation." The Senate is scheduled to vote on the Kigali Amendment today.

Senator Rick Scott said, "For far too long, Communist China has been granted ridiculous exemptions and access to precious U.S. taxpayer dollars because of its bogus classification as a 'developing nation.' It's time to end this failed, soft-handed approach NOW. Communist China has one goal: to dominate the world. Under the tyrannical leadership of General Secretary Xi, the Communist Chinese government will continue to lie, cheat and steal to get ahead – but only if we let them. Bad policy, like the Kigali Amendment, enables this dangerous behavior and sets precedent for the continued phony classification of Communist China as a developing nation. We must put U.S. national security first and treat Communist China like the enemy it is. I urge my colleagues in the Senate to reject this amendment."

Read more HERE.
—
Sen. Rick Scott, Sen. Joe Manchin and Rep. French Hill Applaud Congressional Passage of Bill to Block IMF Financing for Russia & Belarus
Senator Rick Scott, Senator Joe Manchin and Congressman French Hill applauded the Senate's final passage of their bipartisan, bicameral Russia and Belarus SDR Exchange Prohibition Act to prohibit the U.S. Treasury Secretary from exchanging dollars for International Monetary Fund (IMF) Special Drawing Rights (SDRs) held by Russia or Belarus. Russia and Belarus' SDRs currently total more than $25 billion and represent unconditional liquidity for the Putin and Lukashenko dictatorships, which is being used to finance the invasion of Ukraine. This legislation previously passed the House and now heads to the president's desk to become law.

Senator Rick Scott said, "As Russia wages war against Ukraine and threatens democracy in Europe, the United States cannot allow the IMF to be its piggy bank and finance these attacks. For too long, IMF countries were able to provide Putin and his thugs in Belarus with relief from the devastating sanctions that America and our fellow democracies have levied and open channels to funding from Communist China to fuel Russia's genocide and unjust war. Passing this bill is an important step to again make clear that the United States stands firmly with the people of Ukraine and will continue to punish Russia, and its evil ally Belarus, until Ukraine fully wins this war and Russia retreats. I am proud to join Senator Manchin and Congressman Hill to lead this bipartisan, bicameral effort, and look forward to it becoming law."

Read more HERE.
—
Sen. Rick Scott & Rep. Victoria Spartz: POW Rights, Red Cross Mission Must be Protected
Senator Rick Scott and Congresswoman Victoria Spartz (R-IN) released the following statement after meeting with Ukrainian soldiers who were recently held by Russia as prisoners of war (POW), as well as the family members of current Ukrainian POWs.

Russian forces are denying Ukrainian POWs the right guaranteed to them under the Geneva Convention to be visited by the International Committee of the Red Cross (ICRC). Congresswoman Spartz has been in contact with Patrick Hamilton, the Head of the ICRC's Delegation to the United States and Canada, and yesterday, following his meeting with Ukrainian service members and families, Senator Scott also spoke with Mr. Hamilton to express his strong support for the ICRC's mission and work to visit POWs and ensure proper treatment of these individuals in accordance with international treaties and laws.

"Since Russia's unlawful and violent invasion of Ukraine began, we have heard horrific stories of brutal violence both on and off the battlefield. Putin has laid bare his evil intentions for the world to see, and we cannot ignore it. While we have received many briefings here in Washington on the battles across Ukraine, hearing firsthand from these Ukrainian POWs and the family members of those currently being held by Russian forces this week further exposed the unbelievable brutality of Russia's war. It is essential that the ICRC have full access to all POWs. We fully support the ICRC's work of ensuring the human rights of POWs are protected and will never tolerate action to hinder its access or otherwise strip the rights afforded to POWs and humanitarian organization under the Geneva Convention."

Read the full letter HERE. 
—
Sens. Rick Scott, Marshall Bill Designates Drug Cartels as Foreign Terrorists
Amid the growing fentanyl crisis, Senator Rick Scott joined Senator Roger Marshall to introduce the Drug Cartel Terrorist Designation Act to formally designate drug cartels as Foreign Terrorist Organizations. As these cartels continue to invade our porous southern border with illicit guns and drugs that are killing hundreds of Americans each day, this designation is needed to ramp up efforts to combat them.

Senator Rick Scott said, "Fentanyl is a leading cause of death among young people in the United States—and those who knowingly distribute the highly lethal drug are declaring war on Americans. For far too long, people have suffered addiction and death because of this evil drug that is pouring across Joe Biden's open southern border; and to put an end to this crisis, these cartels must be held accountable and classified as terrorists. I am proud to join Senator Marshall in standing up against this crisis and urge this commonsense legislation pass the Senate immediately."

Read more from Senator Marshall's office HERE.
—
Sens. Rick Scott and Rubio Push USACE to Expedite Lake Okeechobee Watershed Restoration Project
Earlier this week, as the U.S. Army Corps of Engineers delayed the Lake Okeechobee Watershed Restoration Project (LOWRP), a critical component of the Comprehensive Everglades Restoration Plan (CERP), Senator Rick Scott joined Senator Marco Rubio and colleagues in sending a letter to Assistant Secretary of the Army Michael Connor and Commanding General and Chief of Engineers Headquarters Lieutenant General Scott Spellmon to expedite their Chief's Report to ensure the project's authorization is included in the Water Resources Development Act.
Read more from Senator Rubio's office HERE.
—
Sen. Rick Scott Demands Answers from SBA Administrator on $1.3 Billion in COVID Aid to Foreign Businesses, Criminal Organizations
Senator Rick Scott sent a letter to the Administrator of the Small Business Administration (SBA), Isabella Guzman, demanding a swift investigation and action from the SBA following reports that it wrongfully awarded $1.3 billion of taxpayer-funded COVID aid to foreign applicants and international criminal organizations.

Read the full letter HERE.
—
VIDEO RELEASE Sen. Rick Scott Leads Virtual Tour of Florida's Hispanic Communities in Celebration of Hispanic Heritage Month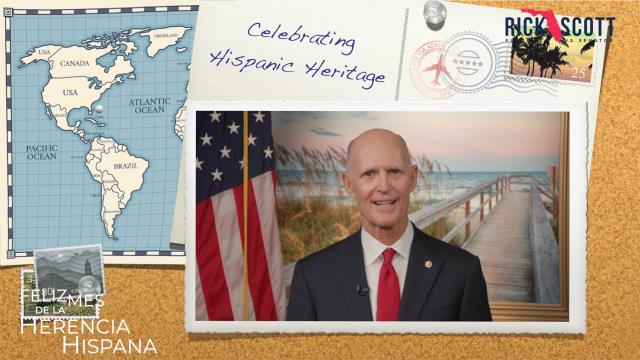 In recognition and celebration of Hispanic Heritage Month, Senator Rick Scott announced a video series to highlight the countless contributions of Florida's Hispanic communities. During Hispanic Heritage Month, Senator Scott will take Floridians on a virtual journey around the Sunshine State to showcase and honor the incredible people, stories, traditions and contributions of the Hispanic community that have shaped Florida's history and helped to make the state a great melting pot and the best place in the nation to live, work and raise a family. 

Senator Rick Scott said, "I'm honored to celebrate Hispanic Heritage Month and recognize the history, culture and countless contributions of the Hispanic community to the great state of Florida and our nation. The Hispanic community has helped shape Florida into the great state we know today – the best place in the nation to live, work and visit. Throughout the month, I will be leading a virtual journey to visit some of Florida's vibrant and Hispanic communities and highlight what makes these places so important to our state. I invite all of you to join me on this journey to celebrate the Hispanic Heritage Month in the Sunshine State. ¡Feliz Mes de la Herencia Hispana!"

See more in the video HERE. Vea más en el video AQUÍ.
—
Sen. Rick Scott Brings Home Big Wins for U.S. National Security & Florida's Coast Guard
Senator Rick Scott, a member of the Committee on Commerce, Science and Transportation, released the below statement following the passage of the U.S. Coast Guard Authorization Act (CGAA) which included five of his amendments—securing big wins for Florida, America's national security and the Coast Guard bases that call the Sunshine state home. This year's CGAA includes nearly $20.8 billion for FY 2022 and FY 2023 in authorized appropriations for the U.S. Coast Guard.

Senator Rick Scott said, "Florida plays an important role in America's national defense and security, and as a member of the Commerce Committee, I've been proud to fight for major investments in our Coast Guard over the past four years. I am especially proud of the work we have done in this year's authorization to improve enlisted families' living quarters, combat foreign threats like Communist China and expand drug interdiction efforts to keep our communities safe from deadly drugs, like fentanyl. As our country continues to face serious threats at and beyond our borders, The U.S. Coast Guard stands ready to protect our nation, and the CGAA will ensure these brave men and women are equipped to win any battle that comes before them."
Read more HERE.
—
Sen. Rick Scott Issues Weekly Update on Biden's Inflation Crisis
Senator Rick Scott released a weekly update on his actions to address America's debt crisis and rising inflation. Earlier this week, Senator Scott joined Maria Bartiromo on Fox Business to discuss the devastating impacts of President Biden's inflation crisis on American families and businesses.
See more HERE or in the clip below: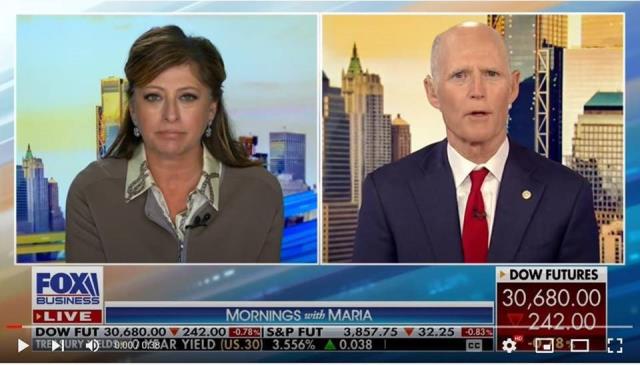 Read more HERE.  Lea más en español AQUÍ.
—
Tallahassee Democrat: Rick Scott, Marco Rubio urge FEMA to make Puerto Rico's recovery from Fiona 'top priority'
FL Politics: Rick Scott stands up for Ukrainian POWs
Sen. Rick Scott & Evan Hafer, Black Rifle Coffee Company CEO, in Fox News: Woke Wall Street is in for a Reckoning
Senator Rick Scott teamed up with Black Rifle Coffee Company CEO, Evan Hafer, to write an op-ed for Fox News about the dangers of woke Wall Street's backwards priorities and the impacts on American ideals like personal freedoms and the free-market system.

In theop-ed, Senator Rick Scott and Evan Hafer wrote:

"There are two reasons socialism will never catch on in this country – Americans aren't stupid and freedom can't exist without free-market capitalism.

Freedom means choices, which are the result of ideas competing for money. As people who have both built large, successful companies, we know that consumers reward entrepreneurs by buying their products and services and institutional financing flows to the winners. 

But in recent years, Wall Street elites have tried to replace this system of free-market capitalism with the socialist cult of 'ESG' (Environmental, Social and Governance). Now, woke Wall Street money managers think that they should decide who wins and loses, based on politics not profitability.

As businessmen, we find this ridiculous. As conservatives, we find it downright disturbing. 

Wall Street tried to make Black Rifle's veteran founders go woke. They told them to 'tone down' their gun-themed branding and delete shooting videos from their YouTube channel because it might offend snowflakes. 

The message was loud and clear – if you don't behave, we will starve you of funds. 

Businesses which sell unconventional products or serve conservative-leaning customers are constantly under pressure to conform with ESG and are often refused capital if they don't. This is not a warning about the future, this is the reality right now.

We're not afraid to say what everyone is thinking – ESG is the slippery slope to a Chinese-style social credit system. 

Americans are starting to see through the hypocrisy and political control. We agree that it's time for an ESG reckoning.

To urge that reckoning forward, Senator Scott has worked with his colleagues to bring the fight against ESG into the United States Senate. He has introduced the Transaction and Sourcing Knowledge (TASK) Act to require the Securities and Exchange Commission (SEC), as part of its evaluation of any ESG guidance to report on sourcing activities and transactions with companies done within the Xinjiang province in Communist China—known for human rights abuses, specifically against the Uyghur community. He is also urging ESG fund managers and state pension plan administrators to not prioritize ESG ideals, but do their intended job and responsibly manage investor dollars to provide a return on investment.

We will continue to fight this ridiculous practice, but the reality is that as long as woke Wall Street can continue to force conservative companies to conform, there can be no equal access to capital markets. 

A reckoning is coming for woke Wall Street. Let's make them face the music."

Read the full op-ed in Fox NewsHERE.

Sen. Rick Scott in The Washington Times: Biden's open borders fuel America's deadly fentanyl crisis

Senator Rick Scott wrote an op-ed for The Washington Times on how the Biden administration's policy of open borders is fueling the fentanyl crisis which is ravaging America's communities.

Senator Scott has introduced the END FENTANYL Act, the STOP FENTANYL PACKAGE Act, and the UPDATED USPS Act to curb fentanyl deaths, protect American families from deadly drugs, and provide state, local and federal agencies much-needed tools and resources to combat the opioid crisis.

In the op-ed, Senator Rick Scott wrote, "Earlier this year, I spoke with a mom in Kissimmee who tragically lost her son to an opioid overdose. The young man, who happened to be a member of our Armed Forces, had returned home for Mother's Day. While there, he met up with some old friends and was offered a Xanax to help with his anxiety. The pill he took was laced with fentanyl and it killed him.

Today, because of the raging crisis on our border and the deadly opioid crisis it is fueling, too many American families now know what this terrible loss is like. I'm fighting in the Senate to end this crisis and stop the suffering it's causing across America.

While our brave border patrol agents are doing everything they can to stop the flow of these deadly drugs into America's neighborhoods, the Biden administration has left them understaffed and under-resourced.

What is President Biden doing to stop the fentanyl killing spree? Nothing.

Since the very day he took office, Joe Biden has worked to dismantle our border protection policies. His amnesty agenda and open border policies have led to record-breaking illegal immigration, and with it, an unchecked deluge of drugs pouring into the United States.

We need political leaders who are willing to stand up, enforce our laws and protect Americans. That's why I continue to demand that Joe Biden reverse course and secure the border, and why I've introduced multiple pieces of legislation to improve our federal response to the opioid epidemic.

First, I'm fighting to pass my bipartisan END FENTANYL Act to require U.S. Customs and Border Protection to update its policies at least once every three years to ensure the drug interdiction guidance is up-to-date.

Second, I've introduced the STOP FENTANYL PACKAGE Act.

Finally, I will be fighting to pass the UPDATED USPS Act to curb the flow of fentanyl through the mail.

We don't have time to wait, and I won't stop fighting in the Senate to bring an end to this horrible crisis."

Read the full op-ed in The Washington Times HERE.
Sen. Scott's Team in Orlando
This week, members of Senator Scott's team attended the Casa De Mexico's 212th Independence Day Celebration.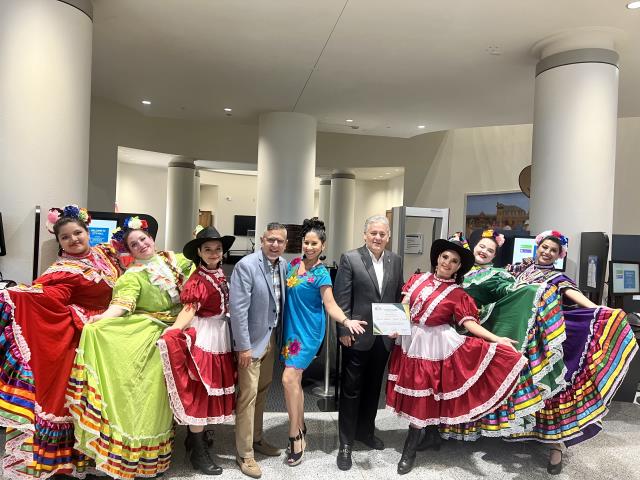 —
Sen. Scott's Team in Lee County
Senator Scott's team also attended the Do The Right Thing for Lee County Sheriff's Office and saw 28 kids receive awards.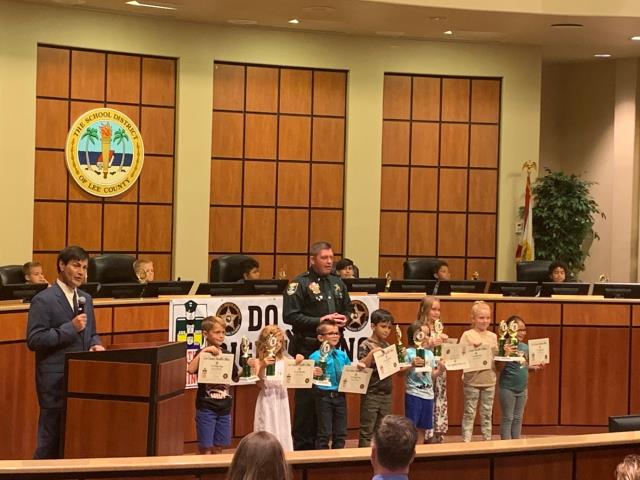 —
Sen. Scott's Team in Pensacola

Additionally, Senator Scott's team attended the unveiling of the new U.S. Customs and Border Protection facility at the Pensacola International Airport.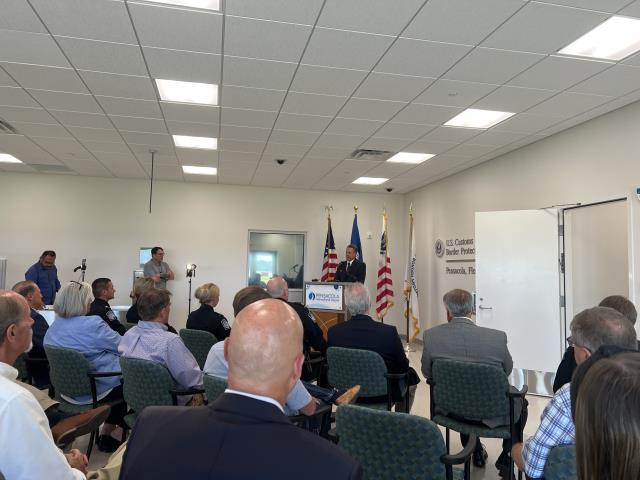 —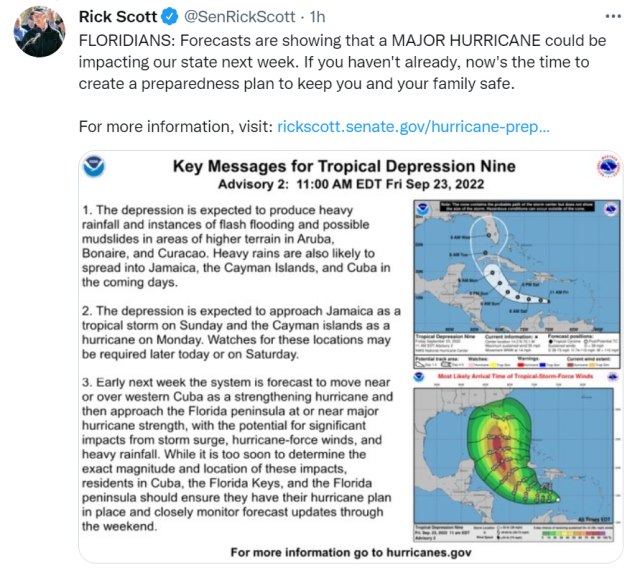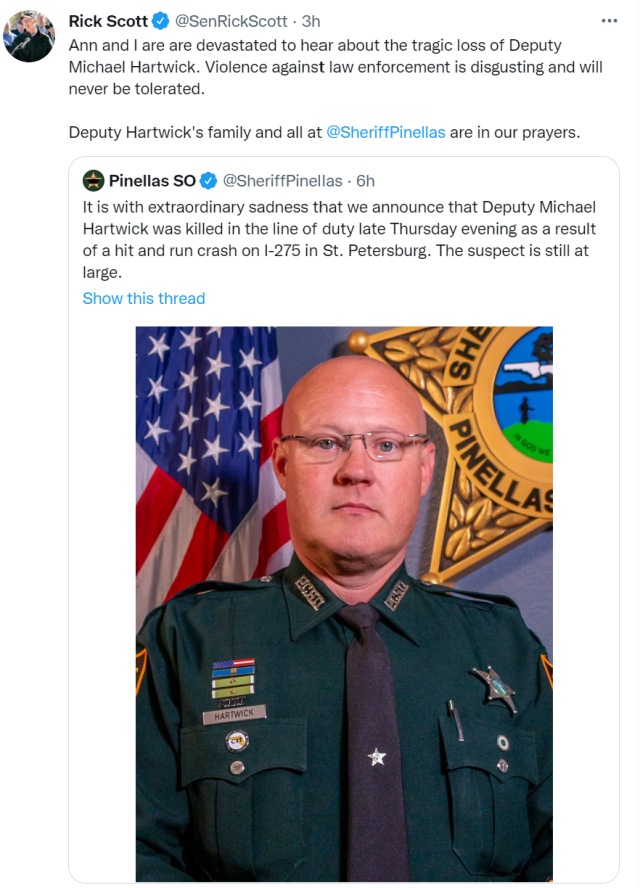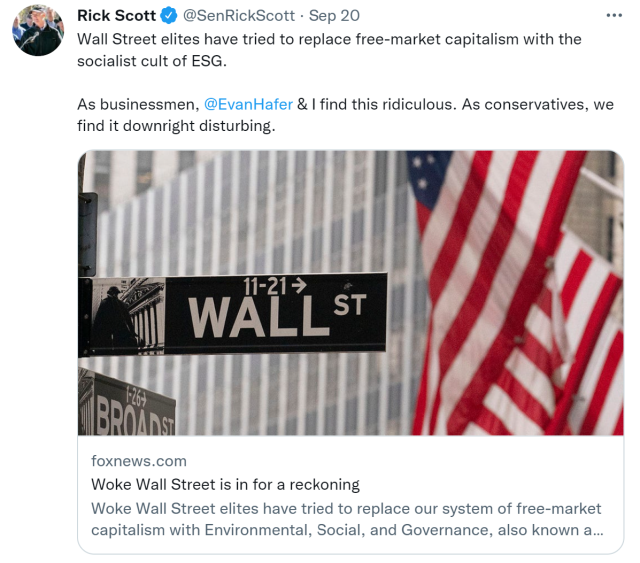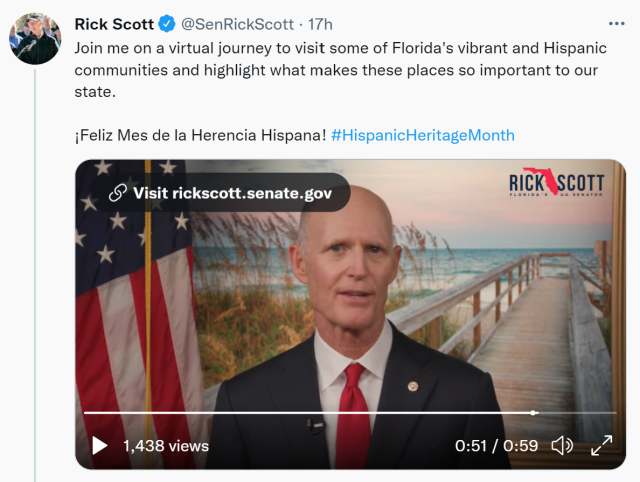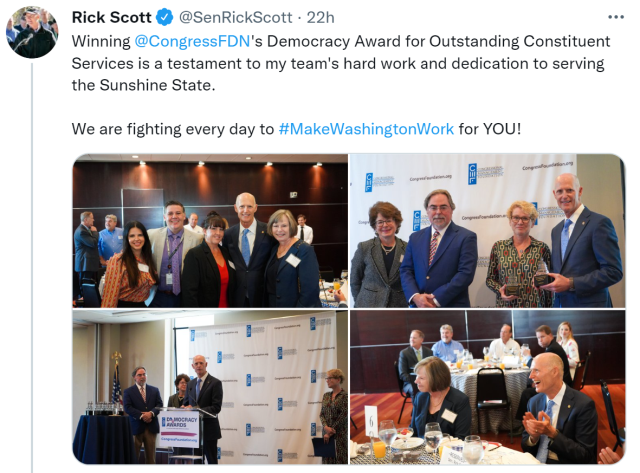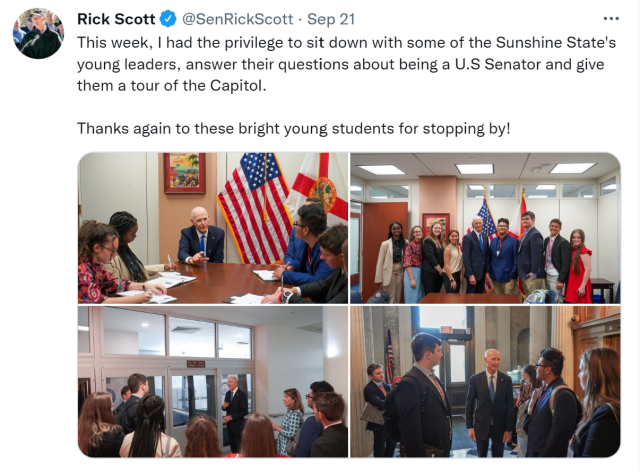 TALLAHASSEE
111 N. Adams Street, Suite 208
Tallahassee, FL 32301
Phone: (850) 942-8415
WEST PALM BEACH 
415 Clematis Street, Suite 201
West Palm Beach, FL 33401
Phone: (561) 514-0189
TAMPA
801 North Florida Avenue, Suite 421
Tampa, FL 33602
Phone: (813) 225-7040
KISSIMMEE 
1 Courthouse Square, Suite 300
Kissimmee, FL 34741
Phone: (407) 586-7879
PENSACOLA 
221 Palafox Place, Suite 420
Pensacola, FL 32502
Phone: (850) 760-5151
MIAMI 
901 Ponce de Leon Blvd., Suite 505
Miami, FL 33134
Phone: (786) 501-7141
NAPLES
3299 Tamiami Trail East, #106 
Naples, FL 34112
Phone: (239) 231-7890
JACKSONVILLE
400 West Bay Street, Suite 289
Jacksonville, FL 32202
Phone: (904) 479-7227
ORLANDO
225 East Robinson Street, Suite 410
Orlando, FL 32801 
Phone: (407) 872-7161
 
WASHINGTON, D.C.
502 Hart Senate Office Building
Washington, D.C. 20510
Phone: (202) 224-5274
 
 
Fax: (202) 228-4535