US Senator Rick Scott's Week in Review 09/16/2022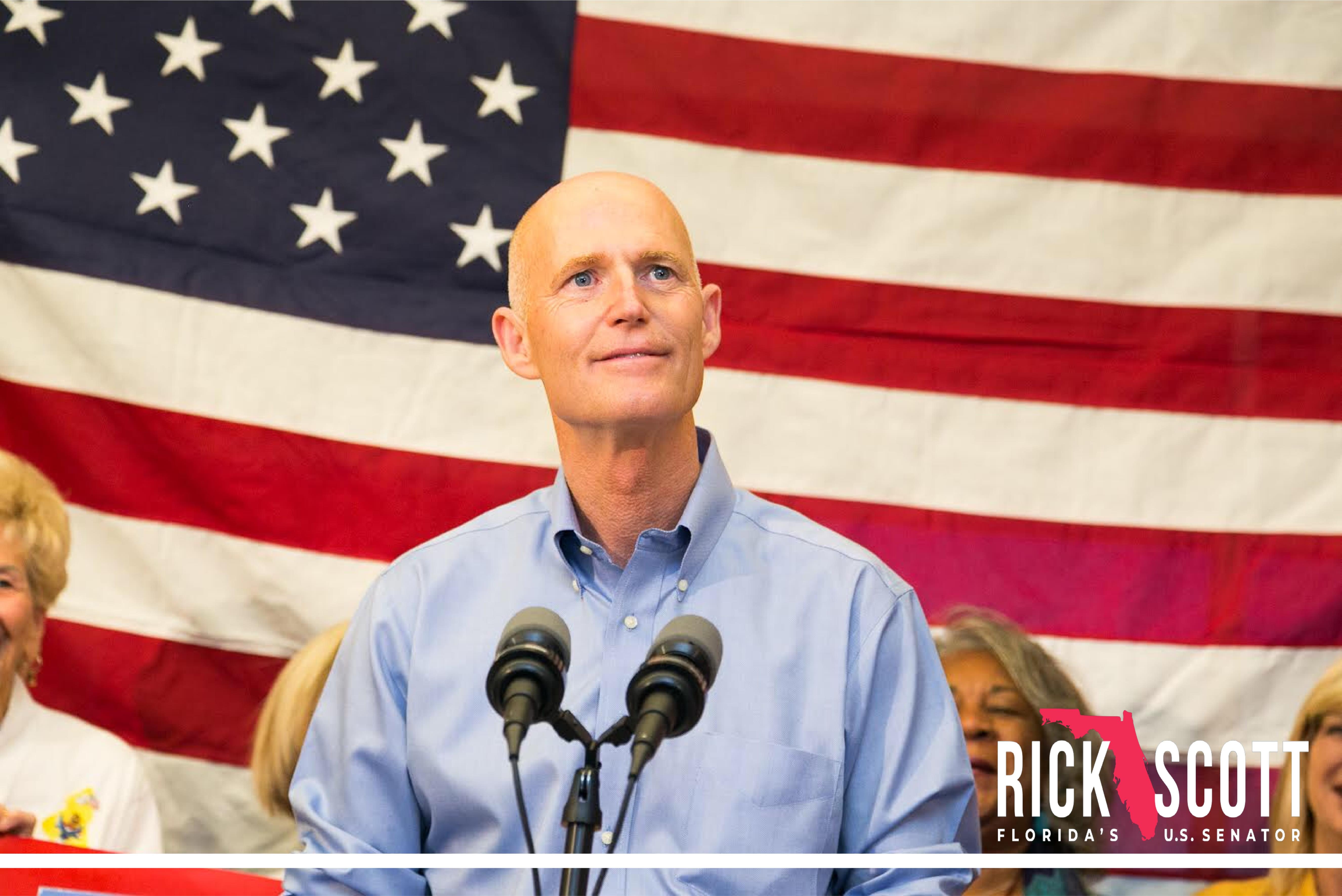 This week, Senator Rick Scott led his colleagues and community activists at a press conference in front of the White House to call on President Joe Biden to abandon his policy of appeasement and support the movements for freedom, democracy and security in Cuba, Venezuela, Nicaragua and Colombia.

Watch the full recap HERE.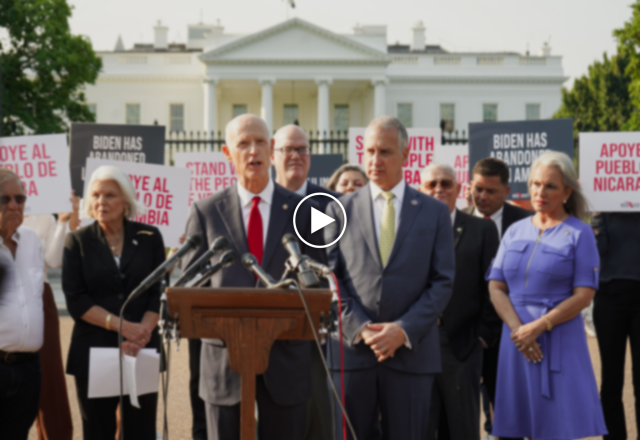 Senator Rick Scott said, "Joe Biden has abandoned Latin America and has chosen to appease dictators in Cuba and Venezuela. He's supported socialist candidates in Colombia and done the bare minimum to confront Daniel Ortega in Nicaragua. Today, as our nation marks the beginning of Hispanic Heritage Month, I am proud to stand beside my colleagues in Congress and these brave Floridians as we renew our urgent calls for President Biden to reverse course and finally stand for freedom, democracy and security in the Western Hemisphere.

"If Joe Biden is serious about supporting freedom and democracy in Latin America, he can show that today by calling for the immediate passage of my DEMOCRACIA Act, closing the Cuban embassy in Washington D.C., re-designating FARC as a terrorist organization, blocking access to U.S. assets to anyone involved or complicit in human rights violations or corruption in Venezuela and Nicaragua, and revoking licenses to U.S. companies operating in Cuba and Venezuela. If President Biden did all five of these things today, then our hemisphere would be a safer place and the freedom movements in Latin America would be emboldened. The fight for freedom and democracy in Latin America demands the support of the United States and we won't stop fighting to reverse Biden's failed appeasement agenda that is standing in the way of progress and stability in our hemisphere."

Read more HERE. Lea más en español AQUÍ.

To be the first to find out about Senator Scott's actions and statements, follow him on Twitter, Facebook, Instagram, and LinkedIn.

—

See more of what Senator Scott has been up to this week below.
VIDEO RELEASE Sen. Rick Scott: We will Never Forget the Lost and Always Honor the Heroes of September 11th
Senator Rick Scott shared a message remembering those lost and honoring the countless American heroes of September 11th, the brutal terrorist attack that shook the nation to its core 21 years ago.
In the video, Senator Scott says, "It's been 21 years since a brutal terrorist attack rocked our nation to its core on September 11th, 2001. I'll never forget being in New York City that day. I saw the terror and devastation inflicted on our nation. Americans everywhere felt the pain, the sadness and the overwhelming heartbreak of this attack. It was an act of violence beyond comprehension, but in the days following this terrible loss, Americans came together and we grew stronger. Today, 21 years later, we remember those lost and vow to stand united against evil, terrorism and hate across the world. And we must do everything we can to honor the heroes lost, and support the victims and their families, and all the brave first responders that risked their lives to save others. The United States will always stand for freedom, democracy, and opportunity. That will never be taken from us. We will never forget."
Watch HERE or in the video below: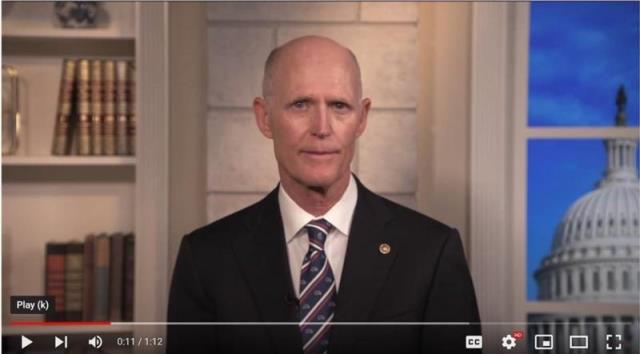 —

VIDEO RELEASE Senate Democrats Block Sen. Rick Scott's Bill to Stop Biden's Reckless Student Loan Payoff, Force Congress to Vote
Senator Rick Scott spoke on the Senate floor and requested unanimous consent to pass his bill, the Debt Cancellation Accountability Act, which would put a stop to President Biden's reckless decision to transfer billions of dollars of debt from borrowers to American taxpayers, and instead force Congress to vote on the matter.

The Debt Cancellation Accountability Act would require the U.S. Department of Education to obtain an express appropriation from Congress to pay for any federal student loan debts the Department proposes to waive, discharge, or otherwise reduce whenever granted to two or more borrowers in an amount greater than $1,000,000, rather than on a case-by-case basis. Senate Democrats blocked its passage.

Watch Senator Scott's speech HERE or below. Read Senator Scott's remarks HERE.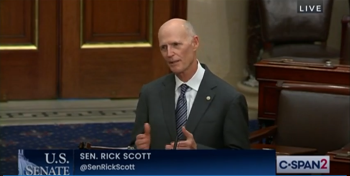 —
Sen. Rick Scott Joins Sen. Tim Scott in Leading Effort to Protect Charter Schools from Biden Admin's Attacks
Senator Rick Scott joined Senator Tim Scott (R-S.C.) in leading 20 of their colleagues in introducing Congressional Review Act (CRA) legislation to nullify the Biden administration's new rules adding burdensome requirements to charter schools seeking funding.

Earlier this year, the Department of Education announced new rules overhauling the 28-year-old, bipartisan Charter School Program (CSP). The changes would place federal, one-size-fits-all requirements on charter schools, making it difficult — if not impossible — for many of these high-quality public schools to receive funding.

Read more from Senator Tim Scott's office HERE.
—
Sen. Rick Scott to SEC Chairman: We Must Address Risks From Communist Chinese Companies Operating on U.S. Stock Exchanges
Senator Rick Scott sent a letter to Gary Gensler, Chairman of the Securities and Exchange Commission (SEC), highlighting a disturbing lack of financial transparency, among other concerns, with an auditing agreement recently made between the SEC's Public Company Accounting Oversight Board (PCAOB) and the China Securities Regulatory Commission (CSRC). Senator Scott has previously raised concerns with Communist Chinese backed companies breaking their agreements and American laws while operating within the United States, putting U.S. investors at increased risk. He is urging the SEC to look into the matter and ensure that American investors are treated fairly and provided transparency on the risks of investing in Communist Chinese backed companies on securities exchanges.

Read the full letter HERE. 
—
Sen. Rick Scott on CPI Inflation Report: Biden Goes Woke, Florida Families Go Broke
Following the latest Consumer Price Index (CPI) release from the Bureau of Labor Statistics (BLS), Senator Rick Scott released the below statement highlighting the need to implement substantive fiscal reforms to end the ongoing inflation crisis fueled by the Biden administration's reckless tax-and-spend agenda. August's CPI data shows that there has been significant inflation nearly every month of Biden's presidency. While year over year consumer prices increased 8.3% in August, food prices reached an inflationary level not seen since 1979.

Senator Rick Scott said, "While the White House will undoubtedly celebrate today's inflation report, families are still suffering. Food prices are way up since Biden took office and STILL RISING HIGHER. And while gas prices have fallen slightly, they are still way higher than when Biden took office thanks to his war on American energy and failed policies like cancelling the Keystone Pipeline. Families in my state and all across the country don't want a consolation prize, they want lower prices. But, instead of helping them and changing course, Joe Biden is a do-nothing president that is completely controlled by the radical left socialists in his party. Since Biden took office, inflation in America is up more than 13%. There is one solution to this problem: STOP RECKLESS GOVERNMENT SPENDING. Florida families are SICK AND TIRED of paying the price for Biden's failed, woke agenda and I will keep fighting every day to stop it and the raging inflation its pushing on all Americans."

Since being elected to the U.S. Senate, Senator Scott has repeatedly urged action to address America's debt crisis and the harmful effects of inflation. Click HERE for a comprehensive list of his statements and actions on this urgent issue.
Read more HERE.
—
Sen. Rick Scott on PPI Inflation Report: Joe Biden Killing the American Dream
 Senator Rick Scott released the below statement following the latest Producer Price Index (PPI) release from the Bureau of Labor Statistics (BLS), which showed inflation continued to rise in August increasing 8.7% over the year.

Senator Rick Scott said, "Yesterday, after yet another inflation report showed that prices were up again, Joe Biden and the Democrats here in Washington threw a big party at the White House. Here's the message they are sending to American families: WE DON'T CARE ABOUT YOU OR YOUR PROBLEMS. Growing up, my family was poor and we lived in public housing and we had to watch every penny we spent. I can't imagine what my mom would think seeing a President of the United States pop champagne while she could barely afford to feed her kids. But that's exactly what's happening all across this country.

"To add insult to injury, Biden continues to claim that the economy is great and that tons of jobs are being created. That's a lie and here's what he's not telling you: full time jobs are way down and it's only part time jobs that are growing. Full-time jobs fell by 242,000 in August ALONE. Self-employment is DOWN. Today's PPI report tells you why businesses are cutting jobs – costs are still skyrocketing higher every month and businesses, especially our small businesses, are being forced to cut costs. So now Americans are being forced to take multiple part-time jobs just to get by. That's the result of Joe Biden's terrible economy and it's killing the American Dream for families all across our country. When Republicans retake the majority in 2023, we'll end this reckless, inflation-fueling spending, fix this broken economy and deliver power back to the American people, where it belongs."

Read more HERE.
—
Sen. Rick Scott and Colleagues to HHS Secretary Becerra: Americans Deserve Full Accountability of COVID Research
Senators Rick Scott, Roger Marshall and Rand Paul sent a letter to Health and Human Services (HHS) Secretary Xavier Becerra highlighting concerns with Potential Pandemic Pathogen Care and Oversight (P3CO) review. NIH funds taxpayer-funded research grants, and any grant focused on viruses that may become highly transmissible, such as COVID-19, are supposed to be subject to P3CO review. However, a recent Senate Homeland Security and Governmental Affairs (HSGAC) Emerging Threats and Spending Oversight Subcommittee hearing found that the P3CO review group lacks basic transparency and HHS is failing to operate the P3CO review effectively as it was intended. Alarmingly, only three projects have undergone review since its inception in 2017, and concerns are being raised in Congress that HHS and the NIH failed to complete critical review of research related to pandemic-level viruses.

Senator Rick Scott said, "The American people deserve nothing less than full accountability and transparency from their government, especially when their tax dollars are being used. It is critical we finally get answers on the origins of COVID-19 so that we can prevent another global pandemic in the future—but HHS and NIH must be transparent. I thank Senators Marshall and Paul for joining me in demanding these answers from Secretary Becerra; he has a duty to the American people and he must promptly and fully answer our questions."
Read more HERE. 
—
Sen. Rick Scott's Legislation Recognized on National Taxpayers Union "No Brainer" List
This week, the National Taxpayers Union (NTU) announced that Senator Rick Scott's 1099-K reform legislation has been recognized on their 12th annual "No Brainer" List. Each year, NTU selects 10 bills highlighting the top pieces of legislation that benefit taxpayers in 2022. This year, NTU highlighted Senator Scott's bill, which repeals an unnecessary tax hike included in the reckless so-called American Rescue Plan. Senator Scott's bill repeals the tax increase Democrats placed on working class gig and sharing economy independent contractors. The Democrats' provision requires companies to send 1099-K forms to gig workers and independent contractors earning at least $600 a year on any number of transactions, dramatically increasing the prior requirement of $20,000 a year on at least 200 transactions.

Senator Rick Scott said, "President Biden claims he won't raise taxes on anyone making less than $400,000, but that's a lie – he's already done it. Along with trillions in unnecessary and unrelated in spending in the American Rescue Plan, Biden inserted a tax increase on gig workers, like hardworking Americans that work as drivers for Uber, Lyft or DoorDash. Increasing costs and regulations on already-struggling Americans is wrong but I won't stop fighting to stop it. I want to thank National Taxpayers Union for recognizing the importance of reforming 1099-K forms for our gig workers and including it on their 12th annual 'No Brainers' List. I'll never stop fighting to protect our hardworking taxpayers and families."
Read more HERE.
—
Sen. Rick Scott Joins Sen. Rubio to Introduce Bill to Make Distribution of Deadly Fentanyl Chargeable as Felony Murder
Yesterday, in response to the rise of fentanyl being trafficked across the southern border and into American communities, Senator Rick Scott joined Senator Marco Rubio and their colleagues to introduce the Felony Murder for Deadly Fentanyl Distribution Act, which makes the distribution of fentanyl resulting in death punishable by federal felony murder charges.

Senator Rick Scott said, "People who knowingly distribute lethal fentanyl deserve the strictest sentence possible. For too long, people have suffered addiction and death because of this evil drug that is pouring across Joe Biden's open southern border. Fentanyl has skyrocketed to the number one killer of young people, and to put an end to this crisis, strong actions must be taken. I am proud to join Senator Rubio in standing up for victims of this crisis, and urge the immediate passage of this critically important bill."

Read more from Senator Rubio's office HERE.
—
Sen. Rick Scott Issues Weekly Update on Biden's Inflation Crisis
Senator Rick Scott released a weekly update on his actions to address America's debt crisis and rising inflation. Read more HERE.  Lea más en español AQUÍ.
Sens. Rick Scott, Ted Cruz and Mike Lee in Fox News: Republicans must stop caving to Democrats. America needs clean bill to fund government until new Congress
Senators Rick Scott, Ted Cruz and Mike Lee wrote an op-ed for Fox News demanding that Republicans unite behind a clean government funding bill that simply maintains current federal spending bills until a new Congress begins in January 2023. After two years of Democrats' radical agenda and reckless spending that wrecked America's economy and drove the nation into more than $30 TRILLION in debt, the last thing American families need is for Congress to greenlight one more liberal priority that will simply send America further in the wrong direction.

In the op-ed, Senators Rick Scott, Ted Cruz and Mike Lee wrote, "Month after month for the last two years, Democrats and President Joe Biden have been able to advance their radical agenda while Republicans have largely been sidelined. Well, we just got back to Washington after spending August back at home, and families in Florida, Texas, and Utah are FURIOUS. They are sick and tired of watching Washington's broken status quo continue while they deal with the consequences of reckless spending in Congress. Who can blame them? As they've felt the pain of rising inflation month after month, they've had to watch from afar as too many Republicans have caved to the demands of the Democrats carrying out an agenda led by radical leftists in the White House and on Capitol Hill. That must end. It's time for Republicans to stand united and demand that Congress pass a clean continuing resolution (CR) that simply maintains current federal spending levels—and not a penny more—until a new Congress begins.

Now, before the liberal media starts losing its mind, let's make a few things clear. First, forcing Congress to pass a clean CR will not result in ANY cuts to funding or services…

Second, this is not some convoluted scheme to cause a government shutdown…This is about accountability and doing what's right for American taxpayers. That's it…

We must ensure Washington prioritizes the needs of the American people by focusing on things like getting our economy back on track, reducing inflation, combatting violent crime, and keeping our families safe. America is more than $30 TRILLION in debt. The worst move imaginable would be to gift the Democrats one last liberal spending spree in December as they leave power…

It's time for Republicans to stand up and unite…We must show strength now and prove to the American people that we will end the madness in Washington and return power back to them, where it rightly belongs."

Read the full op-ed in Fox News HERE.


Sen. Rick Scott in the Wall Street Journal: Put Colleges on the Hook for Student Debt, Not Taxpayers
In case you missed it, Senator Rick Scott wrote a letter to the editor of the Wall Street Journal proposing his COLLEGE Act as an alternative to President Biden's reckless decision to transfer student debt from borrowers to American taxpayers.

In his letter, Senator Rick Scott wrote, "It's grossly unfair to transfer the massive debt of college graduates to those that either chose not to attend college or have already done the hard work of paying off their loans… Policymakers should focus on holding universities accountable for their administrative bloat, massive endowments, and lackluster ability to train students for the workforce."

Read the full letter to the editor of the Wall Street Journal HERE.
Florida Daily: Marco Rubio, Rick Scott, South Florida Congressional Reps Oppose Layoffs at Office of Cuba Broadcasting 
Florida Daily: Rick Scott Wants SEC Chairman to Address Risks From Chinese Companies Operating on U.S. Stock Exchanges
Sen. Scott's Office in Collier County 
This week, members of Senator Rick Scott's team attended 21st Anniversary of 9-11 at the Freedom Memorial in Collier County.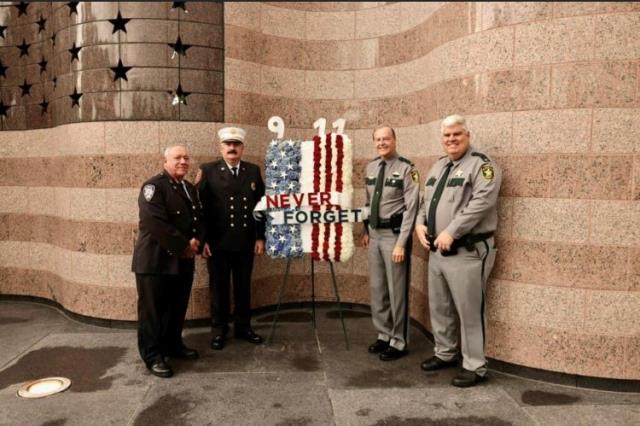 —
Sen. Scott's Office in Orlando
This week, members of Senator Rick Scott's team also attended the grand opening celebration of the new Meson Sandwiches in Lake Nona and read a letter from Senator Scott recognizing the company's fourth Central Florida location.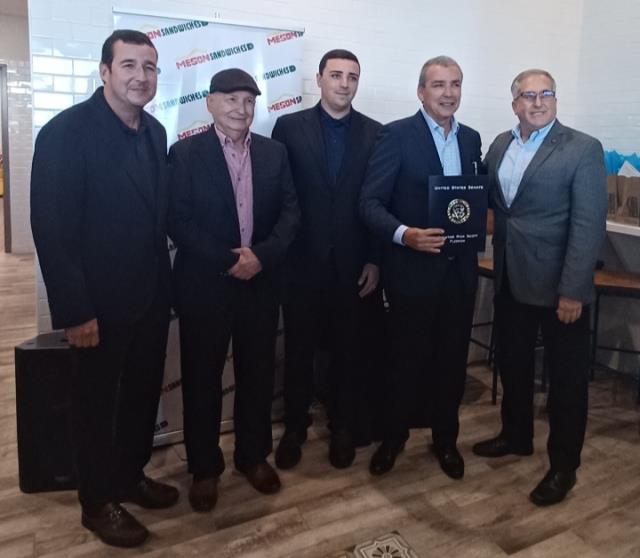 —
Sen. Scott's Office in Tampa
Senator Scott's office had the opportunity to visit classes and tour the campus of Focus Academy. A tuition-free Florida public charter school providing students with cognitive and developmental challenges a community that supports feelings of value, connection and lifetime success.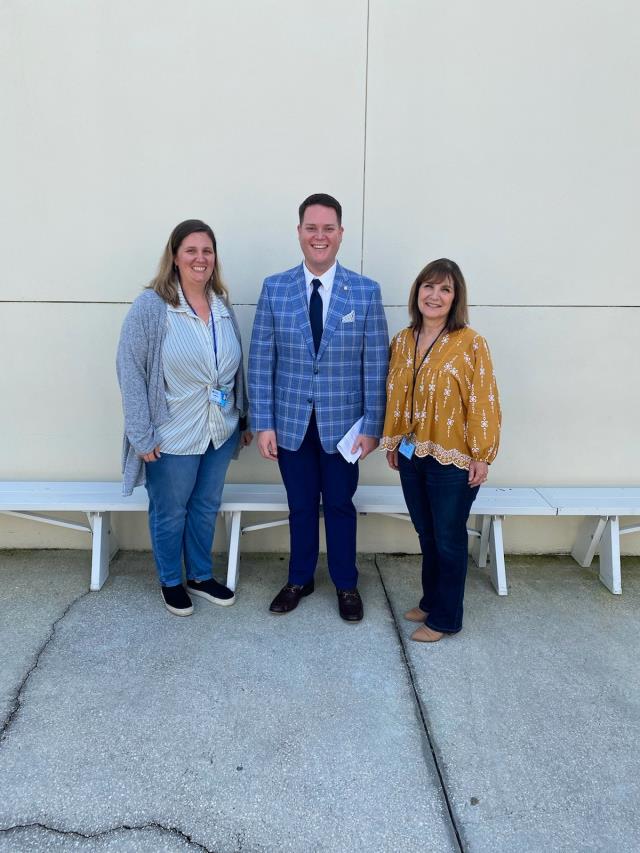 —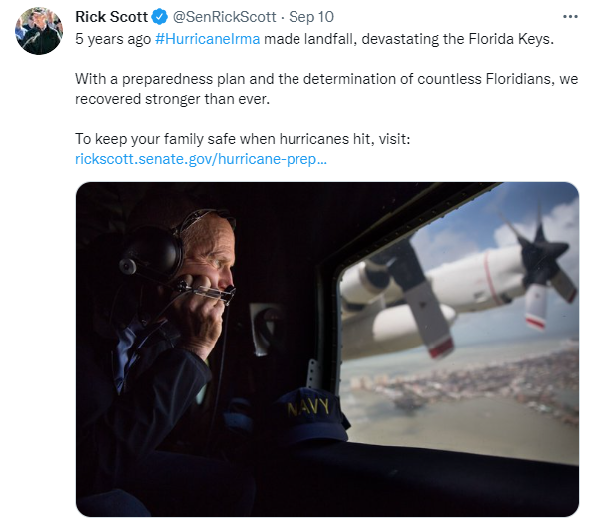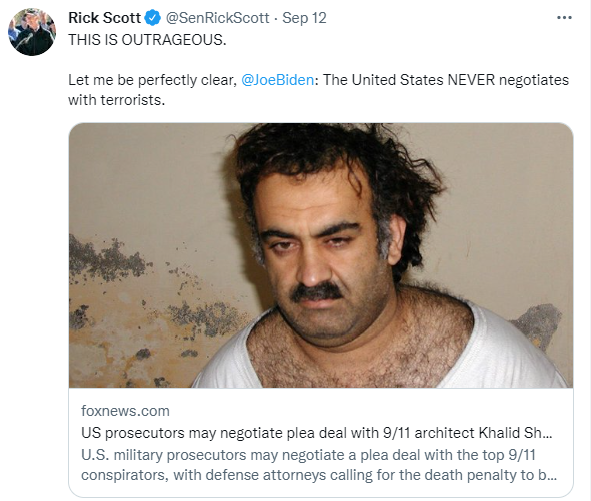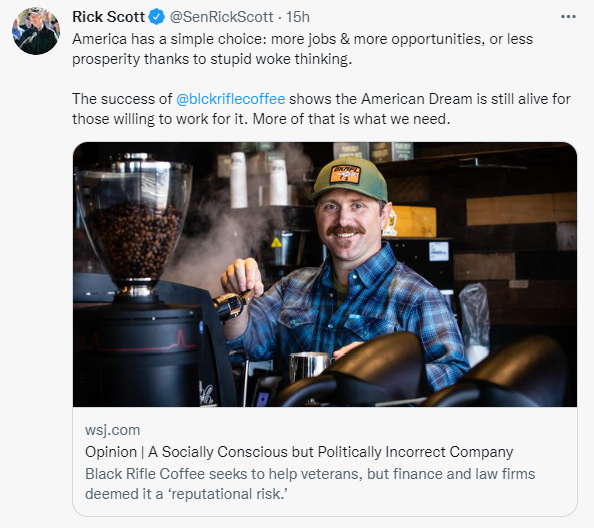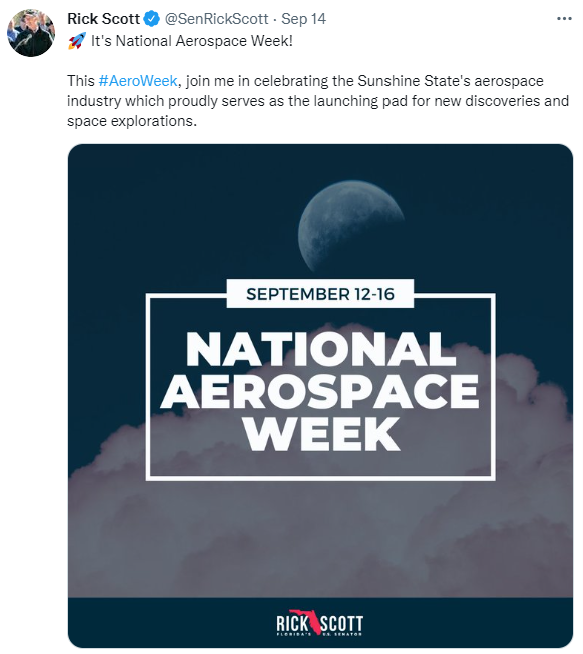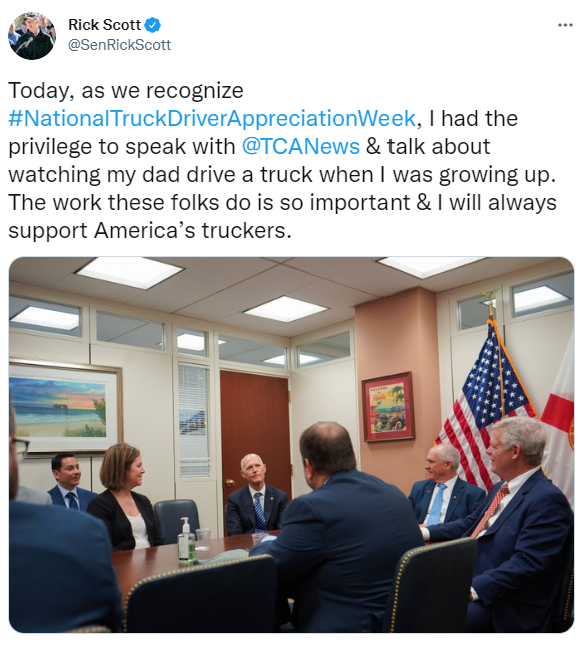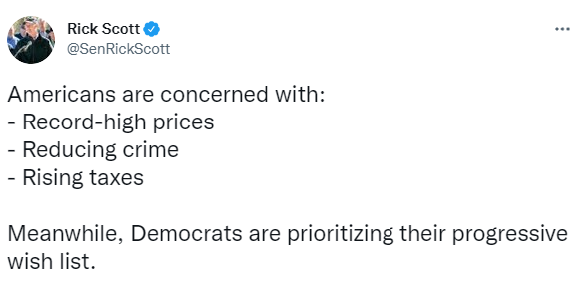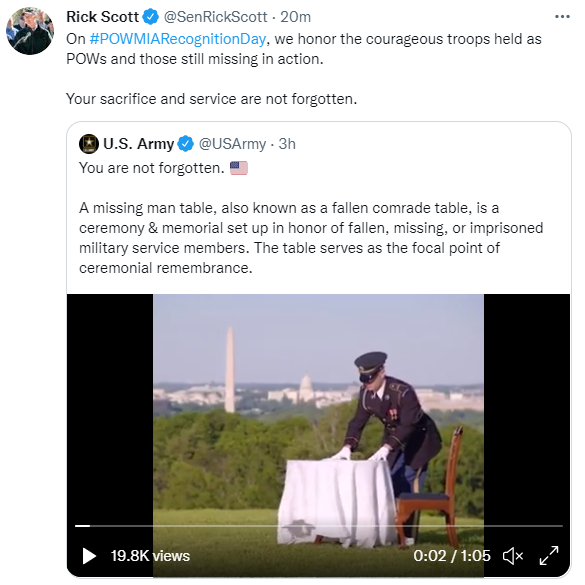 TALLAHASSEE
111 N. Adams Street, Suite 208
Tallahassee, FL 32301
Phone: (850) 942-8415
WEST PALM BEACH 
415 Clematis Street, Suite 201
West Palm Beach, FL 33401
Phone: (561) 514-0189
TAMPA
801 North Florida Avenue, Suite 421
Tampa, FL 33602
Phone: (813) 225-7040
KISSIMMEE 
1 Courthouse Square, Suite 300
Kissimmee, FL 34741
Phone: (407) 586-7879
PENSACOLA 
221 Palafox Place, Suite 420
Pensacola, FL 32502
Phone: (850) 760-5151
MIAMI 
901 Ponce de Leon Blvd., Suite 505
Miami, FL 33134
Phone: (786) 501-7141
NAPLES
3299 Tamiami Trail East, #106 
Naples, FL 34112
Phone: (239) 231-7890
JACKSONVILLE
400 West Bay Street, Suite 289
Jacksonville, FL 32202
Phone: (904) 479-7227
ORLANDO
225 East Robinson Street, Suite 410
Orlando, FL 32801 
Phone: (407) 872-7161
 
WASHINGTON, D.C.
502 Hart Senate Office Building
Washington, D.C. 20510
Phone: (202) 224-5274
 
 
Fax: (202) 228-4535