US Senator Rick Scott's Week in Review 09/09/2022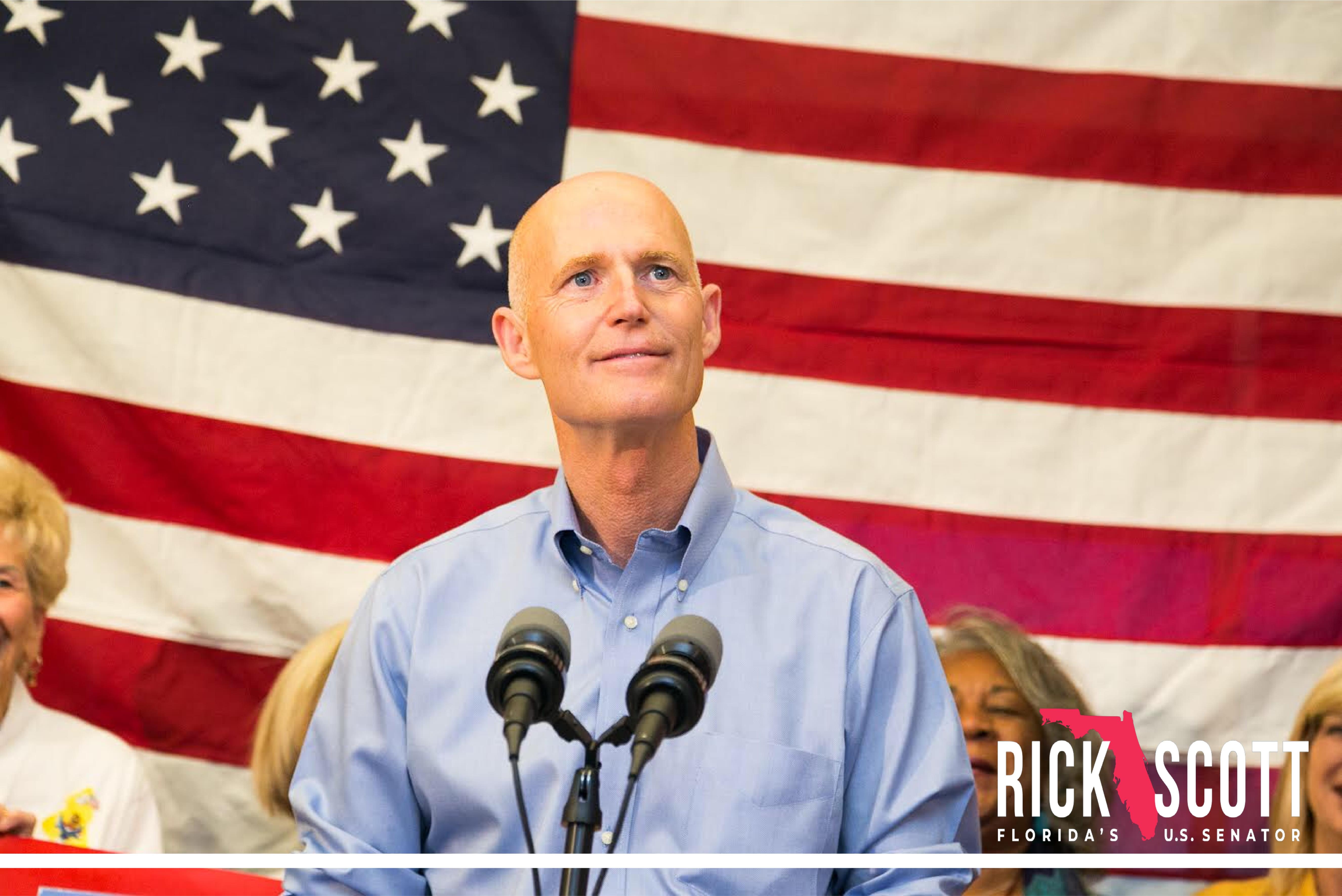 This week, the Congressional Management Foundation (CMF) announced that the office of Senator Rick Scott has been recognized with a Democracy Award for outstanding Constituent Services. The CMF Democracy Awards recognize non-legislative achievement and performance in congressional offices, including the Constituent Service category to honor offices for their outstanding practices or achievements acting as ombudsmen with the federal government or responding to constituent requests and inquiries.

Senator Rick Scott said, "My team and I work every day with one mission in mind: to make Washington work for Florida families. That's the promise I ran on, and today's recognition by the Congressional Management Foundation is proof that our amazing team, which operates across 10 offices in the state and in D.C., are getting good work done for the people of Florida. Florida is a unique state with a variety of cultures, languages, communities and needs, and our Constituent Services team goes above and beyond to connect Floridians with the services and resources they need from their federal government, keeping them informed and fighting to make taxpayers' government work in their best interests. Our first three years have been filled with challenges – from dealing with a global pandemic to navigating a record inflation and supply chain crisis – but through it all, our team has been on the frontlines of our communities to help Floridians and make sure their needs are met. Representing hardworking Florida families is the greatest job in the world. We love what we do, and we are going to keep fighting every day to make a difference."

Bradford Fitch, President and CEO of the Congressional Management Foundation, said, "As a Democracy Award winner, Sen. Scott's office is clearly one of the best in Congress. This designation demonstrates that Sen. Scott has made a significant commitment to being the best public servant for his constituents in Florida. Sen. Scott and his staff are to be congratulated for not only being a model for his colleagues in Congress, but for helping to restore trust and faith that our democratic institutions can work."
Read more HERE. Lea más en español AQUÍ.
To be the first to find out about Senator Scott's actions and statements, follow him on Twitter, Facebook, Instagram, and LinkedIn.
—
See more of what Senator Scott has been up to this week below.
Sen. Rick Scott: Republicans Can't Cave to Dems, Must Demand Clean Funding Extension until New Congress Begins
This week, as Congress continues debate over government funding ahead of the September 30th expiration deadline, Senator Rick Scott released the following statement demanding the passage of a "clean" Continuing Resolution (CR) that simply maintains current federal functions and programs until a new Congress begins in 2023.

Senator Rick Scott said, "Month after month for the last two years, Democrats and President Joe Biden have been able to advance their radical agenda while Republicans are getting NOTHING in return for the families we represent. It's time for the broken business-as-usual routine in Washington to end. Today, I am urging every Republican to demand that Congress pass a clean CR that simply maintains current federal spending levels. We cannot cave to the demands of the Democrats carrying out an agenda led by a raving lunatic in the White House. We, as Republicans, must stand strong and demand nothing more than clean government operations until a new Congress begins. 

"Doing this will not result in any cuts to funding or services and will ensure that the federal government continues to operate as it must for the American people until a new Congress begins in 2023. If members have other new issues, whether they involve appropriations or not, I hope they will bring them forward for individual votes so we can quickly act on them. Anything that is truly urgent can and should be voted on as soon as possible, not held hostage so it can be used as a political weapon in a government funding bill." 
Read more about Senator Scott's demands HERE.
—
VIDEO RELEASE Sen. Rick Scott: Senate Democrats Double Down on Supersizing IRS to Target Families & Businesses
Senator Rick Scott spoke on the Senate floor and requested unanimous consent to pass his legislation to rescind $70 billion of the deceivingly-named "Inflation Reduction Act" allocated to hire 87,000 Internal Revenue Service (IRS) agents, an unknown number of which will be armed, and audit even more American families and businesses. Senate Democrats doubled-down on the provision and blocked the legislation's passage.

Last month, Senator Rick Scott released an open letter to American job seekers outlining several factors they should consider before applying for a job with Biden's soon-to-be supersized IRS.

Watch Senator Scott's speech HERE or below. Read Senator Scott's remarks as prepared for delivery HERE.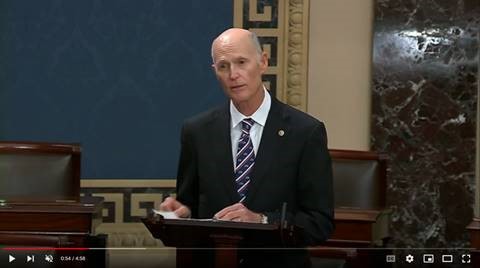 —
Sen. Rick Scott: Queen Elizabeth's Death is an Immense Loss for the World
Senator Rick Scott released the below statement following the death of Queen Elizabeth II:

Senator Rick Scott said, "For the past 70 years, Queen Elizabeth II has represented dignity, stability and wisdom as the leader of the British people. Even as the world has undergone immense political and cultural change, her leadership has remained steady. Under her reign, the United States and United Kingdom significantly strengthened our special relationship, and our shared ideals of democracy and freedom spread to countless nations. The Queen's death is an immense loss for entire world. Today, Ann and I join many others to mourn the loss of Queen Elizabeth II, remember her legacy and pray for the Royal Family and the people of the United Kingdom."
—
Sen. Rick Scott, Rubio and Colleagues Introduce Bill to Make Federal Grant Process Easier for Small Local Governments
On Thursday, Senator Rick Scott joined Senator Marco Rubio and seven of their colleagues to introduce the Simplifying Grants Act to make it easier for local governments, with less than 50,000 people, to apply for, receive, and manage grants from the federal government.
 
Senator Rick Scott said, "While Biden's border crisis continues to enable record amounts of lethal drugs to flood across our border, local municipalities—which fund local law enforcement—require more support to address the influx of crime and lethal narcotics we are seeing across the country. The Simplifying Grants Act will make it easier for small towns across the country to access crucial federal funding to protect their communities. I fully support this legislation and urge its quick passage through the Senate."

See more from Senator Rubio's office HERE.
—
Sens. Rick Scott, Rubio Petition USTR To Protect Florida Growers From Mexico's Unfair Trade Practices
Senator Rick Scott joined Senator Marco Rubio and a bipartisan group of members of the Florida congressional delegation to petition U.S. Trade Representative Katherine Tai to initiate a Section 301 investigation of fruit and vegetable imports from Mexico, and to secure trade relief for Florida growers.
See more from Senator Rubio's office HERE.
—
Sen. Rick Scott Joins Senator Tim Scott Requesting Information on Alleged Fraud in Alzheimer's Research
Senator Rick Scott joined U.S. Senate Special Committee on Aging Ranking Member Tim Scott (R-S.C.) and Senator Marco Rubio (R-Fla.) in sending a letter to Secretary of Health and Human Services Xavier Becerra, requesting information in light of recent allegations of data fraud with federally-funded Alzheimer's research.

Sen. Rick Scott said, "We can never tolerate compromising the integrity of medical research – especially that which focuses on a disease that impacts millions of American families. HHS must immediately launch an investigation into the misconduct alleged here and get answers for the millions of Alzheimer's patients, their families and American taxpayers."

Read more from Senator Tim Scott's office HERE.
—
Sen. Rick Scott Issues Weekly Update on Biden's Inflation Crisis
Senator Rick Scott released a weekly update on his actions to address America's debt crisis and rising inflation. Read more HERE.  Lea más en español AQUÍ.
Florida Daily: Rick Scott Wants Answers From Why CDC Director Getting Media Coaching From Democrats Consultant 
Florida Daily: Rick Scott Showcases Proposal to Protect American Investors From China
Florida Daily: Rick Scott Takes to the Senate Floor to Stop Funding for More IRS Agents
Real Clear Politics: Sen. Rick Scott: Biden Lying, We Want To Reauthorize Social Security & Medicare Every 5 Years In Order To Preserve Them
Newsmax: Rick Scott to Newsmax: Executive Branch 'Isn't Supposed to Be a Political Machine'
Sen. Rick Scott Hosts Roundtable Discussion with Colombian Community Leaders in Tampa
Senator Rick Scott hosted a roundtable discussion with Colombian business and community leaders in Tampa to discuss Colombia's future under Gustavo Petro, the Senator's continued support for the Colombian community and his efforts to bring freedom and democracy to Latin America.

Senator Rick Scott said, "The United States and Colombia share a commitment to promoting security, prosperity, human rights and democracy across the Western Hemisphere. For decades, Colombia has been our greatest democratic ally in Latin America and a partner in combatting drug trafficking. But now that Gustavo Petro is the President of Colombia, I am very concerned about the future of the democracy and the stability of Colombia, and the region. Sadly, Joe Biden – the man who is supposed to be leader of the free world – is nowhere to be found. Unlike Joe Biden, I will never turn my back on the people of Colombia, or Latin America. And I am proud to stand with Colombia in the fight to defend freedom and democracy." Read more HERE.  Lea más en español AQUÍ.
—
Sen. Scott's Office in Naples
This week, members of Senator Rick Scott's team attended the Do The Right Thing presentations for both Naples Police Department and the Collier County Sheriff's Office.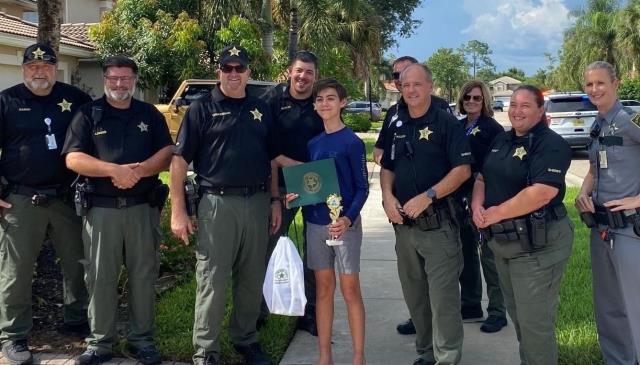 —
Sen. Scott's Office in Pensacola
Senator Scott's office also went on a behind the scenes tour of Pensacola International Airport.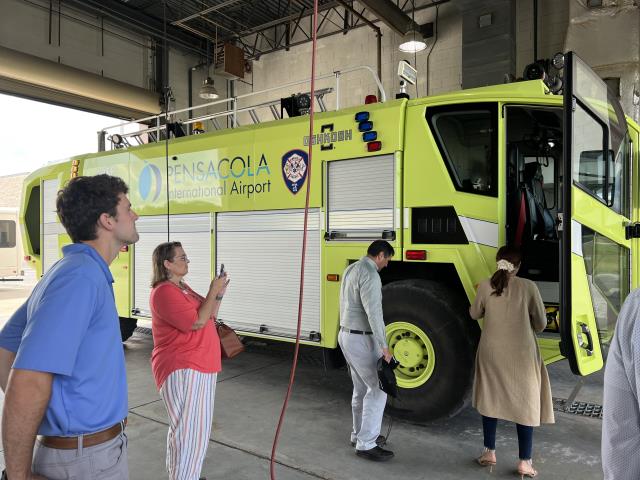 —
Sen. Scott's Office in Longwood City
Senator Scott's office was honored to attend the Longwood City Commission's Annual Key to the City Award presentation, recognizing Nancy Acevedo for her tireless work and dedication to the city.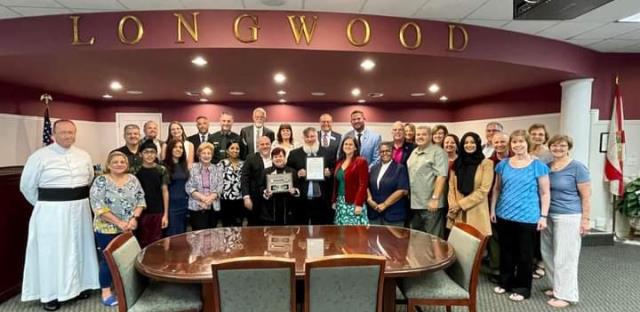 —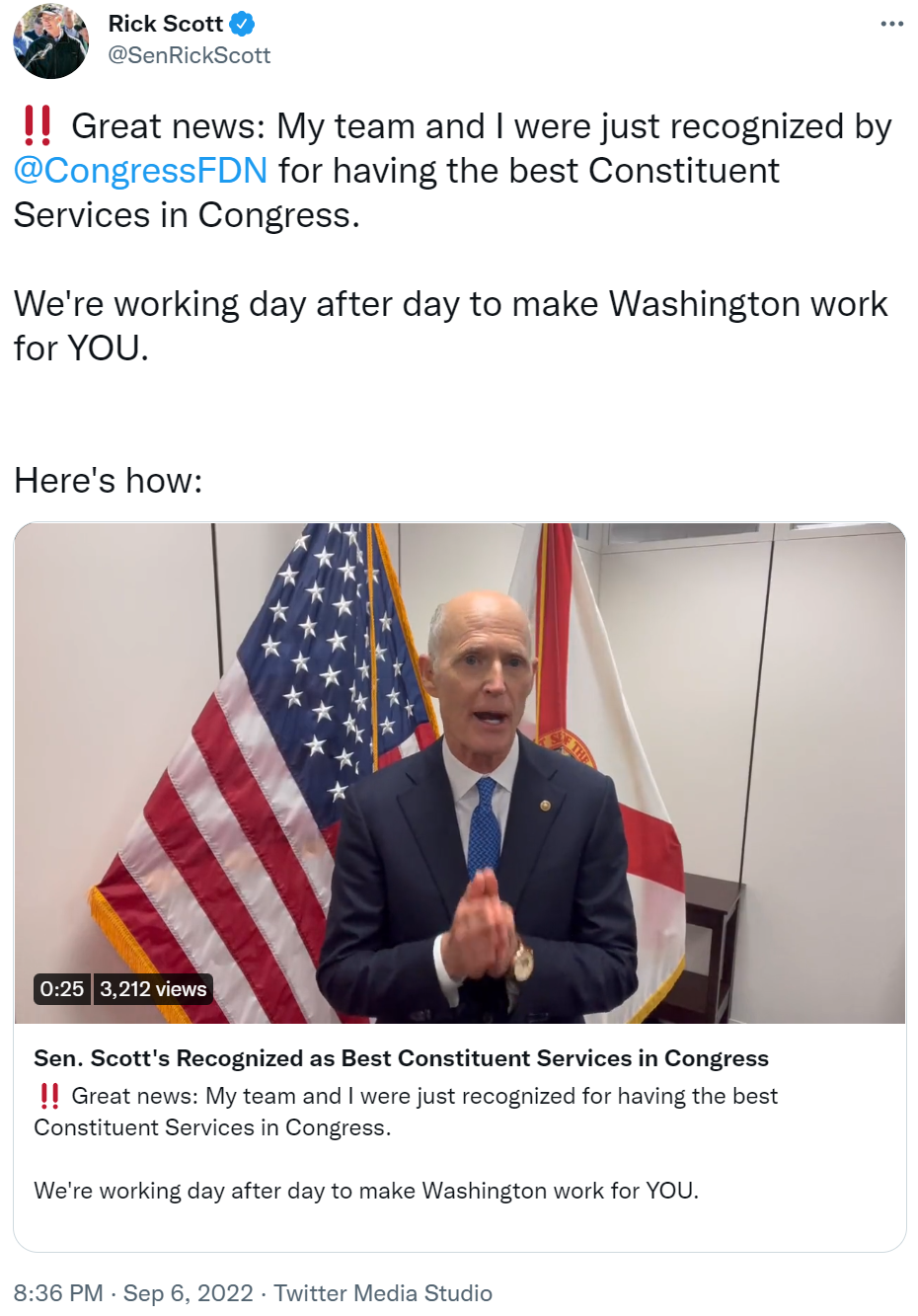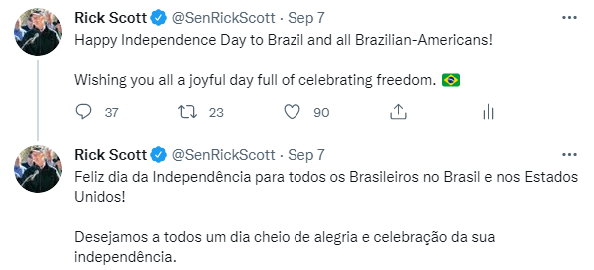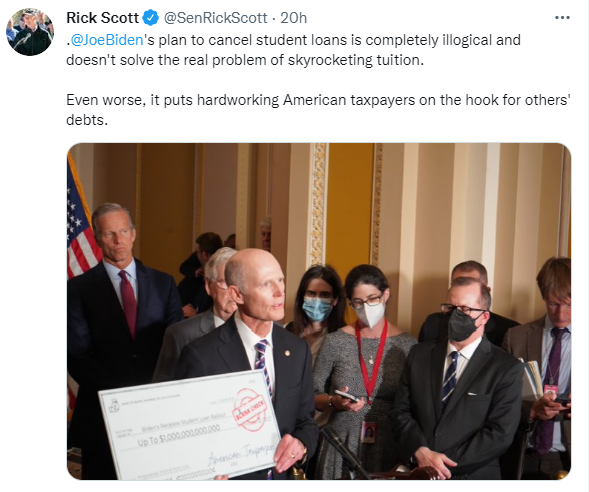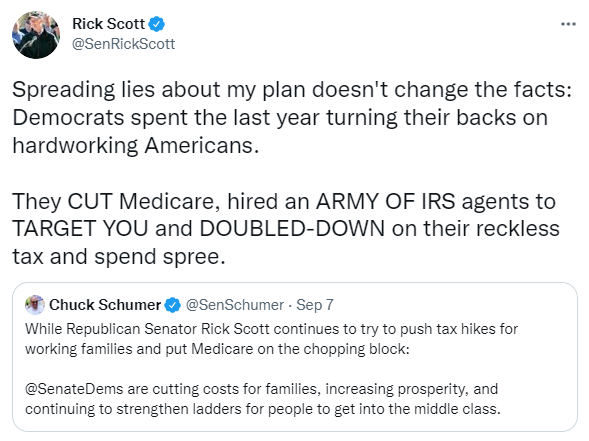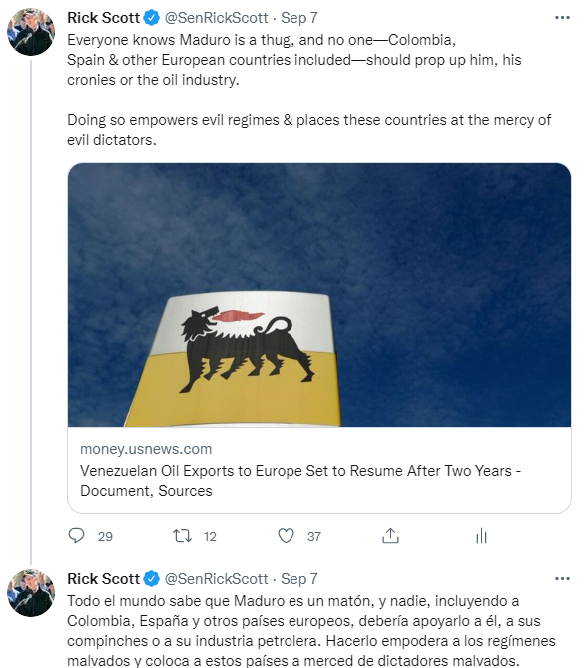 TALLAHASSEE
111 N. Adams Street, Suite 208
Tallahassee, FL 32301
Phone: (850) 942-8415
WEST PALM BEACH 
415 Clematis Street, Suite 201
West Palm Beach, FL 33401
Phone: (561) 514-0189
TAMPA
801 North Florida Avenue, Suite 421
Tampa, FL 33602
Phone: (813) 225-7040
KISSIMMEE 
1 Courthouse Square, Suite 300
Kissimmee, FL 34741
Phone: (407) 586-7879
PENSACOLA 
221 Palafox Place, Suite 420
Pensacola, FL 32502
Phone: (850) 760-5151
MIAMI 
901 Ponce de Leon Blvd., Suite 505
Miami, FL 33134
Phone: (786) 501-7141
NAPLES
3299 Tamiami Trail East, #106 
Naples, FL 34112
Phone: (239) 231-7890
JACKSONVILLE
400 West Bay Street, Suite 289
Jacksonville, FL 32202
Phone: (904) 479-7227
ORLANDO
225 East Robinson Street, Suite 410
Orlando, FL 32801 
Phone: (407) 872-7161
 
WASHINGTON, D.C.
502 Hart Senate Office Building
Washington, D.C. 20510
Phone: (202) 224-5274
 
 
Fax: (202) 228-4535