US Senator Rick Scott's Week in Review 09/03/2022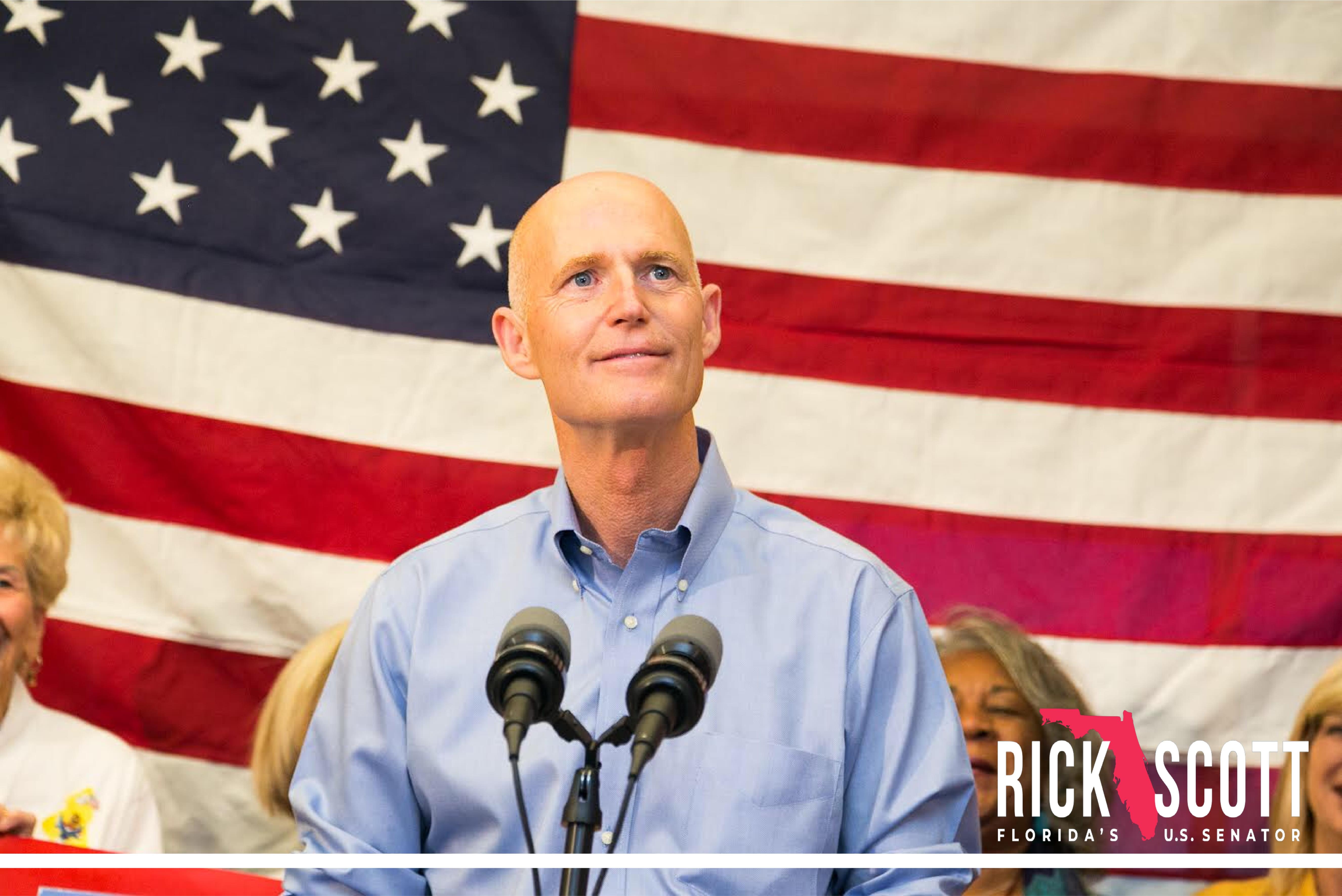 This week, as America marked the one-year anniversary of President Joe Biden's botched and deadly withdrawal of American forces from Afghanistan, Senator Rick Scott renewed his calls for the U.S. Senate to immediately pass his resolution establishing a Joint Select Committee on Afghanistan. The establishment of a bicameral, bipartisan committee will allow the Congress to conduct a full investigation into President Biden's failed and tragic withdrawal of U.S. forces from Afghanistan that took the lives of 13 brave U.S. service members, stranded hundreds of Americans behind enemy lines, handed power back to the Taliban and left billions of dollars in U.S. military equipment in the hands of terrorists.

This Joint Select Committee would follow the precedent set in the aftermath of the Iran-Contra affair. Senator Scott first introduced the legislation to establish a Joint Select Committee on Afghanistan in October 2021 after House Speaker Nancy Pelosi and Senate Majority Leader Chuck Schumer refused to answer his calls for accountability and failed to use their authority to launch a bicameral, bipartisan investigation.

Senator Rick Scott said, "It has been one year since the United States suffered its most stunning, unforced and humiliating defeat in decades and there has been ZERO ACCOUNTABILITY FOR IT. We lost 13 brave service members, stranded hundreds of our own citizens and left BILLIONS of dollars of military equipment in the hands of terrorists in President Biden's horrifically botched withdrawal from Afghanistan, but he still hasn't taken responsibility or been forced to answer for a single one of these failures. The president's failures have placed Afghanistan back in the hands of the same terrorist-coddling extremists who ruled it on September 11, 2001. Afghanistan is once again a haven for the world's most dangerous terrorists, who are back openly operating in Kabul. President Biden's actions and decisions have put the national security of the United States in jeopardy more than any other president in modern history. He must be held accountable for it. It is shocking and unacceptable that after the loss of 13 American soldiers and the massive failure of President Biden's Afghanistan withdrawal, Democrats can't find the courage to demand answers. If Democrats are truly committed to exercising congressional oversight and protecting America's national security, they'll join me and move quickly to pass my resolution, launch a Joint Select Committee and begin the important work of getting answers for the American people." Read more about the resolution and continuous calls for accountability HERE.
—
To be the first to find out about Senator Scott's actions and statements, follow him on Twitter, Facebook, Instagram, and LinkedIn.
—
See more of what Senator Scott has been up to this week below.
Sen. Rick Scott: Republicans Must Unite to Reverse Partisan IRS Supersizing, Force Congress to Vote on Student Loan Bailout
Today, as Congress considers a path forward for funding the government past September 30, Senator Rick Scott released the following statement calling for Congressional Republicans to demand the repeal of the Democrats' partisan plan to supersize the Internal Revenue Service (IRS) with $80 BILLION and 87,000 new employees, some of which will be armed. Senator Scott is also urging his fellow Republicans to demand the passage of his Debt Cancellation Accountability Act to reverse Joe Biden's unlawful decision to spend hundreds of billions of tax dollars to "forgive" student loan debt and force this issue to be decided by Congress.

Senator Rick Scott said, "President Biden and Democrats in Washington have turned their backs on hardworking American families. First, Biden and the Democrats used a totally partisan process to give the IRS $80 BILLION to hire more than 87,000 new agents, an unknown number of which will be armed, to go after families and small businesses. Now, President Biden is doubling down on his abandonment of working Americans by issuing an illegal order to use hundreds of billions of YOUR tax dollars to 'forgive' the loans of college-educated individuals who voluntarily took on debt to finance their education. The American people, who are already struggling to keep up with Biden's raging inflation crisis, are disgusted with the Democrats' dangerous, socialist agenda and demanding action. Republicans must stand united to repeal the IRS supersizing and pass my bill to force every member of Congress to go on the record for student loan forgiveness. I will be fighting tooth and nail to get these votes. Families in Florida and across the country will not tolerate more radical government overreach, and I will do whatever it takes to deliver the accountability they deserve." Read more HERE.
—
Sens. Rick Scott, Chris Van Hollen Introduce Bipartisan TICKER Act to Expose Chinese Stock Trading Risks, Protect American Investors
Senator Rick Scott and Senator Chris Van Hollen announced their Trading and Investing with Clear Knowledge & Expectations about Risk (TICKER) Act. The bipartisan TICKER Act aims to protect American investors from risky investments in Variable Interest Entities (VIE), which was one of the key recommendations of the US-China Economic and Security Review Commission in their latest report to Congress.
Senator Rick Scott said, "Every day, American investors unknowingly invest their hard-earned dollars in entities linked to, owned or controlled by the Communist Chinese regime. These investments carry enormous risks and could result in massive but completely preventable losses. Passing the TICKER Act will ensure that the Securities and Exchange Commission (SEC) uses its resources and authority to protect both U.S. investors and American financial markets, and creates greater transparency regarding the grave risks posed by entities linked to Communist China." Read more HERE.
—
Sen. Rick Scott Demands Answers on CDC Director Using Taxpayer Funds to Pay Democrat Messaging Consultant
Senator Rick Scott sent a letter to Centers for Disease Control and Prevention (CDC) Director Rochelle Walensky following reports that the CDC spent tens of thousands of taxpayer funds for her to receive media coaching from Mandy Grunwald, a Democrat political consultant. Read more HERE.
—
Sen. Rick Scott Issues Weekly Update on Biden's Inflation Crisis
Senator Rick Scott released a weekly update on his actions to address America's debt crisis and rising inflation. Read more HERE.  Lea más en español AQUÍ.
Sen. Rick Scott in Fox News: My Challenge to States: Send COVID-Relief Money Back
Senator Rick Scott wrote an op-ed for Fox News about the growing national debt, the horribly reckless decision to give state and local government billions of taxpayer dollars as "COVID bailout" money and the need to pass the Pay Down the Debt Act.

In the op-ed, Senator Rick Scott wrote: "As reckless government spending continues to fuel raging inflation, it's time that we force Washington to face reality and stop giving our supposed 'leaders' the opportunity to ignore the debt hole they are digging.
One of the most egregious examples of reckless spending that's fueled America's inflation and debt crises are huge state bailouts using your tax dollars. The CARES Act and the American Rescue Plan together allocated more than $500 billion in direct aid to state and local governments.
In April 2020, just weeks after Congress passed the CARES Act, I joined a handful of my Republican colleagues in a letter urging President Trump to reject any funding for state bailouts in any future COVID-19 relief package. Even then, in the first months of the COVID-19 pandemic, I knew that writing blank checks to state and local government would do nothing but reward decades of fiscal mismanagement and incentivize an increased reliance on federal taxpayers. Unfortunately, after looking at the results of the $500 billion investment, it seems I was right.
…
The lesson here is simple: no amount of government spending can save you from failed leadership. New Jersey, Illinois and New York – blue states run by Democrats – all face unfunded pensions, bloated budgets, large state debts and high taxes. They're all failing. That's why I opposed state bailouts from the very start and why I made fiscal responsibility and paying down the debt a major focus on my Plan to Rescue America. Now, Joe Biden is trying to send America down this same dangerous path and it's up to us to stop him.
…
From the time President Biden was elected, he has pushed for one massive spending package after another. What are the results of his socialist agenda? Our nation is falling into a recession and American families are suffering as they dealing with sky-high gas and food prices. Things look grim, but there is always hope. We can turn America around and fix the mess Joe Biden has created. I know we can do this because I did it as governor of Florida.
…
It's time we start holding our so-called 'leaders' in Washington and across the nation accountable. Here's my challenge to state and local governments: balance your budgets, demand that my Pay Down the Debt Act becomes law and then SEND THE 'COVID-RELIEF' MONEY BACK."
Read the full op-ed in Fox News HERE.
—
Fox News: Sen. Rick Scott demands answers from CDC head regarding taxpayer-funded media training from Dem consultant
Breitbart: Sen. Rick Scott: Only Reason to Let Cuba, Venezuela Dictators into U.S. Is to Arrest Them
Florida Daily: Rick Scott Tells Inspector General: Not One Penny of Taxpayer Money Should Benefit China
Florida Daily: Rick Scott Offers Bill to Hold Colleges, Universities Responsible for Rising Costs, Student Debt
Floridian Daily: Scott Calls on Republicans to Vote on Debt Cancellation Accountability Act
Florida Daily: Rick Scott Calls on Congressional Republicans to Back His Student Loan Reform Bills
Senator Rick Scott's Office Hosts Mobile Office Hours
This week, Senator Rick Scott's office held mobile office hours in Lutz and Margate to help with issues relating to federal agencies.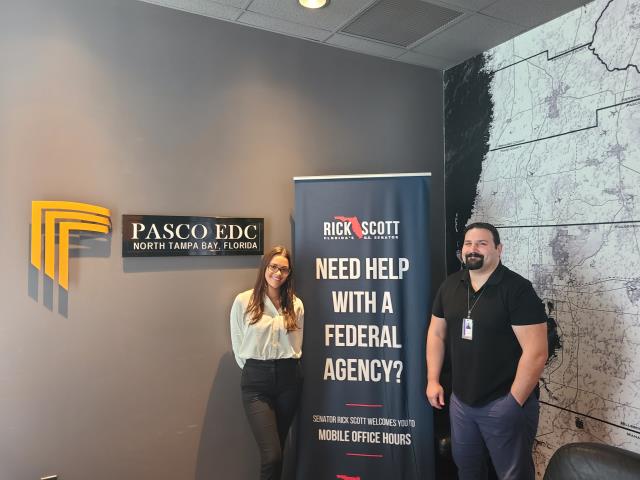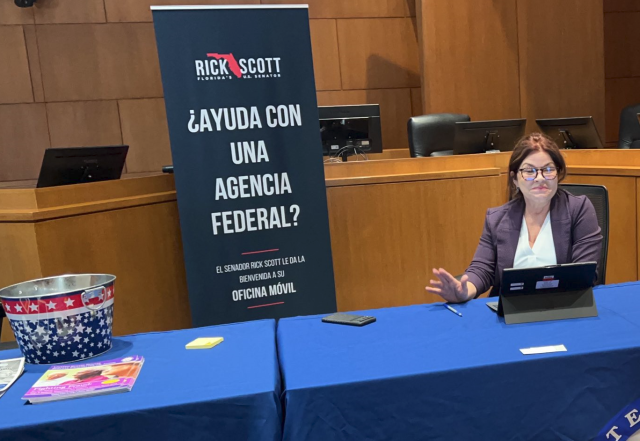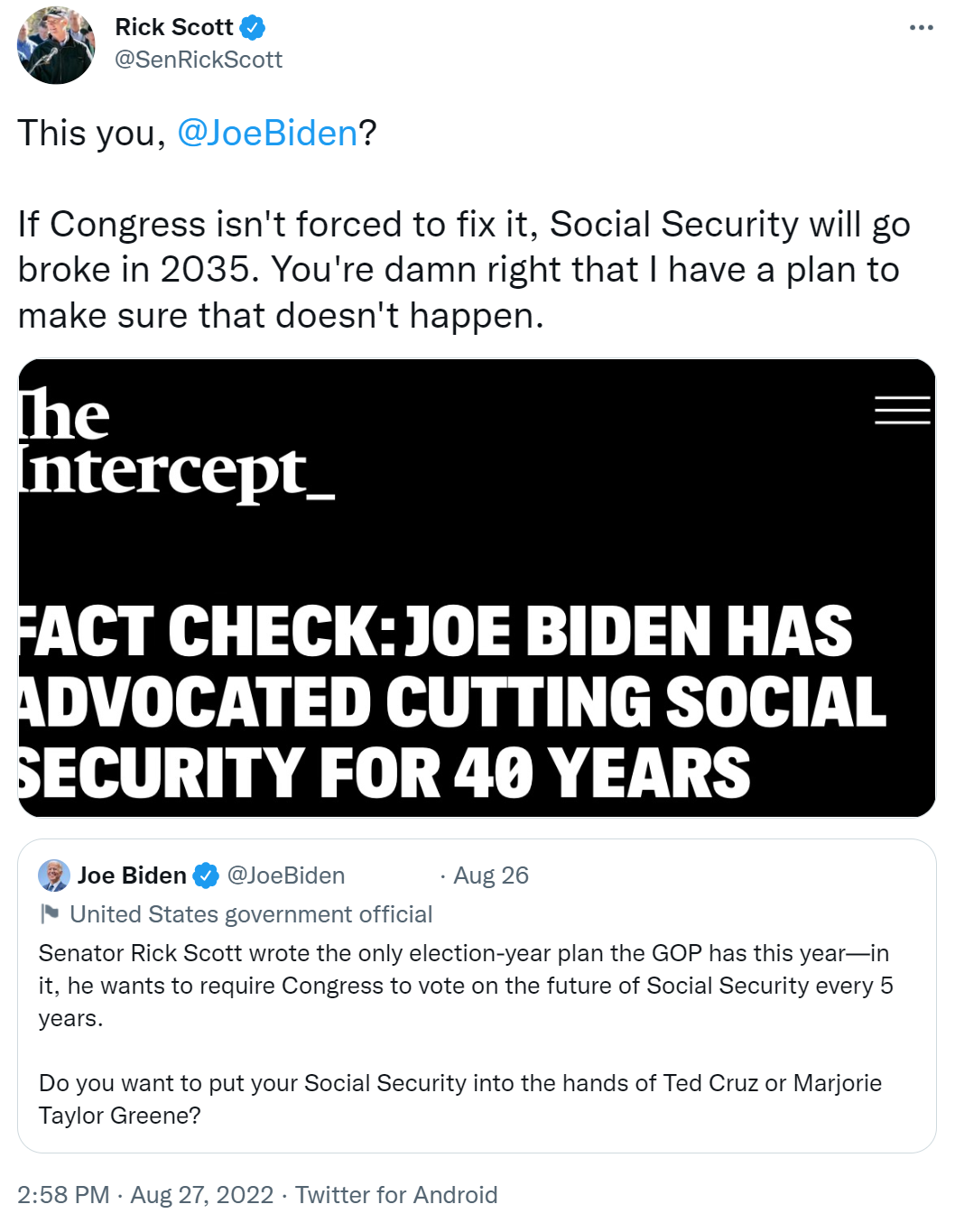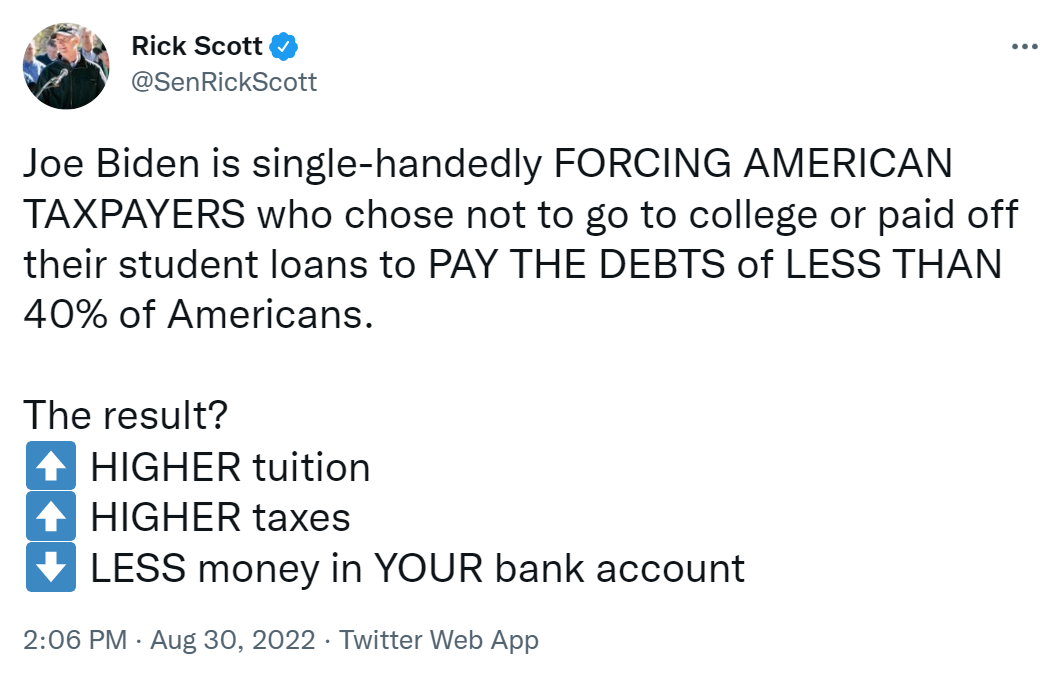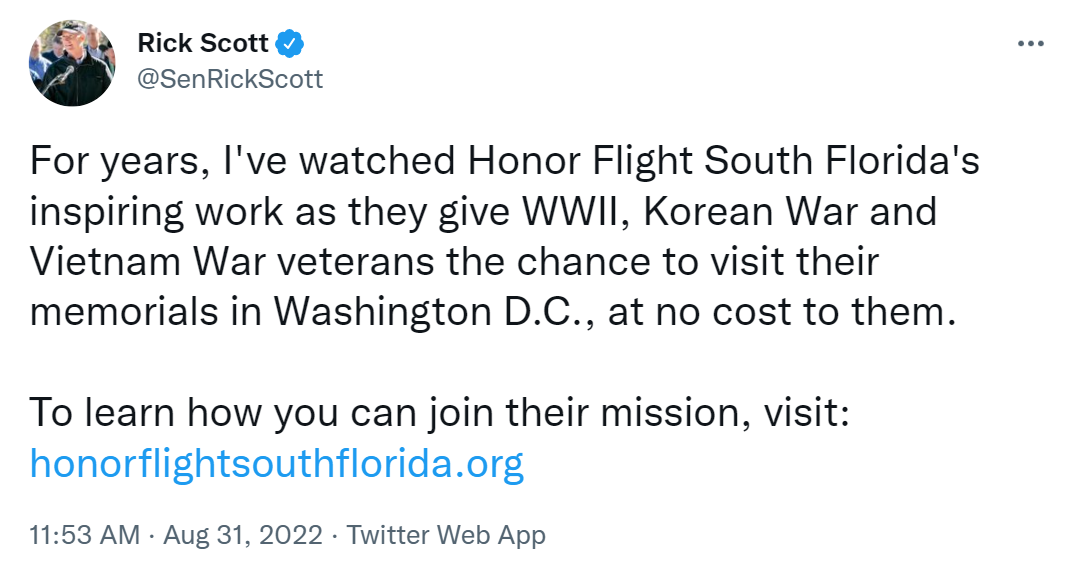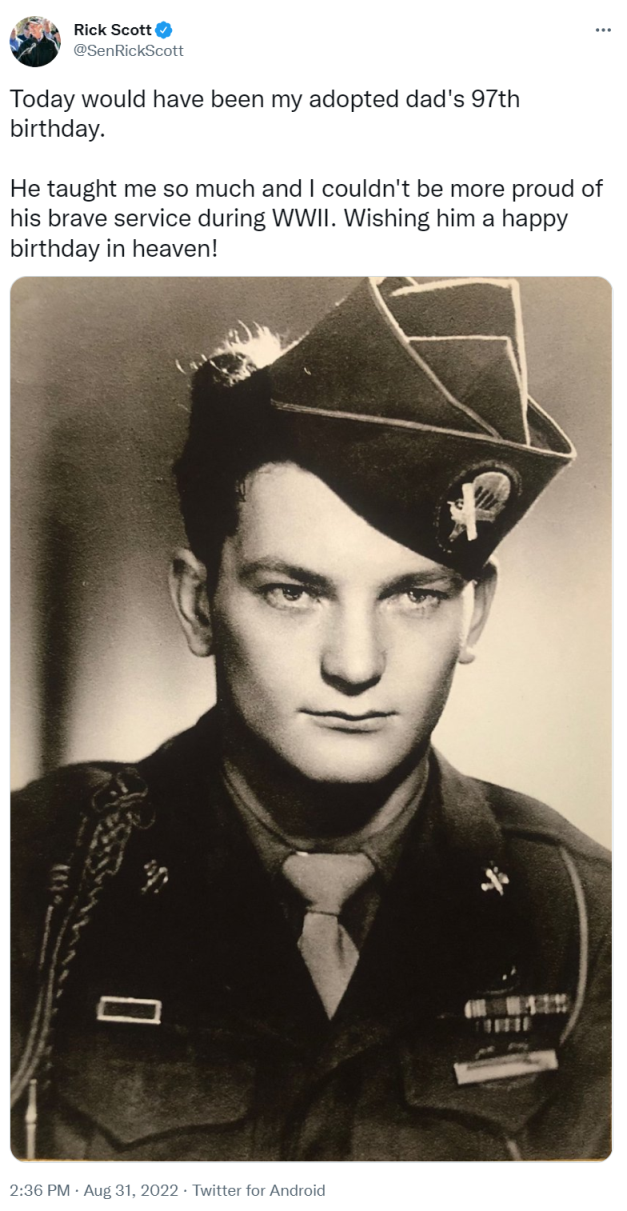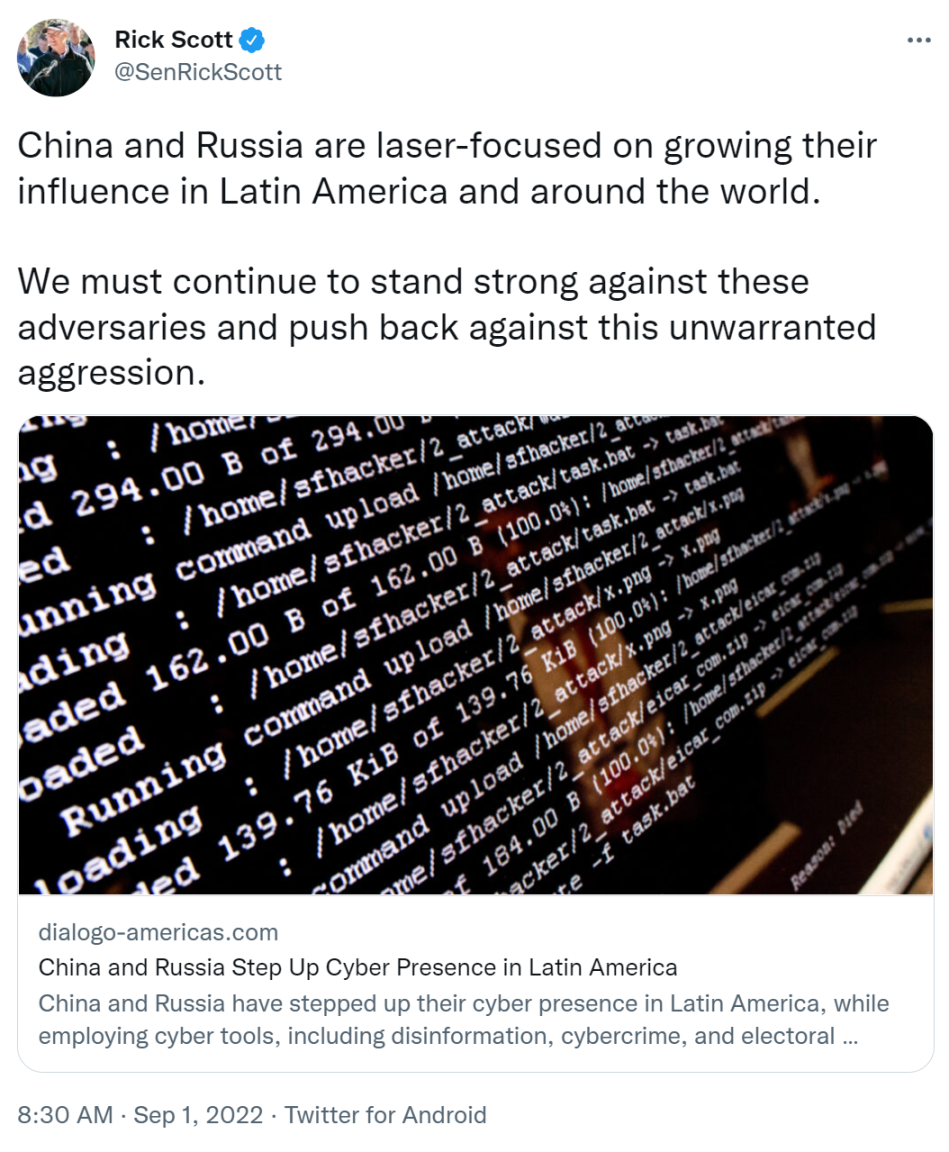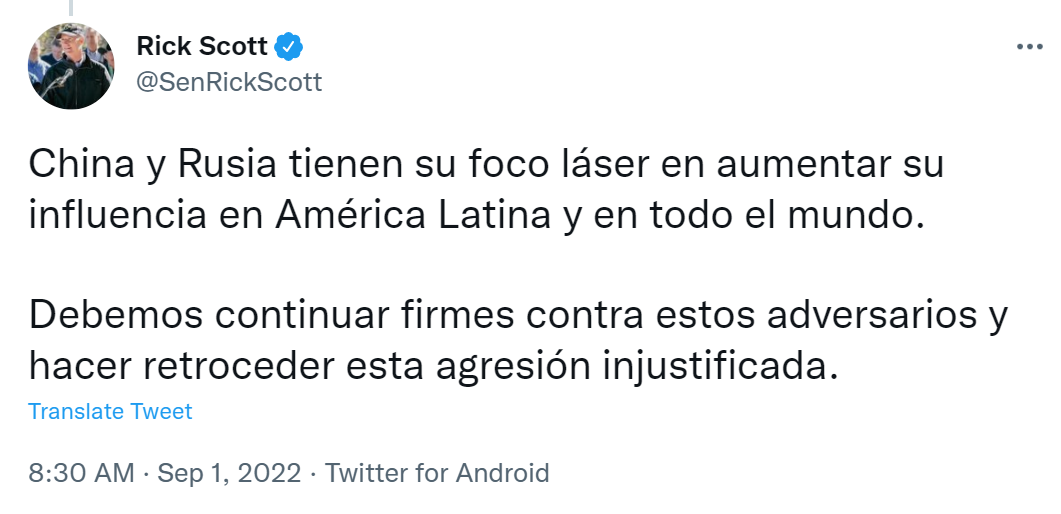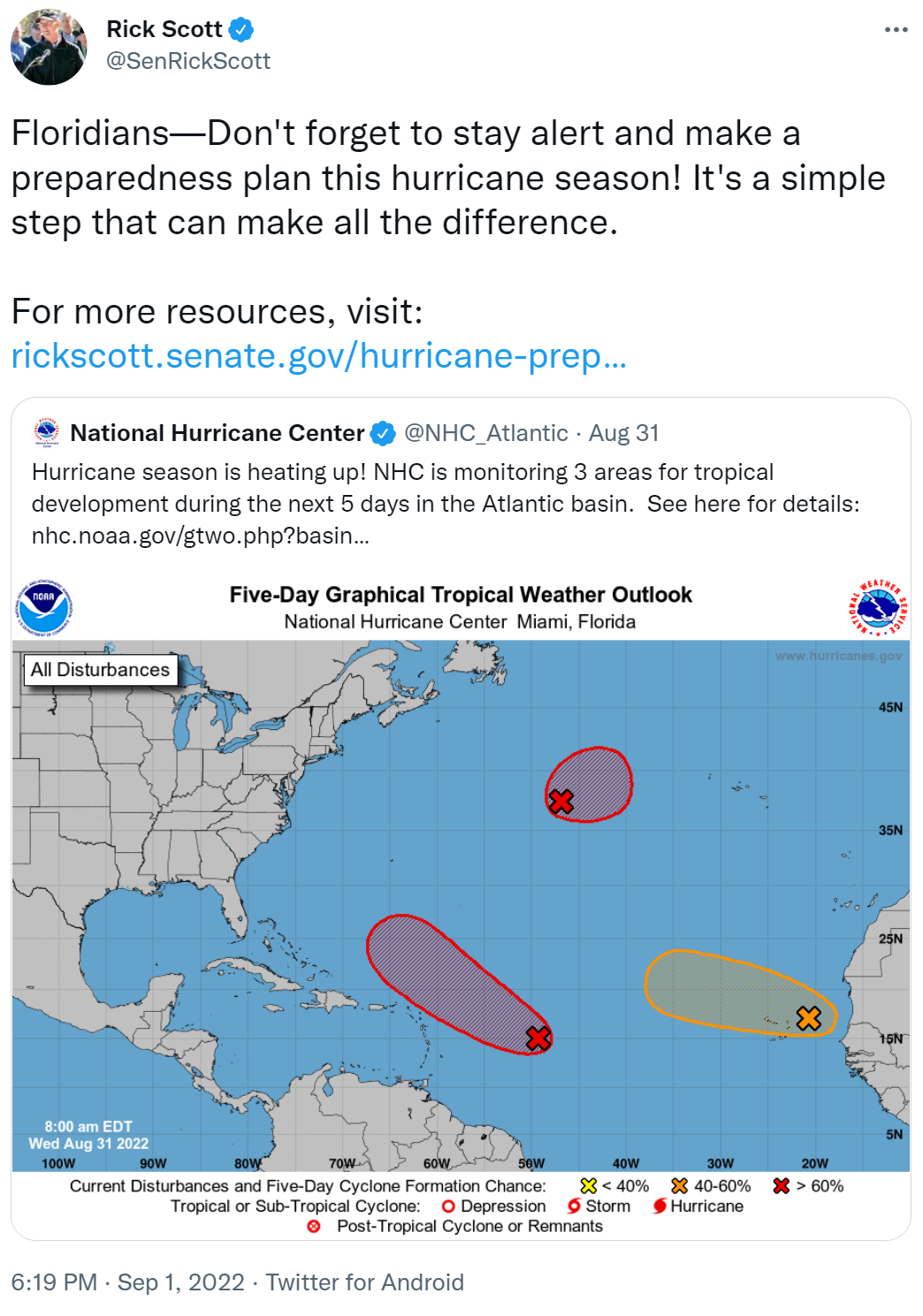 TALLAHASSEE
111 N. Adams Street, Suite 208
Tallahassee, FL 32301
Phone: (850) 942-8415
WEST PALM BEACH 
415 Clematis Street, Suite 201
West Palm Beach, FL 33401
Phone: (561) 514-0189
TAMPA
801 North Florida Avenue, Suite 421
Tampa, FL 33602
Phone: (813) 225-7040
KISSIMMEE 
1 Courthouse Square, Suite 300
Kissimmee, FL 34741
Phone: (407) 586-7879
PENSACOLA 
221 Palafox Place, Suite 420
Pensacola, FL 32502
Phone: (850) 760-5151
MIAMI 
901 Ponce de Leon Blvd., Suite 505
Miami, FL 33134
Phone: (786) 501-7141
NAPLES
3299 Tamiami Trail East, #106 
Naples, FL 34112
Phone: (239) 231-7890
JACKSONVILLE
400 West Bay Street, Suite 289
Jacksonville, FL 32202
Phone: (904) 479-7227
ORLANDO
225 East Robinson Street, Suite 410
Orlando, FL 32801 
Phone: (407) 872-7161
 
WASHINGTON, D.C.
502 Hart Senate Office Building
Washington, D.C. 20510
Phone: (202) 224-5274
 
 
Fax: (202) 228-4535