US Senator Rick Scott's Week in Review 07/01/2022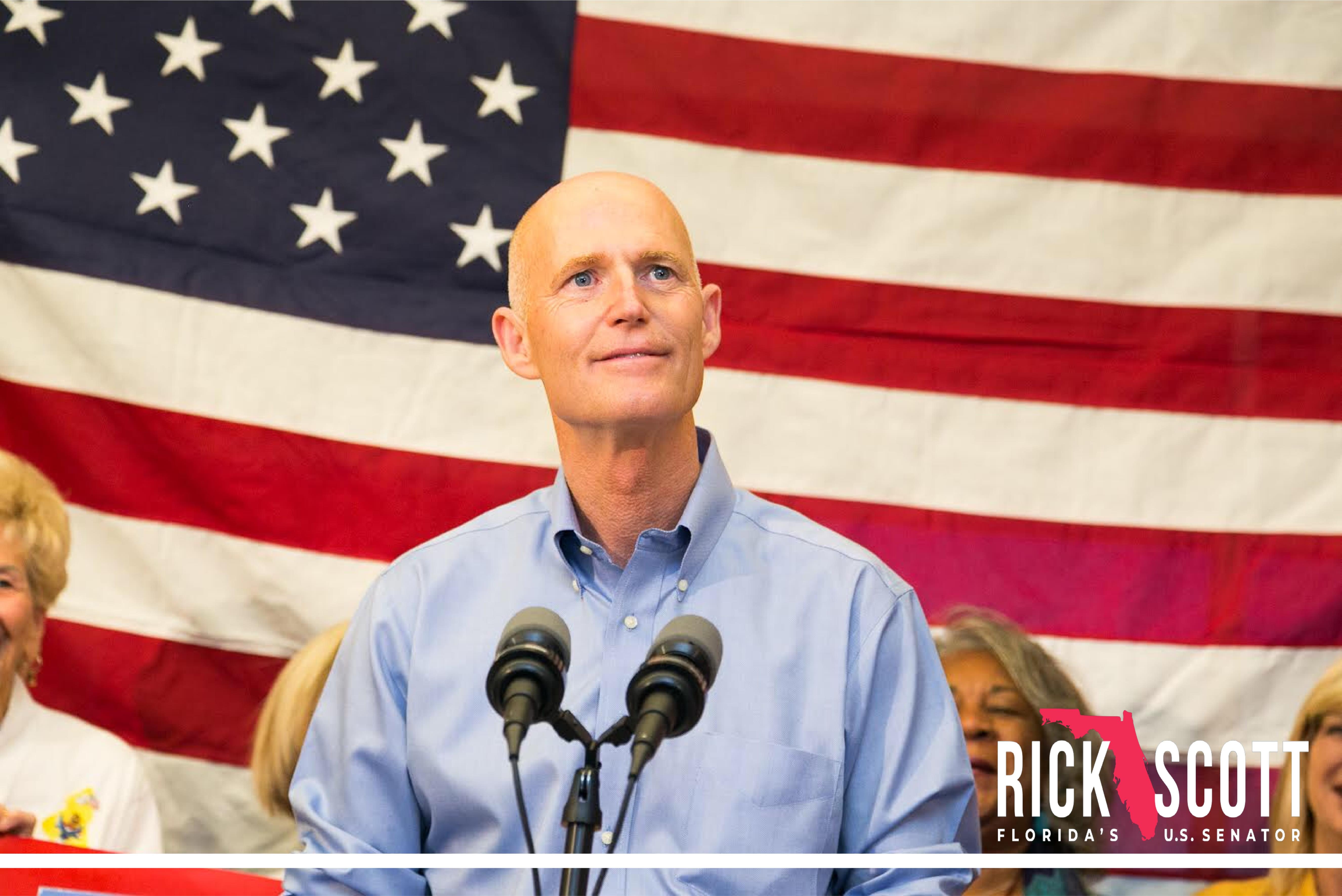 Ahead of July 4th, Senator Rick Scott wishes every American a happy Independence Day! America is the greatest country in the world, and a beacon of freedom and democracy. As families in Florida and across the nation celebrate our independence, Senator Scott encourages every American to come together and reignite their American pride for the land of the free and home of the brave.
Watch Senator Rick Scott's video HERE or below.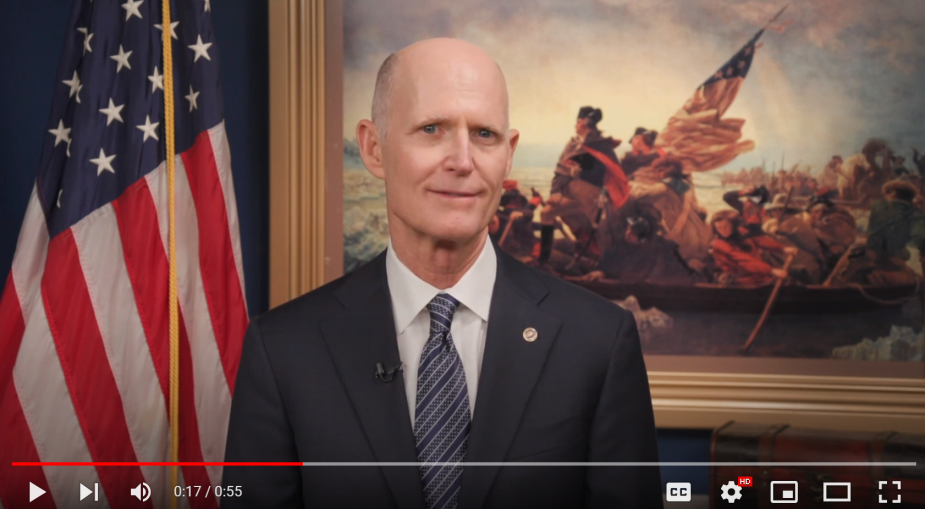 See more of what Senator Scott has been up to this week below.
Sen. Rick Scott Leads Legislation to Stop Biden's Mass Debt Cancellation at Expense of Taxpayers
Senator Rick Scott, joined by Senators Cynthia Lummis, Mike Braun and John Barrasso, introduced legislation to prevent the Biden administration from enacting an overreaching, fiscally irresponsible blanket cancellation of student loans. The Debt Cancellation Accountability Act will require the U.S. Department of Education to obtain an express appropriation from Congress to pay for any federal student loan debts the Department proposes to waive, discharge, or otherwise reduce whenever granted to two or more borrowers in an amount greater than $1,000,000, rather than on a case-by-case basis. 
Senator Rick Scott said, "The Biden administration's latest move to cancel millions of dollars in student loans is yet another example of how far it will go to appease the radical left. The reality is, a blanket forgiveness of student loans only benefits a small percentage of the population at the expense of millions of other hardworking Americans. Those who have saved to pay for the education they chose to get, or have no debt at all because they chose a valuable career that doesn't require a college degree, shouldn't be on the hook to bail out folks that voluntarily took on debt and now want someone else to pay for it. That's not how the real world works. Our legislation, the Debt Cancellation Accountability Act, will hold this administration accountable to American taxpayers by requiring Congressional approval for any mass cancellation of student debt. When I was governor of Florida, we focused on solving the real problem behind massive student loan debt: the rising cost of higher education. Biden should do the same." Read more HERE.
—
Sen. Rick Scott & Colleagues to Secretary Yellen: Reckless Spending Causes Inflation, How Did the Treasury Prepare?
As families across America continue to suffer under President Joe Biden's record-breaking inflation, Senator Rick Scott led his colleagues from the Homeland Security and Governmental Affairs Committee, Senators Ron Johnson, Josh Hawley, James Lankford and Rand Paul, in letter to Secretary of the Treasury Janet Yellen demanding answers on how the Department prepared for inflation early in 2021. The senators are also requesting records pertaining to the American Rescue Plan, specifically those regarding the Treasury's actions to combat the known dangers of inflation following the reckless spending spree after the bill's passage in March 2021. Read more HERE.
—
Sen. Rick Scott Leads Bipartisan END FENTANYL Act to Help Border Patrol Stop Drug Smuggling
Senator Rick Scott led a bipartisan group of his colleagues to announce the Eradicating Narcotic Drugs and Formulating Effective New Tools to Address National Yearly Losses of Life (END FENTANYL) Act. This legislation would require the Commissioner of U.S. Customs and Border Protection (CBP) to update its policies at least once every three years to ensure drug interdiction guidance is up to date. This legislation builds off the 2019 GAO report, "Land Ports of Entry: CBP Should Update Policies and Enhance Analysis of Inspections," that found drug interdiction guidance has not been updated in 20 years. This legislation is co-sponsored by Senators Mike Braun, Maggie Hassan and Dianne Feinstein.
Senator Rick Scott said, "For too long, the crushing heartbreak felt from losing a loved one to a drug overdose, and the opioids that cause them, have plagued American families. This epidemic, fueled by the massive amounts of fentanyl flowing illegally over our southern border into our communities, has only grown worse under Joe Biden's failed open border policies. Every life taken by an accidental drug overdose is a preventable tragedy and we must do everything in our power to stop them. That's why I am leading a bipartisan group of my colleagues to introduce the END FENTANYL Act. We must continue to do everything possible to ensure our brave CBP agents, who are on the frontlines of this battle, have every tool needed to fight back, keep these dangerous drugs out of our country and save lives." Read more HERE.
—
Sen. Rick Scott Issues Weekly Update on Biden's Inflation Crisis
Senator Rick Scott released a weekly update on his actions to address America's debt crisis and rising inflation following the announcement that the Personal Consumption Expenditure (PCE) price index increased 6.3% percent over the year under Joe Biden's failed leadership. Read more HERE.
—
El Senador Rick Scott publica una actualización semanal sobre la crisis inflacionaria de Biden
El Senador Rick Scott publicó hoy una actualización semanal sobre sus acciones para abordar la crisis de la deuda de Estados Unidos y el aumento de la inflación tras el anuncio de que el índice de precios del Gasto de Consumo Personal (PCE) aumentó 6,3 % durante el año bajo el liderazgo fallido de Joe Biden. Lea más AQUÍ.
—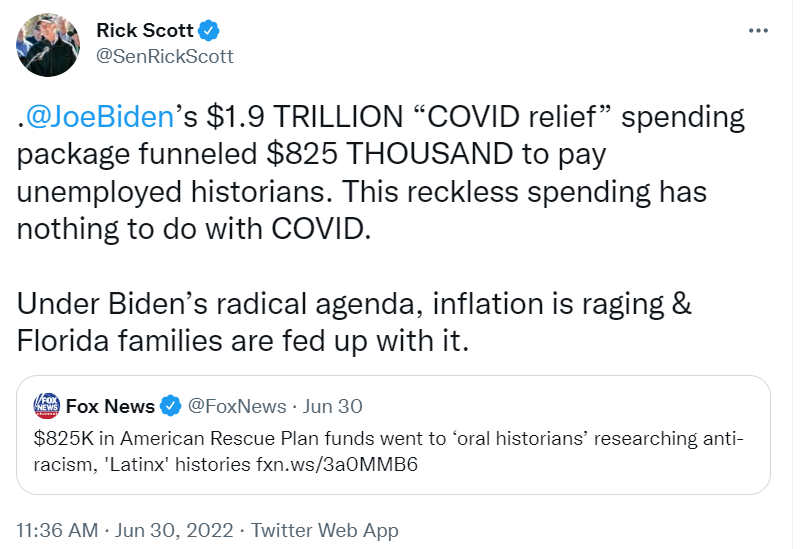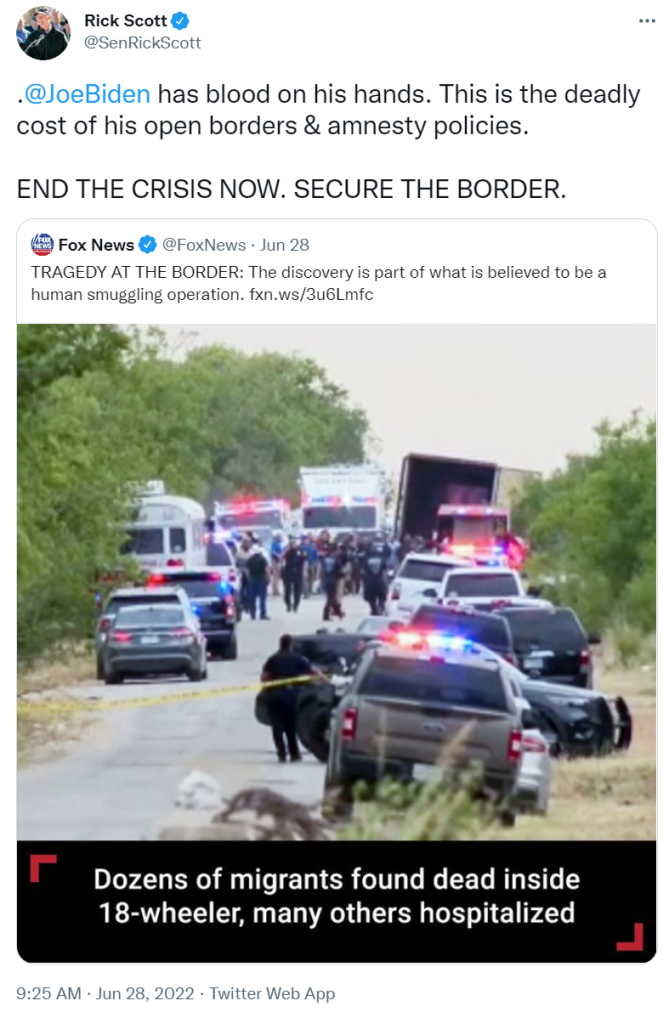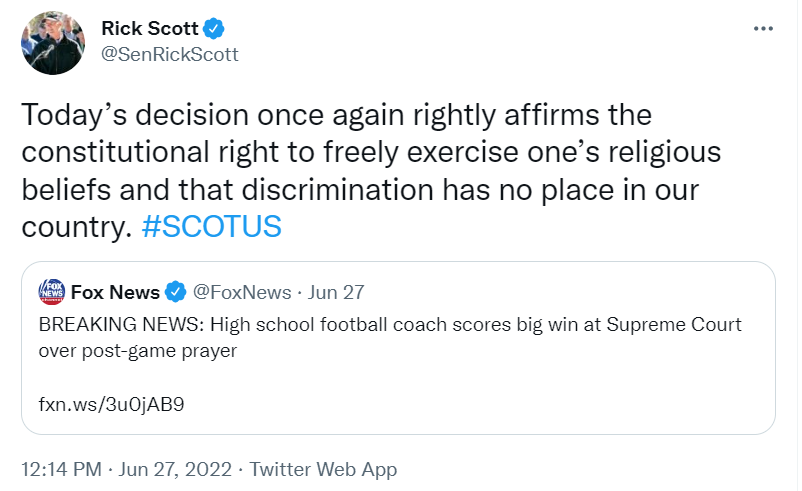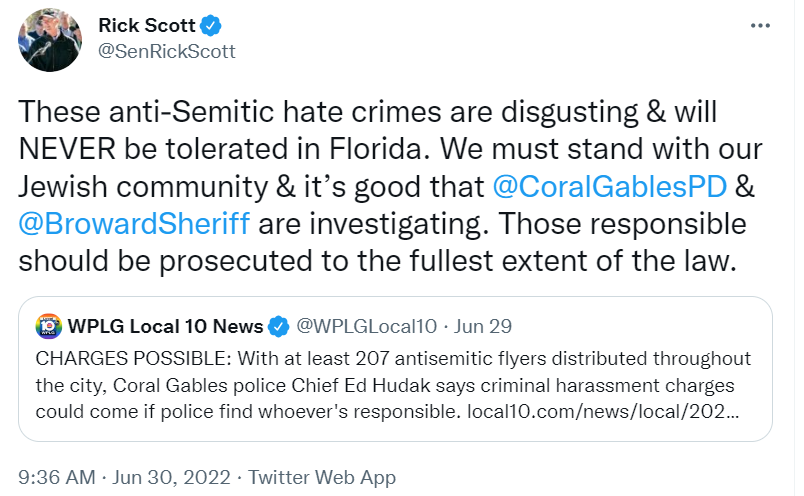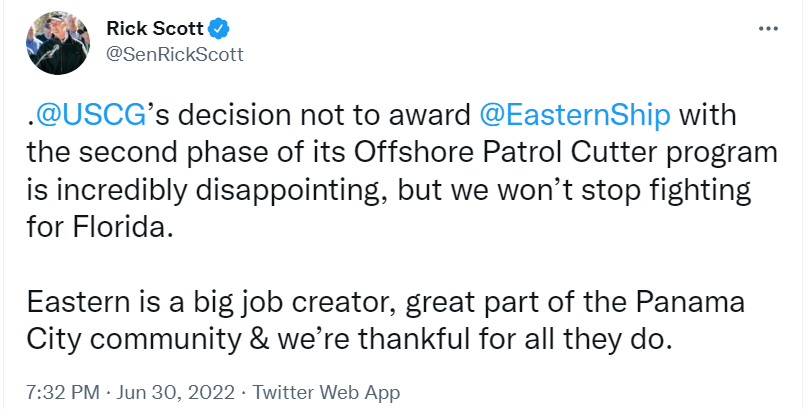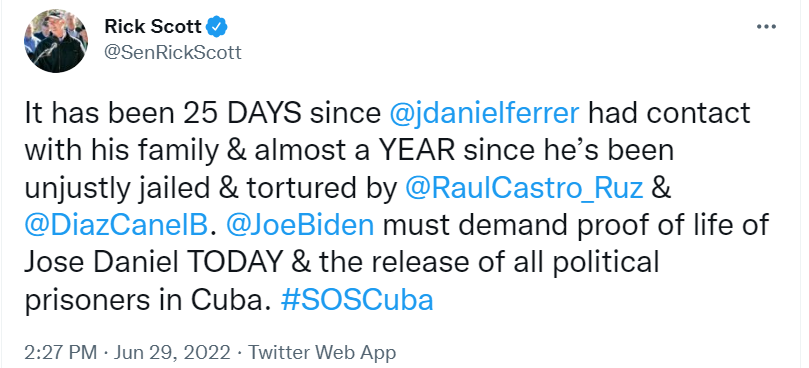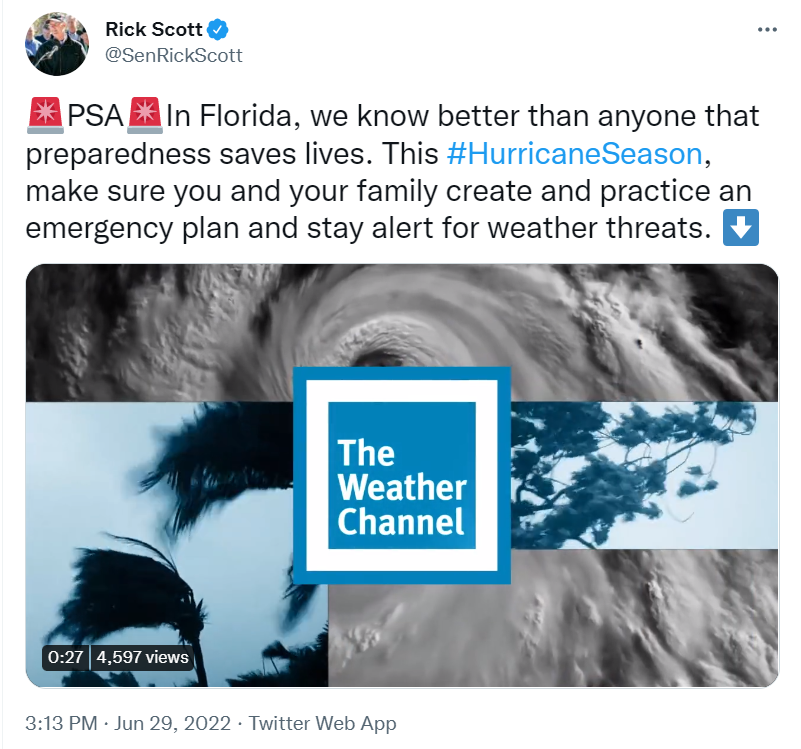 TALLAHASSEE
111 N. Adams Street, Suite 208
Tallahassee, FL 32301
Phone: (850) 942-8415
WEST PALM BEACH 
415 Clematis Street, Suite 201
West Palm Beach, FL 33401
Phone: (561) 514-0189
TAMPA
801 North Florida Avenue, Suite 421
Tampa, FL 33602
Phone: (813) 225-7040
KISSIMMEE 
1 Courthouse Square, Suite 300
Kissimmee, FL 34741
Phone: (407) 586-7879
PENSACOLA 
221 Palafox Place, Suite 420
Pensacola, FL 32502
Phone: (850) 760-5151
MIAMI 
901 Ponce de Leon Blvd., Suite 505
Miami, FL 33134
Phone: (786) 501-7141
NAPLES
3299 Tamiami Trail East, #106 
Naples, FL 34112
Phone: (239) 231-7890
JACKSONVILLE
400 West Bay Street, Suite 289
Jacksonville, FL 32202
Phone: (904) 479-7227
ORLANDO
225 East Robinson Street, Suite 410
Orlando, FL 32801 
Phone: (407) 872-7161
 
WASHINGTON, D.C.
502 Hart Senate Office Building
Washington, D.C. 20510
Phone: (202) 224-5274
 
 
Fax: (202) 228-4535