US Senator Rick Scott's Week in Review 0610/2022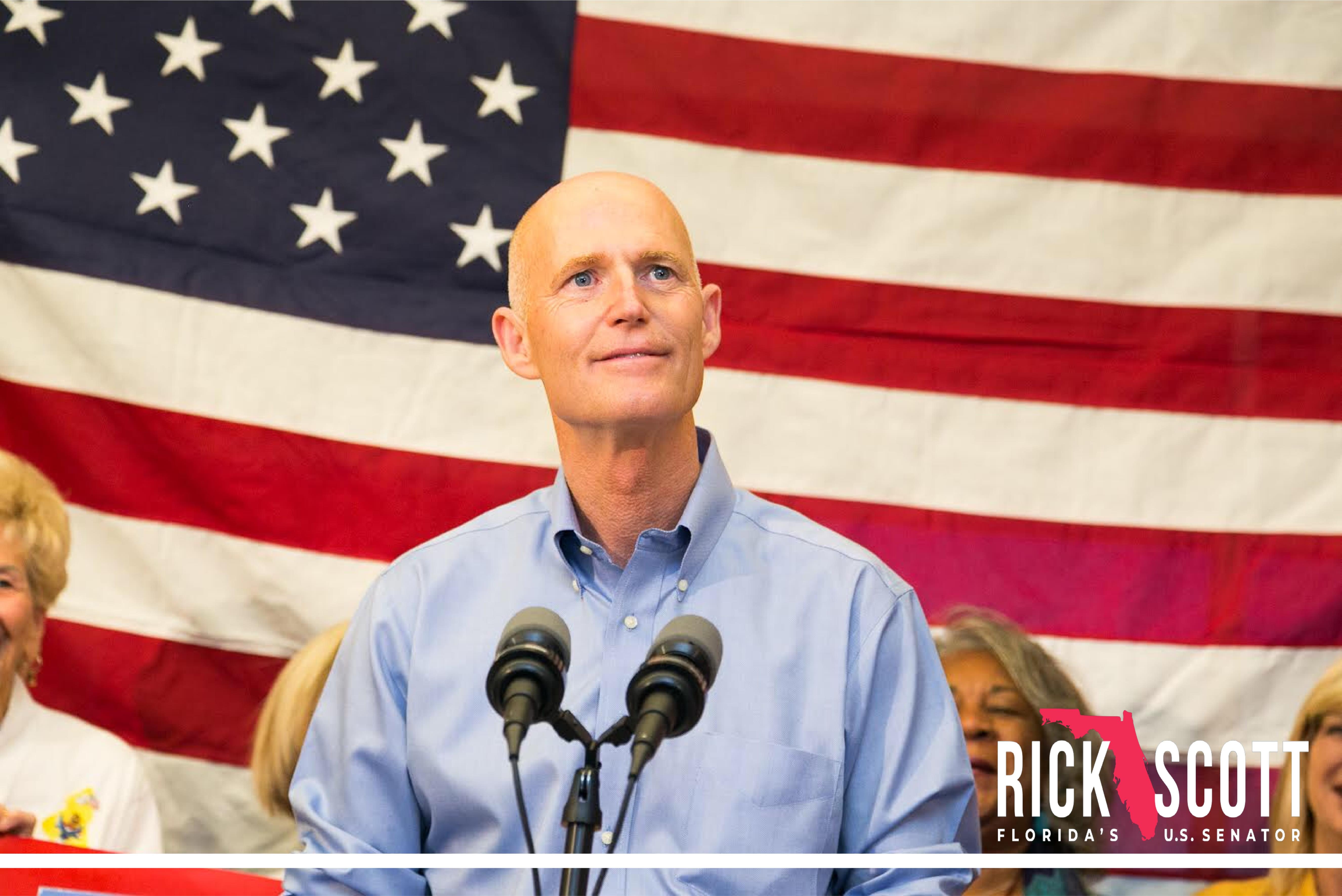 This week, ahead of the six year anniversary of the horrific attack on Pulse Nightclub in Orlando, Florida, Senator Rick Scott introduced and unanimously passed his resolution with Senator Marco Rubio honoring the memory of the 49 innocent lives lost. This evil and hateful attack against America, Florida, the City of Orlando and our LGBTQ and Hispanic communities was designed to divide and strike fear in the hearts and minds of Floridians. Instead, in the face of unimaginable loss, Floridians came together in strength, love and bravery and provided a sense of hope.

Senator Scott is proud that, last year, Congress passed and the president signed into law legislation that he introduced with Senators Marco Rubio and Alex Padilla to designate the location of Pulse Nightclub in Orlando as the 'National Pulse Memorial,' which will honor the memory of the innocent lives lost. 
Watch more in the video HERE or below.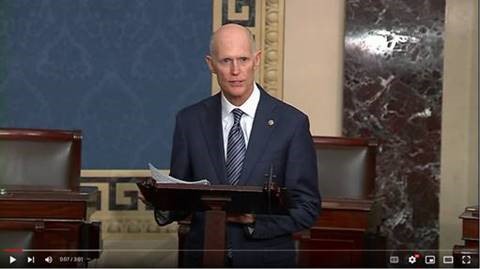 See more of what Senator Scott has been up to this week below.
Sen. Rick Scott Honors 49 Innocent Victims Ahead of Sixth Anniversary of Attack on Pulse Nightclub
Ahead of the six year anniversary of the terror attack on Pulse Nightclub in Orlando, Florida, Senator Rick Scott introduced and passed by unanimous consent a resolution recognizing the anniversary and honoring the 49 innocent victims.

Last year, Senator Scott led the effort in the Senate to unanimously pass his legislation with Senators Marco Rubio and Alex Padilla establishing Pulse Nightclub as a national memorial. The legislation was approved by the House of Representatives and signed into law. Watch more in the video HERE or below.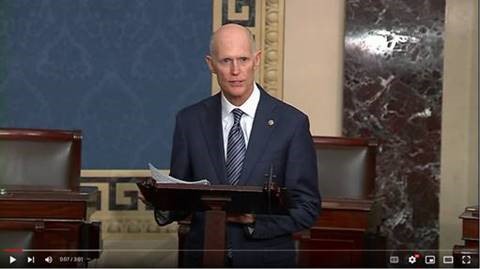 —
Sens. Rick Scott & Roger Marshall Lead Bill to Allow Excess COVID Funds for School Safety
Senator Rick Scott joined Senator Roger Marshall and several of their colleagues in introducing the Safe Schools Act. This legislation allows schools to repurpose excess COVID relief dollars that they were previously allocated for important school safety and hardening with measures to keep students and educators safe, including locks, panic buttons, video surveillance and the hiring and paying the salaries of armed school resource officers. This legislation is co-sponsored by Senators Tim Scott, Thom Tillis, Steve Daines, Chuck Grassley, Todd Young, Mike Braun and Jerry Moran. Companion legislation was introduced in the House of Representatives by U.S. Congressman Mike Garcia.

Senator Rick Scott said, "In Florida, after the tragic shooting that claimed 17 innocent lives at Marjory Stoneman Douglas High School, we took meaningful action and signed sweeping legislation into law to improve school safety and keep our students and educators safe. Every state should be looking at what we did and what action they can take to make sure students feel safe and parents are comfortable sending their kids to school every morning. I'm proud to support this legislation to allow states to use excess, unspent COVID funding to invest in school safety measures." Read more HERE.
—
Sen. Rick Scott and Rep. Elise Stefanik Lead Continued Calls for Answers on Border Crisis
Senator Rick Scott and Congresswoman Elise Stefanik led 36 of their colleagues in sending a follow up letter to the Office of Inspector General for the Department of Homeland Security (DHS) to reiterate their call for a comprehensive review of the decisions by the Biden administration that have led to the worst border crisis in United States history.

This is a follow up to their initial letter request in January. Since then, the border crisis has only worsened, which the lawmakers note in their letter by writing, "Since our letter was sent, the situation at the border has only become worse. In April 2022, DHS reported 234,088 apprehensions at the southern border, which is the highest number recorded for a single month in over twenty years."

Senator Rick Scott said, "The Biden administration's failures and egregious mismanagement of the U.S. southern border have created an unprecedented humanitarian and national security crisis for our nation. Joe Biden is laying out a welcome mat for human traffickers and savage cartels bringing drugs and crime to our communities, and blatantly ignoring U.S. laws and policies that are designed to keep America safe. For over a year, I have demanded real action to secure the border, and back in January, I urged the Biden administration to investigate the cause of its border failures. We must get to the bottom of this and ensure accountability for this man-made crisis. We won't stop fighting until the border is secure and the American people get the answers they deserve." Read more HERE.
—
Sen. Rick Scott: Joe Biden Has Heartlessly Turned His Back on Americans
Following the latest Consumer Price Index (CPI) release from the Bureau of Labor Statistics (BLS), Senator Rick Scott released the below statement highlighting the need to implement substantive fiscal reforms to end the ongoing inflation crisis fueled by the Biden administration's reckless tax-and-spend agenda. May's CPI data shows that there has been significant inflation every month of Biden's presidency. Year over year consumer prices increased 8.6% in May – a record 40-year high. Since being elected to the U.S. Senate, Senator Scott has urged government accountability to the American taxpayer. Earlier this week, Senator Scott wrote an op-ed for the Washington Examiner on how the president's policies show two things: he's heartlessly disconnected from the pain his policies have caused families, and he has no idea how to curb inflation. Read more here.

Senator Rick Scott said, "Joe Biden is failing Americans. He created a crisis that is devastating families livelihoods and is now turning his back on Americans when they need his leadership the most. Biden is totally disconnected from the pain his policies have caused, and he has NO PLAN to curb his self-made inflation disaster. Sadly, I think it's now clear that 'Rich-Kid-Biden' is just too hopelessly out of touch and heartless to ever care enough to fix it. Think about it: Joe Biden has never struggled financially, spent half a century living on the taxpayers' dime and has no interest in understanding what it's like for Americans who are hurting right now. The problem isn't that he grew up with money, it's that he doesn't care about people who didn't. Inflation was 1.4% the day he took office. Gas was $2.39 per gallon. Now we are seeing inflation at a 40-year record high and gas is so expensive families, especially our poorest families like mine growing up, are having to make choices between fuel in the tank or food on the table. Joe Biden and his failed administration have been wrong on inflation every step of the way and Americans are sick and tired of paying the price for his incompetence." Read more HERE.
—
Sen. Rick Scott, Rep. Michael Waltz Introduce the KREMLIN Act to Thwart Putin's Regime
Senator Rick Scott introduced the bicameral  Keeping Russia's Energy and Military Liable for Invading its Neighbors (KREMLIN) Act to prohibit federal agencies from doing business with any entity that contracts with Putin's evil regime or his cronies in the Russian natural gas, oil, and coal sector. The prohibition would remain in effect until the President of the United States certifies that an agreement has been reached and accepted by a free and independent government of Ukraine to withdraw Russian forces and cease military hostilities, that Russia does not pose an immediate threat of aggression to any NATO member, and that Russia recognizes the right of the Ukrainian people to independently and freely choose their own government.
Senator Rick Scott said, "As Russia wages war against Ukraine and threatens democracy and our national security in Europe, the United States must ensure that no American tax dollars are being used to support Putin's evil regime. This bill is an important step to thwart Putin's evil and murderous regime from continuing its unjust invasion of Ukraine and again clarify that the United States stands firmly with the Ukrainian people." Read more HERE.
—
Sens. Rick Scott, Marco Rubio Sound the Alarm on the Sale of Spanish-Language Radio Stations to Newly Formed Leftwing Media Group
Senator Rick Scott joined Senator Marco Rubio leading colleagues in a letter to Federal Communications Commission (FCC) Chairwoman Jessica Rosenworcel regarding the sale of 18 Spanish-language radio stations, including Miami's conservative Radio Mambí, to the Latino Media Network (LMN), a recently formed media group run by Democrat activists and funded in part by leftwing billionaire George Soros. Read more HERE.
—
Los Senadores Rick Scott y Marco Rubio suenan las alarmas sobre la venta de estaciones de radio en español al nuevo grupo de medios de izquierda
El Senador Rick Scott se unió al Senador Marco Rubio y colegas en una carta a la Presidenta de la Comisión Federal de Comunicaciones (FCC, por sus siglas en inglés), Jessica Rosenworcel, sobre la venta de 18 estaciones de radio en español, incluyendo la emisora conservadora Radio Mambí de Miami, a Latino Media Network (LMN), un grupo de medios recientemente formado dirigido por activistas demócratas y financiado en parte por el multimillonario de izquierda George Soros. Lea más AQUÍ.
—
Sen. Rick Scott and Colleagues Press VA on Failure to Provide Emergency Care to Veterans in Need
Senator Rick Scott and Senator Marco Rubio along with Representative Kat Cammack sent a letter to U.S. Department of Veterans Affairs (VA) Secretary Denis McDonough regarding an Inspector General report on a June 2020 incident in which the VA failed to provide emergency care to a veteran at the Malcom Randall VA Medical Center Emergency Department in Gainesville, Florida that resulted in the veteran's death.

The lawmakers wrote, "We are appalled by the information presented in the May 31, 2022 U.S. Department of Veterans Affairs Office of Inspector General (OIG) Report, 'Failure to Provide Emergency Care to a Patient and Leaders' Inadequate Response to that Failure at the Malcom Randall VA Medical Center (MR VAMC) in Gainesville, Florida. The report details an incident in June 2020 when MR VAMC Emergency Department (ED) nurses and administrative staff prioritized determining the patient's veteran status over rendering him emergency care. Alachua County EMS subsequently transported the patient across the street to UF Health Shands Hospital who admitted the patient. According to the OIG report, the patient was later determined to be an eligible veteran. Shands UF provided emergency care, but the veteran passed away approximately 10 hours after admission. This incident, and potentially others mentioned in the report, call into question the competency, professionalism, and commitment of MR VAMC ED medical providers and staff to our nation's veterans." Read more HERE.
Sen. Rick Scott in the Washington Examiner: Joe Biden's Heartless Message on Inflation
Senator Rick Scott wrote an op-ed for the Washington Examiner in response to President Biden releasing his "Plan to Fight Inflation," which highlights what Americans have known for well over a year: the president is heartlessly disconnected from the pain his policies have caused families, and he has no idea on how to curb inflation.


In the op-ed, Senator Scott wrote, "The truth is, Joe Biden has never taken his duty to protect American taxpayers seriously because he doesn't know what it's like to start a business or have a real job, and has never bothered to understand what those challenges are like. He grew up in a family that did well financially and attended a prep school, which today costs more than $30,000 per year. His parents took care of him growing up and then we the taxpayers took care of him throughout his decades in the Senate and White House.

…


Nobody wants to tell the truth about today's Democrat party, but I will: Democrats don't care a bit about working and poor families, and Joe Biden's White House has now made that crystal clear. Joe Biden's message to America is this: don't pay attention to the price at the pump or your grocery store receipt…the economy is doing great and if you don't agree, you're just too stupid to get it.
 

That's ridiculous and typically, I'd welcome this argument. I could argue economics and cite numbers all day long that show just how out of touch Joe Biden is with reality.

…


But those stats don't matter nearly as much as the harsh everyday reality facing families in my state of Florida and all across America right now.


Here are the numbers I think about every day:

…


I think about the number of hours that Nicole Mary, a mom whose son has a medical disability, has to spend away from her child. Nicole is working two jobs to pay her rising rent, put food on the table that's getting more expensive every month and keep gas in her car, according to reporting from WPTV in Palm Beach.

…

 
Debt, inflation, lack of a job, car repossession – these are problems American families, like mine growing up, unfortunately face. I grew up poor. We lived in public housing and I watched my mom struggle to make ends meet. I saw my adopted dad's car get repossessed. I know exactly what it's like to not know when your next meal will come.

 
I get that not every American will face these challenges, and I pray that we soon see a day when no family deals with them. So, I'm not angry that Joe Biden grew up wealthier than others, I'm angry that he doesn't care about those that are less fortunate.

…


If we want to reduce inflation, the formula is pretty simple. We need to get able-bodied Americans back to work, balance and reduce government budgets, create more competition by cutting regulation and simplifying the permitting process so businesses can get started and grow, cut taxes on Americans and our companies, buy American made products, become energy independent again and get the Federal Reserve to dramatically reduce its balance sheet.


We have a simple choice: more inflation and less opportunity, or less inflation and more opportunity. Joe Biden has made clear that the only choice he's offering is the former." Read more HERE.
—
Fox News: Sen. Scott: Biden 'doesn't care' about this
Fox News: Rick Scott on ways to prevent school shootings: 'Every parent' needs to be involved
Fox News: Senate bill pushes unused COVID money to securing schools in wake of mass shootings
Fox News: Republicans in House, Senate push again for DHS IG review of Biden response to border crisis
Fox Business: Royalty payments to government scientists come under scrutiny
Fox Business: This is 'disgusting' what Biden's done to America: Sen. Scott
The Epoch Times: 'Foolish and Naive': US Lawmakers Decry Biden Admin's Greenlight of China Military Investment
The Hill: Bipartisan bill targets entities doing business with Russian energy industry
Forbes: 'He's Never Stood Up For Democracy In Latin America': Rick Scott Hammers Biden
Forbes: 'There Are Some Jurisdictions Holding Us Back': Rick Scott Pushes For Reform Of Covid-19 Rules
Forbes: 'Your Vocal Criticism Of President Biden…': Rick Scott Says Bernie Sanders Agrees With Him
Tampa Free Press: Sens. Rubio And Scott Join GOP Lawmakers In Opposition To Bill That Guts Pro-Life Protections
The Floridian: Rick Scott: 'American families are struggling' Under Biden
The Floridian: Scott, Waltz Introduce the KREMLIN Act to Thwart 'Putin's Evil' Regime
Florida Daily: Rick Scott Takes the Senate Floor to Mark Sixth Anniversary of Pulse Nightclub Terror Attack, Honor the Victims
El American: Republicans to the FCC: Radio Mambí Purchase Is a Sign of Censorship Against Hispanic Media
Sen. Rick Scott Attends the World Trade Center Miami's Awards Luncheon
Senator Rick Scott was presented with the International Achievement Award from the World Trade Center Miami during their annual luncheon.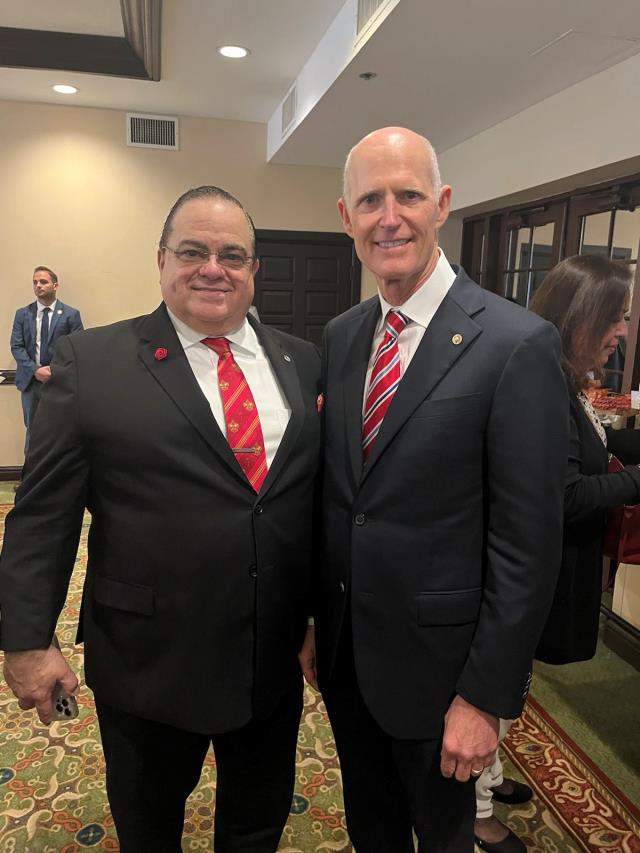 Sen. Rick Scott's Team Tours Bay County Traffic Control Center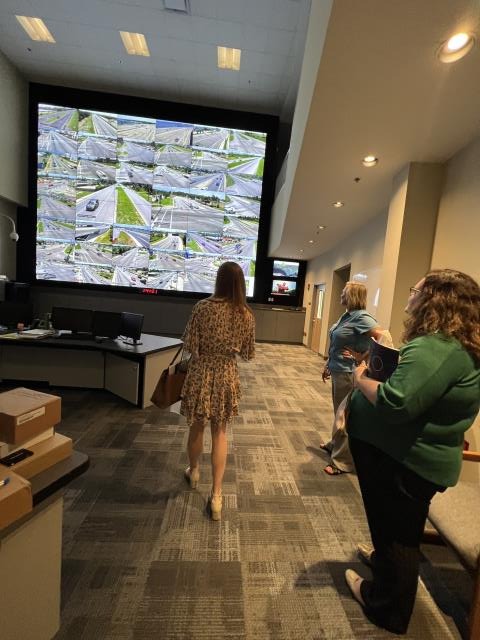 Sen. Rick Scott's Team Tours Bay County Emergency Operations Center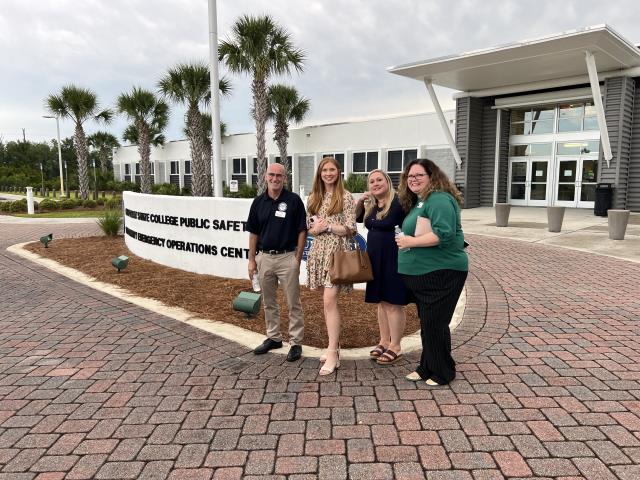 Sen. Rick Scott's Team Hosts Multicultural Mobile Office Hours Event at the 2022 Kissimmee Educational Expo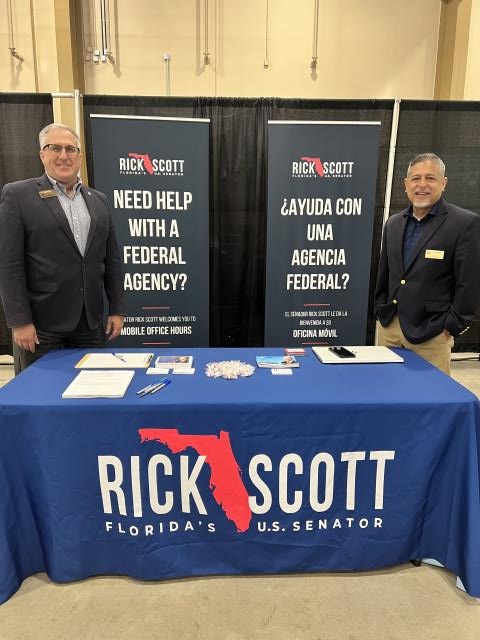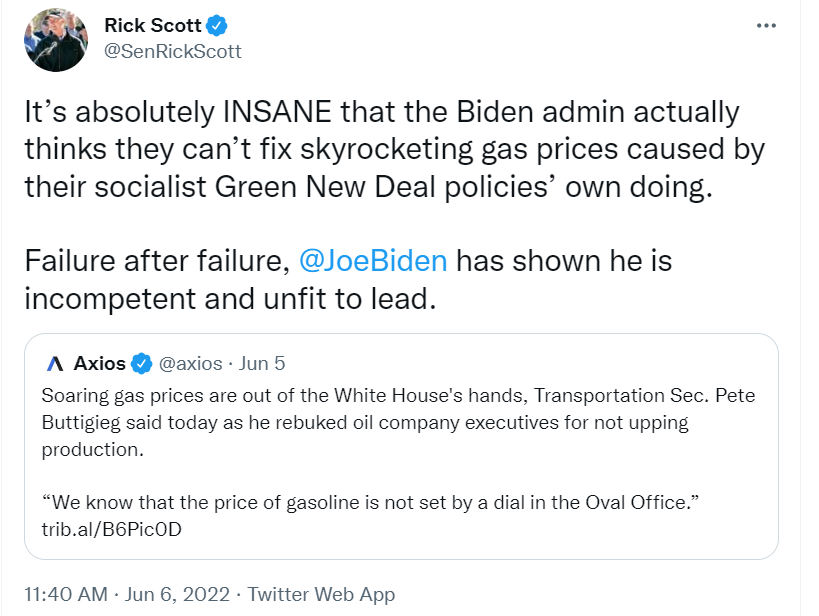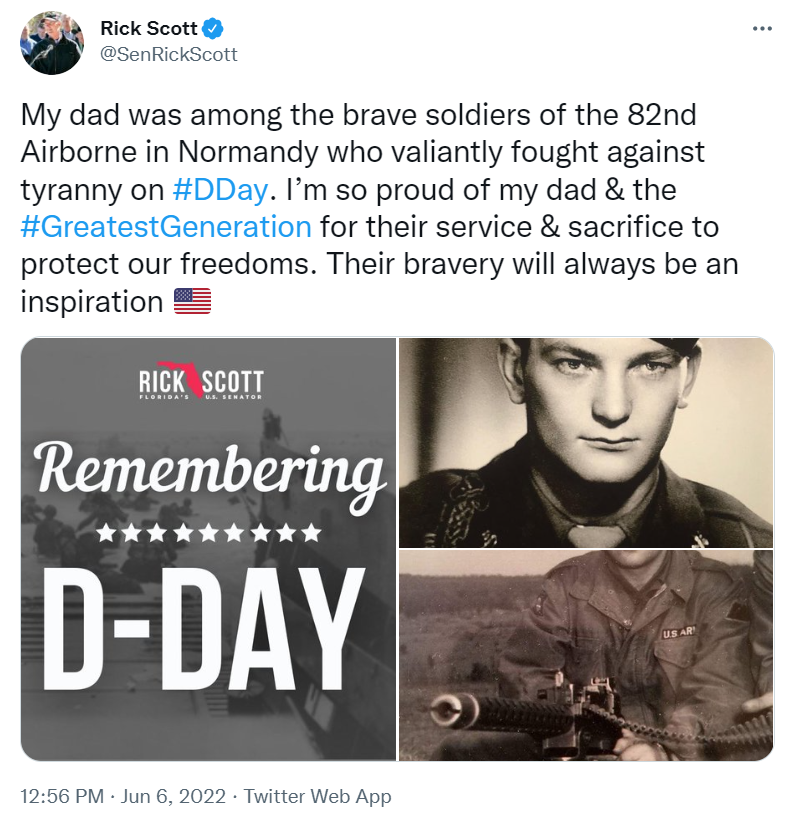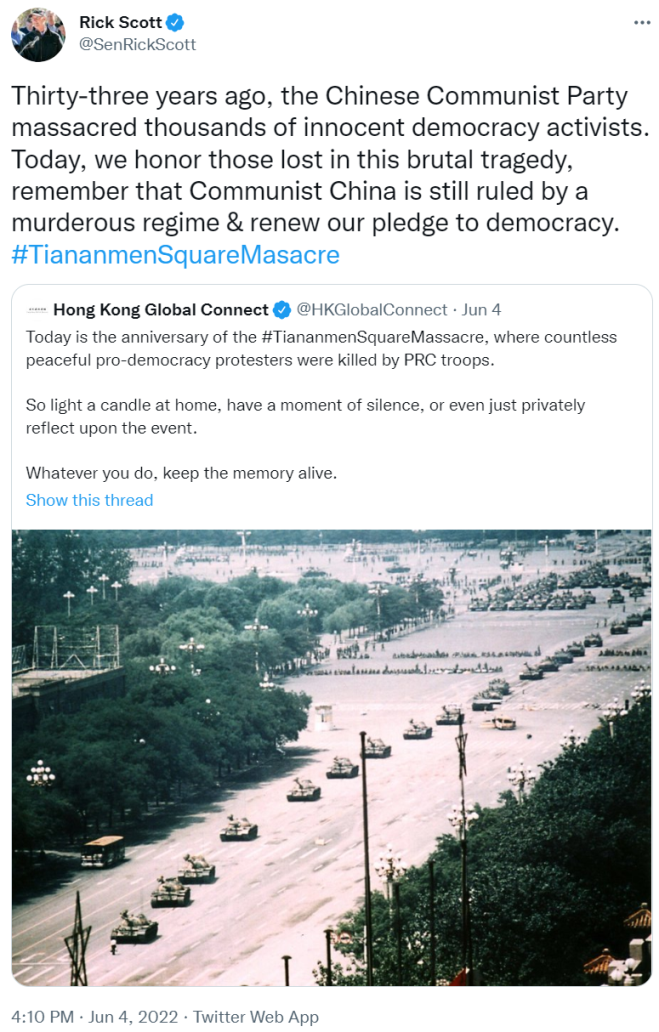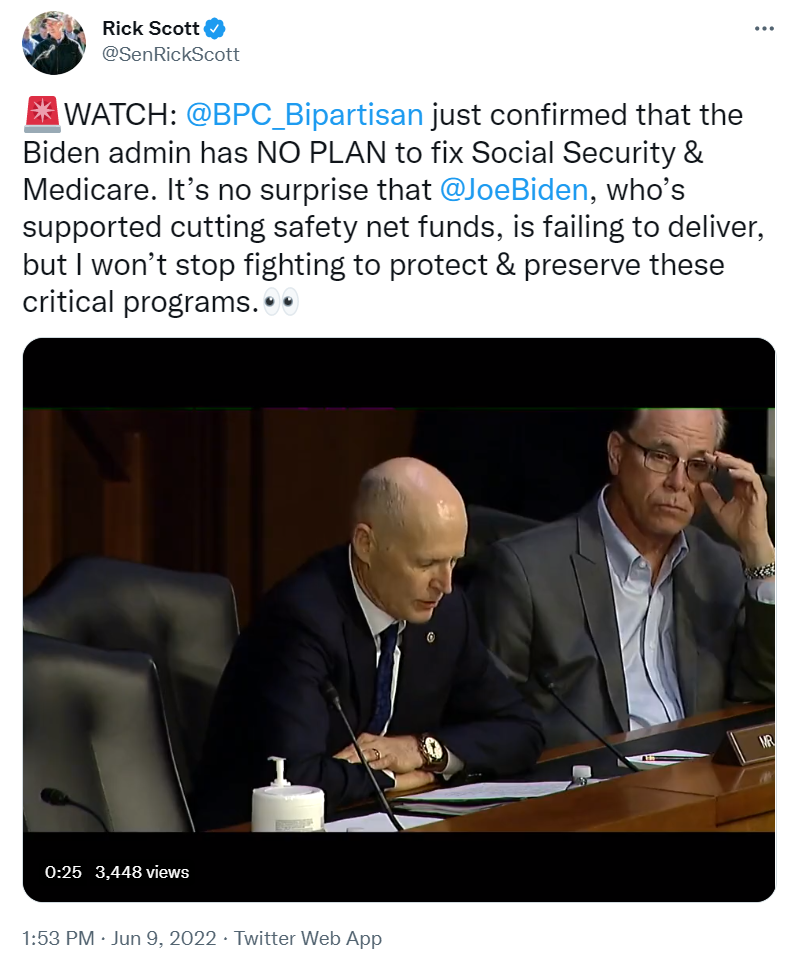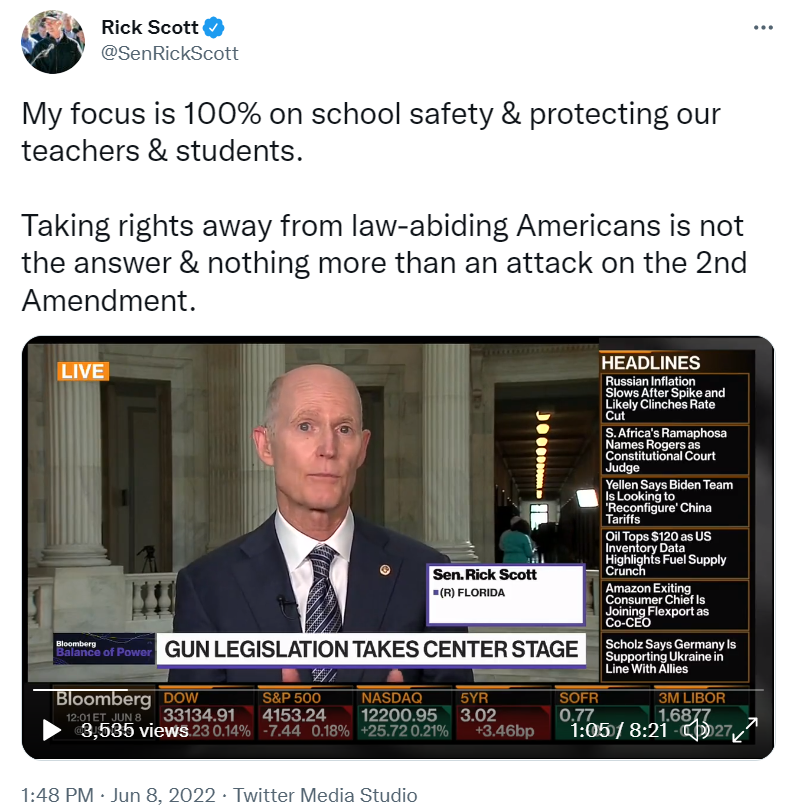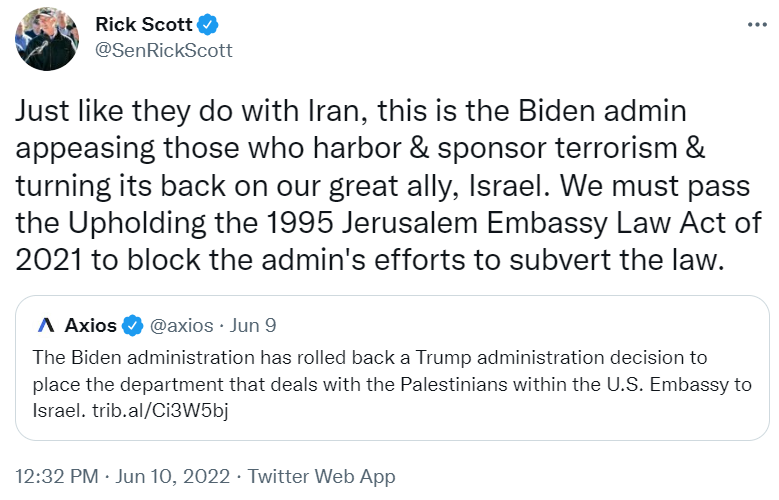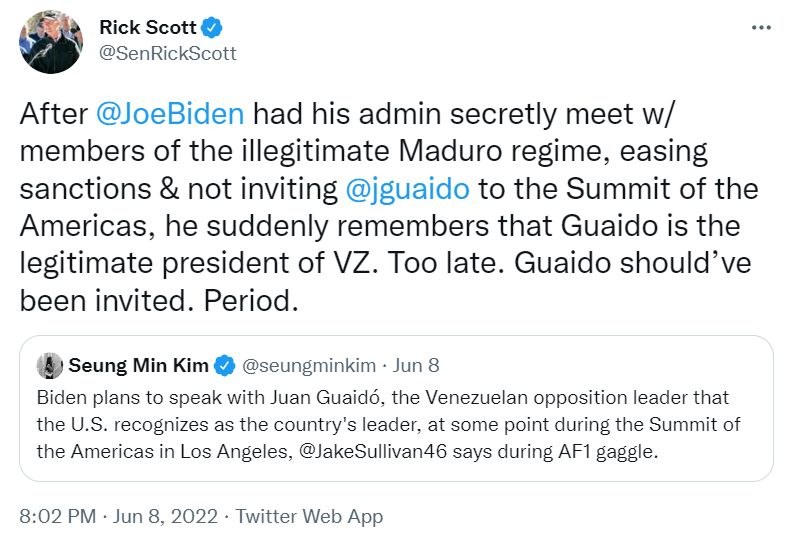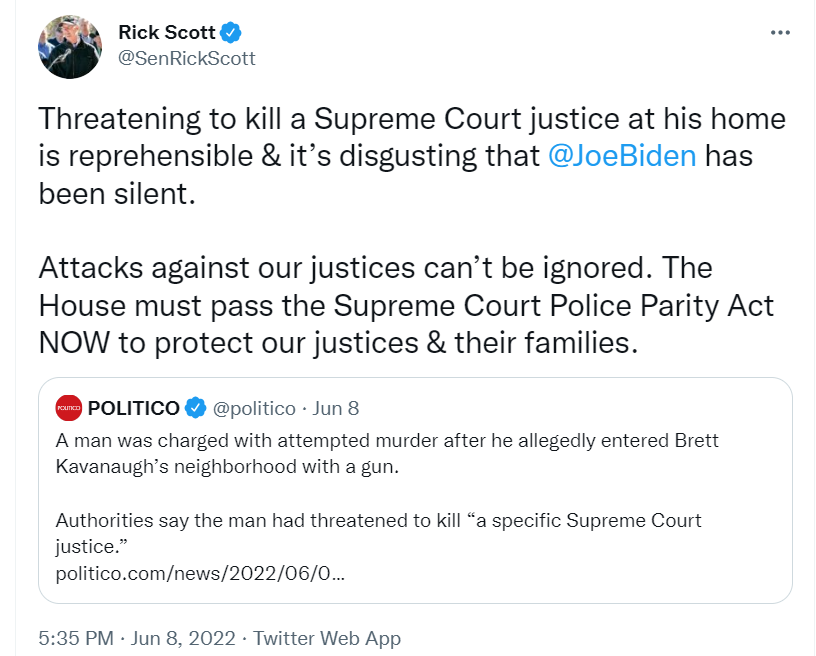 TALLAHASSEE
111 N. Adams Street, Suite 208
Tallahassee, FL 32301
Phone: (850) 942-8415
WEST PALM BEACH 
415 Clematis Street, Suite 201
West Palm Beach, FL 33401
Phone: (561) 514-0189
TAMPA
801 North Florida Avenue, Suite 421
Tampa, FL 33602
Phone: (813) 225-7040
KISSIMMEE 
1 Courthouse Square, Suite 300
Kissimmee, FL 34741
Phone: (407) 586-7879
PENSACOLA 
221 Palafox Place, Suite 420
Pensacola, FL 32502
Phone: (850) 760-5151
MIAMI 
901 Ponce de Leon Blvd., Suite 505
Miami, FL 33134
Phone: (786) 501-7141
NAPLES
3299 Tamiami Trail East, #106 
Naples, FL 34112
Phone: (239) 231-7890
JACKSONVILLE
400 West Bay Street, Suite 289
Jacksonville, FL 32202
Phone: (904) 479-7227
ORLANDO
225 East Robinson Street, Suite 410
Orlando, FL 32801 
Phone: (407) 872-7161
 
WASHINGTON, D.C.
716 Hart Senate Office Building
Washington, D.C. 20510
Phone: (202) 224-5274
 
 
Fax: (202) 228-4535