US Senator Rick Scott's Week in Review 05/28/2022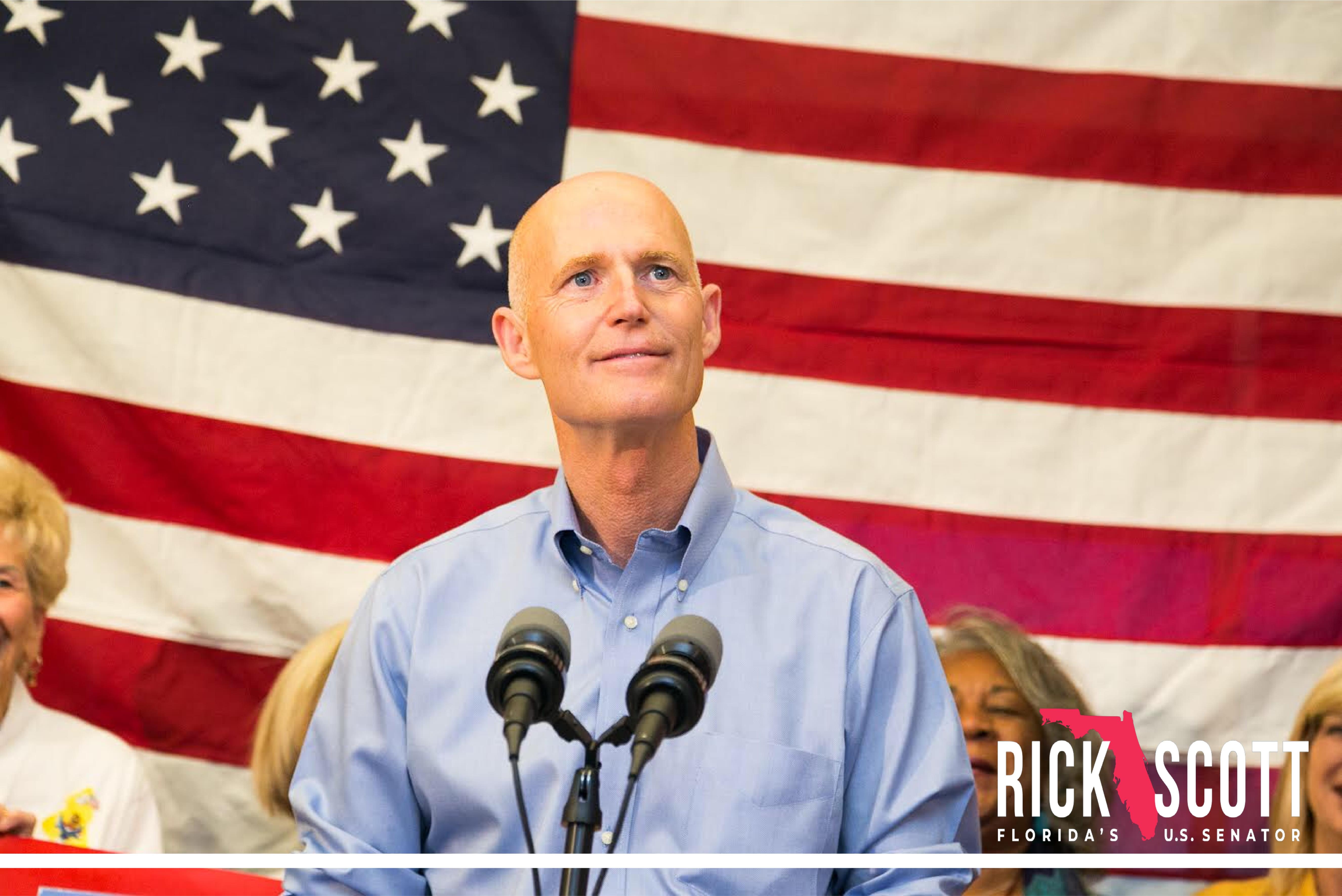 This week, following the horrific shooting that took the lives of 19 children and two teachers at Robb Elementary School in Uvalde, Texas, Senator Rick Scott spoke on the Senate floor in support of his bill with Senator Ron Johnson, the Luke and Alex School Safety Act, named in honor of Luke Hoyer and Alex Schacter who were tragically lost in the shooting at Marjory Stoneman Douglas High School on February 14, 2018 in Parkland, Florida. This legislation would codify an existing federal school safety clearinghouse providing parents and education leaders with resources and best practices to help create safer schools and work to prevent future violence. After Senator Scott spoke, Democrat Senate Majority Leader Chuck Schumer blocked the bill's passage.
As Senator Scott keeps Uvalde and the families that have suffered this tremendous loss in his prayers, he continues his fight to pass the Luke and Alex School Safety Act and the EAGLES Act to keep kids and teachers safe in Florida and across the nation.
—
See more of what Senator Scott has been up to this week below.
Sen. Rick Scott: After Uvalde Shooting, Senate Must Pass Luke and Alex School Safety Act
Following the horrific shooting at Robb Elementary School in Uvalde, Texas, Senator Rick Scott spoke on the Senate floor in support of the Luke and Alex School Safety Act, a bill which would create a Federal Clearinghouse on School Safety Best Practices to help schools and their faculty, parents and community officials identify school safety measures and resources for implementing them. Senator Scott first introduced the legislation in November 2019 with Senators Ron Johnson and Marco Rubio. Watch more in the video HERE or below.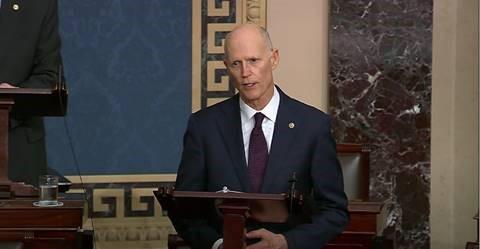 —
Senador Rick Scott: Después del tiroteo en Uvalde, el Senado debe aprobar la Ley de Seguridad Escolar Luke y Alex
Luego del terrible tiroteo en la Escuela Primaria Robb en Uvalde, Texas, el Senador Rick Scott habló en el pleno del Senado en apoyo de la Ley de Seguridad Escolar Luke y Alex, un proyecto de ley que crearía un Centro de Información Federal sobre mejores prácticas en seguridad escolar para ayudar a las escuelas y sus profesores, padres y funcionarios de la comunidad a identificar medidas de seguridad escolar y recursos para implementarlas. El Senador Scott presentó la legislación por primera vez en noviembre de 2019 con los Senadores Ron Johnson y Marco Rubio. Lea más AQUÍ.

—
Sen. Rick Scott: As Russia Wages War, Here are Three Things America Must Do to Protect U.S. Interests
Following his April trip to Poland, Lithuania and Ramstein Air Base in Germany, Senator Rick Scott spoke on the Senate floor about Russia's murderous invasion of Ukraine and outlined the three actions the United States must take to respond to Russia's unjust war and define America's commitment to supporting NATO allies and preserving democracy. Watch more in the video HERE or below.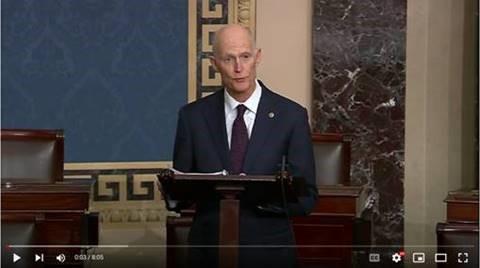 —
Sen. Rick Scott & Sen. Joni Ernst Introduce Legislation to Help States Build U.S. – Mexico Border Wall
Senator Rick Scott joined Senator Joni Ernst to introduce the Border's Unused Idle and Lying Dormant Inventory Transfer (BUILD IT) Act. The BUILD IT Act would require the federal government to transfer any material associated with the construction of the southern border barrier to any state, upon request, for the materials' original purpose. The BUILD IT Act was also co-sponsored by Senators Ted Cruz, Chuck Grassley and Roger Marshall, and is supported by the Federation for American Immigration Reform.
In January 2021, President Biden terminated construction of the southern border wall. Since President Biden's order to cease construction of the southern border barrier went into effect, the federal government began paying contractors over $3 million a day to look over unused border material, according to a report by the Minority Staff of the Government Operations and Border Management (GOBM) Subcommittee, a part of the Senate Committee on Homeland Security & Governmental Affairs. It is estimated that roughly one quarter of a billion dollars in taxpayer-funded materials are sitting on our southern border.
Senator Rick Scott said, "President Biden and the Department of Homeland Security Secretary Alejandro Mayorkas haven't just refused to enforce the law and protect our southern border – they've laid out a welcome mat for human traffickers, terrorists and savage cartels bringing drugs and crime to our communities. Border patrol agents have made more than 2 million apprehensions since Biden was elected, thanks to Biden's policies of amnesty and open borders. I've been to the southern border four times and one thing is clear – we need a border wall NOW. Biden's reckless decision to terminate construction of the border wall cost taxpayers at least $1.8 BILLION in the first five months following his order, and that number is rising by MILLIONS every day. It makes no sense to allow construction materials American taxpayers already purchased for the purpose of building the wall remain unused. Let's get these materials to the states to keep our communities safe." Read more HERE.
—
Sen. Rick Scott Leads Colleagues in Letter to DHS: Enforce the Law, Stop Dismantling Legal Immigration Process
Senator Rick Scott led Senators Ron Johnson, Josh Hawley and Rand Paul, all members of the Homeland Security and Governmental Affairs Committee, in a letter to Department of Homeland Security Secretary Alejandro Mayorkas demanding information on the Doyle Memorandum and the department's continued dismantling of the U.S. legal immigration process. The Doyle Memorandum, issued by Principal Legal Advisor Kerry E. Doyle from the U.S. Immigration and Customs Enforcement (ICE) Office of the Principal Legal Advisor on April 3, 2022, advises ICE attorneys to follow new guidance that circumvents established immigration processes and could lead to the mass dismissal of deportation cases before these cases come before a judge. The memorandum comes as President Biden's failed border policies have created a historic humanitarian and national security crisis at America's southern border, with more than 2 million illegal crossings in 2021 alone. Read more HERE.
—
Sen. Rick Scott Introduces Legislation to Stop Overreach of WHO
Senator Rick Scott introduced a bill to ensure that the World Health Organization (WHO) cannot unilaterally impose public health restrictions on the United States and violate America's national sovereignty. The legislation comes as the World Health Assembly meets to consider a "pandemic treaty" that would aim to direct the public health decisions of U.S. states and localities, giving unprecedented power to the World Health Organization.
Senator Rick Scott said, "The WHO's radical 'pandemic treaty' is a dangerous globalist overreach. The United States of America must never give more power to the WHO. The WHO is a puppet for Xi Jinping, controlled by the Chinese Communist Party, and helped Beijing cover up the origins of COVID-19. We must quickly pass this bill to ensure that public health matters in the country remain in the hands of Americans, not globalist puppets working for Communist China." Read more HERE.
—
Sen. Rick Scott in Letter to HSGAC Chairman Peters: Investigate NIH Royalty Payment Profits
Senator Rick Scott wrote a letter to Chairman of the Homeland Security and Governmental Affairs Committee, Senator Gary Peters, requesting an investigation be launched into the National Institutes of Health (NIH) and their policies for royalty payments collected by NIH employees financially benefitting from their discoveries commercialized by outside pharmaceutical or medical device makers. In his letter, Senator Scott also requests that the committee conduct oversight of taxpayer-funded royalty payments to NIH researchers and the potential conflict of interests that could exist. Read more HERE.
—
Sens. Rick Scott, Marco Rubio Applaud Passage of Resolution Honoring Aden Spencer Perry
Senators Rick Scott and Marco Rubio applauded the passage of their resolution honoring the memory of Aden Spencer Perry. The resolution recognizes the altruistic heroism displayed by Aden on April 19, 2022 when he attempted to save the life of a driver who had crashed into a lake in Sunrise, Florida. Aden and the driver tragically lost their lives that day. Read more from Senator Rubio's office HERE.
—
Sen. Rick Scott Issues Weekly Update on Biden's Inflation Crisis
Today, Senator Rick Scott released a weekly update on his actions to address America's debt crisis and rising inflation following the announcement that the Personal Consumption Expenditure (PCE) price index increased 6.3% percent over the year under Joe Biden's failed leadership. This data shows how President Biden's raging inflation crisis, caused by his and Democrats' reckless government spending and socialist policies, is shrinking budgets for families as the prices of everyday goods continue to skyrocket.
Senator Rick Scott said, "Under Joe Biden's failed leadership and raging inflation crisis, America's poorest families, like mine growing up, are really struggling to make ends meet. While Joe Biden lies about how 'great' the economy is doing and makes excuses for his failures, across America we are seeing the highest gas prices in our nation's history, inflation at the highest in more than 40 years and a GDP that is declining. Biden is incoherent and confused, but has made it clear he could not care less about the problems he's caused for families. Hardworking Floridians are FED UP with this president's failures and missteps. Our country can't afford another two-and-a-half years of Joe Biden's socialist policies and reckless tax and spend agenda." Read more HERE.
—
El Senador Rick Scott publica una actualización semanal sobre la crisis inflacionaria de Biden
El Senador Rick Scott publicó hoy su actualización semanal sobre sus acciones para abordar la crisis de la deuda de los Estados Unidos y el aumento de la inflación tras el anuncio de que el índice de precios del Gasto de Consumo Personal (PCE, por sus siglas en inglés) aumentó 6,3 % durante el año bajo el liderazgo fallido de Joe Biden. Estos datos muestran cómo la furiosa crisis inflacionaria del Presidente Biden, causada por el gasto gubernamental imprudente y las políticas socialistas de él y los demócratas, está reduciendo los presupuestos de las familias a medida que los precios de los bienes cotidianos continúan disparándose.
El Senador Rick Scott dijo: "Bajo el liderazgo fallido de Joe Biden y la furiosa crisis inflacionaria, las familias más pobres de Estados Unidos, como la mía, están luchando para llegar a fin de mes. Mientras que Joe Biden miente sobre lo "bien" que le está yendo a la economía y pone excusas por sus fracasos, en todo Estados Unidos estamos viendo los precios de la gasolina más altos en la historia de nuestra nación, la inflación es la más alta en más de 40 años y un PIB que está disminuyendo. Biden es incoherente y confuso, pero ha dejado en claro que no le importan los problemas que ha causado a las familias. Los floridanos trabajadores están HARTOS de los fracasos y errores de este Presidente. Nuestro país no puede permitirse otros dos años y medio de las políticas socialistas de Joe Biden y su imprudente agenda de impuestos y gastos". Lea más AQUÍ.
Sen. Rick Scott in the Washington Times: America must lead the world in renewing the promise of 'never again'
Senator Rick Scott wrote an op-ed for the Washington Times following his trip to Germany, Poland and Lithuania to meet with American service members and hear from high-level government officials on the state of democracy in Europe while Russia wages war against Ukraine. In the op-ed, Senator Scott highlights the importance of the United States and our freedom-loving partners across the world renewing our commitment to "never again," supporting the massive humanitarian efforts underway to aid the Ukrainian people, and forcefully condemning Putin and Russian troops' genocide in Ukraine.
In the op-ed, Senator Rick Scott wrote, "I returned to the United States with the reassurance that our partners and allies' commitment to defending freedom and defeating tyranny has only grown stronger. I am also returning from Europe with a challenge for our nation to lead the world in standing for human rights.
…
Following the liberation of the Nazi concentration camps, the world pledged to 'never again' allow genocide to take the lives of innocent people. But today, Mr. Putin is choosing that path.
…
Children are dying, families are dying precisely because they are Ukrainian and won't do what the dictator Putin wants them to. This is genocide.
'Never again' was promised, but world leaders are failing.
…
Now, we must do everything in our power, using our voices, actions and resources, to support these humanitarian missions and forcefully condemn Mr. Putin's genocide in Ukraine.
Whether we like it or not, we need to recognize the evil in our world. It exists in the governments of communist China, Iran, North Korea, Cuba, Venezuela, Nicaragua and Russia. They want a different world, one where the enemies of democracy, human rights and sovereign nations issue the orders and the United States and our allies do what we are told. They will bully and crush anyone in their way if they are allowed. I for one, and I know I am not alone, will not accept this.
Out of this terrible conflict, America has an opportunity to reaffirm our commitment to the security and independence of democratic nations, strengthen our energy and industrial independence and partnerships with fellow democracies, and stop genocide, renewing the promise of "Never Again." We cannot allow this moment to pass without action. The protection of human rights and the survival of democracy and the United States depends on it."
Read the full op-ed in the Washington Times HERE.
—
Fox News: Rick Scott introduces bill to limit powers of the World Health Organization: 'Dangerous globalist overreach'
Fox News: Democrats 'all-in' on high gas prices, nothing will change while they're in charge: Rick Scott
Newsmax: Rick Scott: Biden 'Slow' to React on Inflation, Border Crisis, Gas Prices
Newsmax: Sen. Rick Scott Slams Biden as 'Incompetent,' 'Incoherent'
SeanHannity.com: 'WHO' DO YOU THINK YOU ARE? Rick Scott Introduces Bill to Limit Power of World Health Organization
The Hill: Rick Scott says Biden administration slow to respond to economic woes
The Hill: Republicans demand docs from paused DHS disinformation board
The Hill: GOP criticizes memo giving ICE attorneys more discretion to drop immigration cases
Newsmax: Sen. Scott Introduces Bill to Limit Powers of 'China Puppet' WHO
Breitbart: Rick Scott: Biden 'Slow to React' — He's Never Ahead of the Problems
Breitbart: Rick Scott Proposes Bill to Stop W.H.O. Overreach: 'Pandemic Treaty Is a Dangerous Globalist Overreach'
Daily Caller: 'Liar And A Hack': GOP Rails Against Schumer For Blocking School Protection Bill
Newsweek: GOP Lawmakers Press Biden to Stand With Taiwan Against China
Forbes: 'Needs To Be Solved This Weekend': Rick Scott Pushes Biden Admin For Fix To Baby Formula Shortages
Forbes: Rick Scott: Key Biden Ukraine Move Is 'Act Of Weakness' That 'Makes No Sense'
CNS News: Sen. Rick Scott: Election Will Be About Inflation, Effectiveness of Biden Administration
CNS News: Sen. Rick Scott: Biden Is Doing Everything He Can to Make Gas Prices Go Up
Daily Mail: GOP Senator Rick Scott blasts Biden as 'slow to react' to Americans' struggles as new poll shows a majority of Americans want Republicans to handle the economy and inflation
WFLA: Sen. Rick Scott introduces 'BUILD It' border wall legislation
WFLA: Sen. Rick Scott calls for 'School Safety Best Practices' in wake of Texas shooting
WCJB: Florida Senator Rick Scott is pushing the Senate to take up his school safety bill
Florida Daily: Rick Scott Takes to Senate Floor to Speak on Russian Invasion of Ukraine: 'This is Genocide'
Florida Daily: Rick Scott Calls on Senate to Send $3.3 Billion in Security Assistance to Israel
Florida Daily: Florida's Senators Want Full Funding of U.S.-Israel Missile Defense Cooperation
Florida Daily: Rick Scott: Texas School Shooting Shows the Need to Create a Federal School Safety Clearinghouse

Florida Daily: Marco Rubio, Rick Scott Urge FRTIB to Protect Federal Retirement Dollars From Chinese Companies
Actualidad 1040AM: Senador Scott: "El gobierno es el culpable de la mayoría de problemas" (+Audio)
NTN24: "Los demócratas no quieren hacer nada al respecto": senador Rick Scott sobre la masacre de Uvalde
Alberto News: Senador Rick Scott: "Biden ha abandonado América Latina, y su repugnante apaciguamiento con los brutales dictadores de Cuba y Venezuela sólo sirve para desestabilizar la región"
Sen. Rick Scott Honors Veterans at Hyundai Air & Sea Show
Senator Rick Scott spoke at the National Salute to America Heroes' Hyundai Air & Sea Show to honor and pay tribute to those who paid the ultimate sacrifice in defense of our freedoms and great nation.
Senator Rick Scott said, "As a Navy veteran and the son of a World War II veteran, I understand the personal sacrifice our veterans, military members and families make to defend our freedom. Our veterans represent the absolute best of what our country has to offer and none of the opportunities we have as Americans would be possible without their unwavering service. As governor, and now U.S. Senator, I am working every day to make sure Florida remains the best state in the nation for our military and veterans, and I am thankful to have the opportunity to celebrate our veterans for their bravery and sacrifices in Miami today." Read more HERE.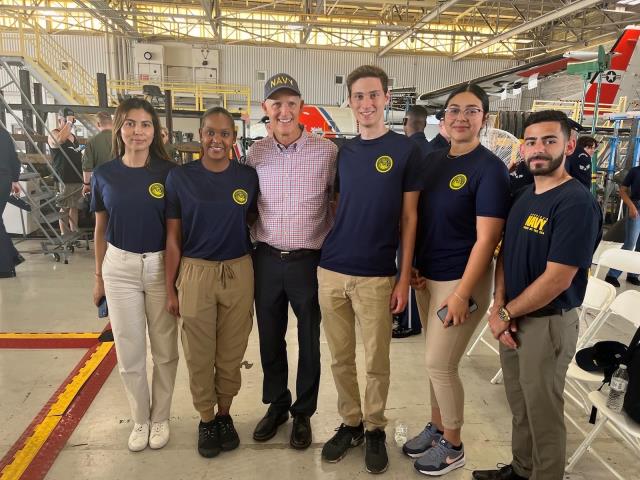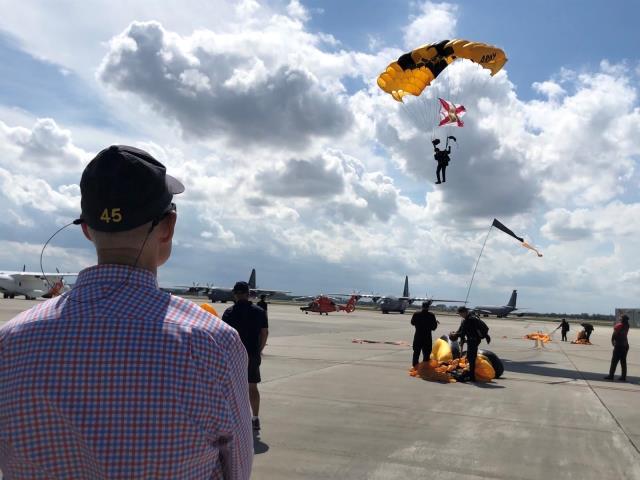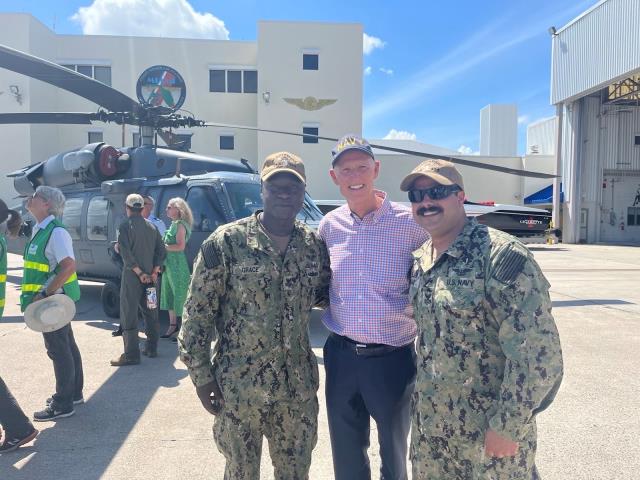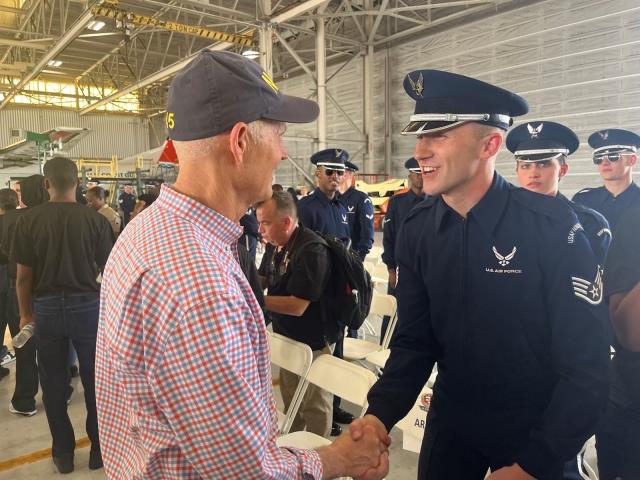 —
Sen. Rick Scott at Roundtable Discussion with Colombian Community Leaders: We Must Protect Democracy in Latin America
Senator Rick Scott hosted a roundtable with local officials and Colombian business leaders in Orlando, Florida to discuss to importance of America's partnership with Colombia, and why the U.S. must continue to promote freedom and democracy across Latin America.
Senator Rick Scott said, "The United States and Colombia share a strong commitment to promoting security, prosperity, human rights and democracy across the Western Hemisphere. Colombia is our greatest ally in Latin America and we must stand together for freedom. Unfortunately, Joe Biden has abandoned Latin America—and his disgusting appeasement of brutal dictators in Cuba and Venezuela only serves to destabilize the region. I'm proud to stand with everyone here today as we work together to strengthen support for our great ally, Colombia. I will never stop fighting for freedom and democracy in Latin America." Read more HERE.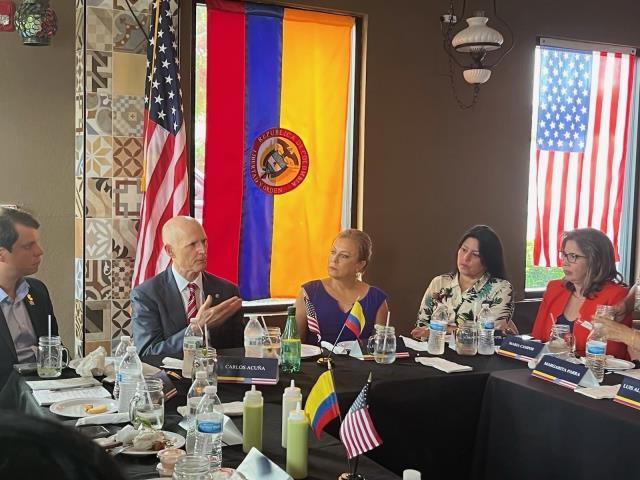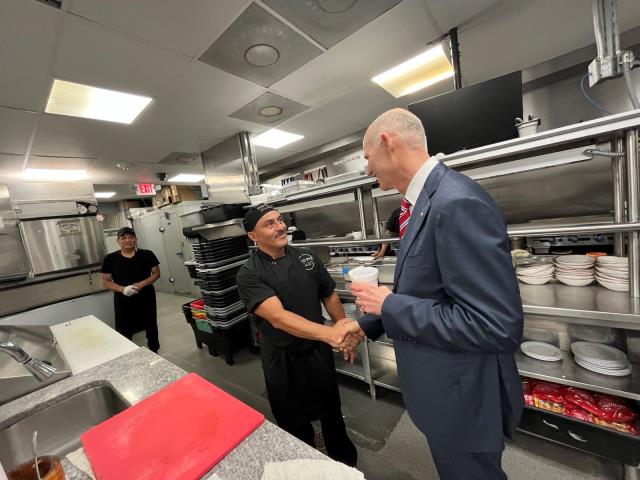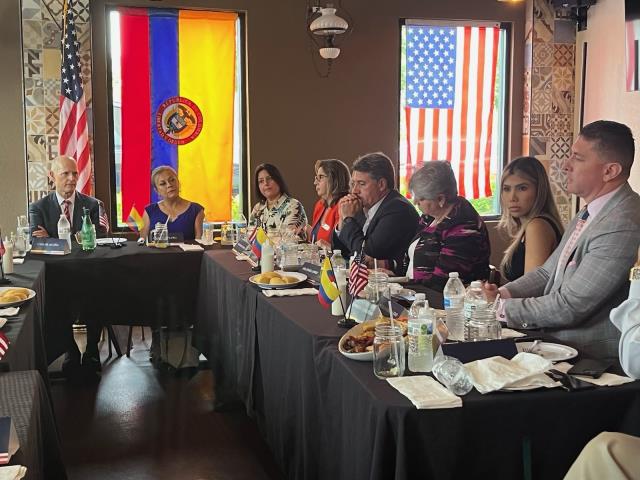 —
Sen. Rick Scott Attends 24th Annual Family Café Convention
Senator Rick Scott attended the 24th annual Family Café convention in Orlando. Senator Scott met with families and leaders, and thanked the Family Café for their work to empower and advocate for Floridians with disabilities and their families. Read more HERE.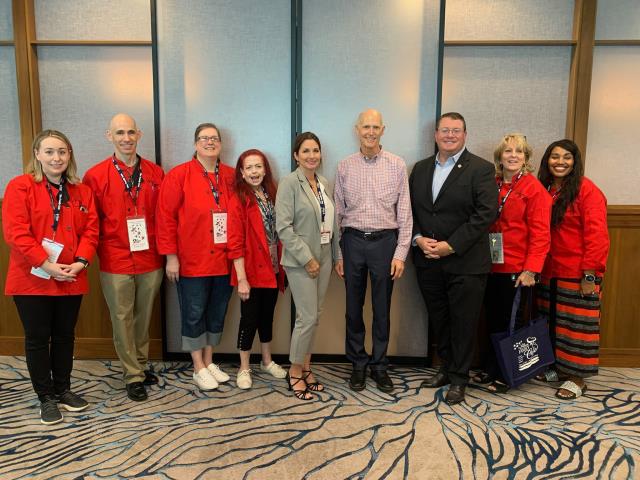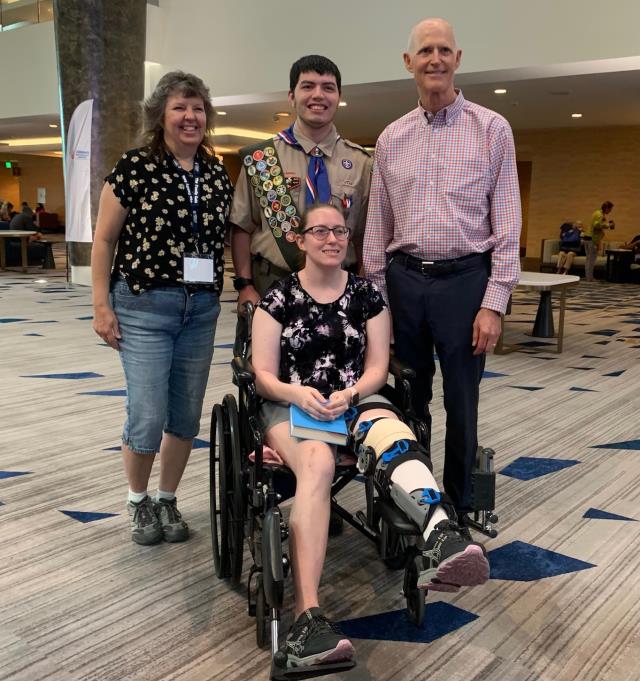 —
Sen. Rick Scott Hosts Roundtable with Asian-American Community Leaders
Senator Rick Scott joined Asian-Americans from around the community and the state of Florida to discuss the importance of promoting democracy across the Asia-Pacific and the growing threats posed by Communist China.
Senator Rick Scott said, "Florida is a wonderful melting pot and I am proud that our state is home to so many Asian-American communities. During today's roundtable with Asian-American community leaders in Orlando, we continued the important conversation about America's role in promoting and defending democracy across the Asia-Pacific, and combatting the growing threats posed by Communist China to our economy and national security." Read more HERE.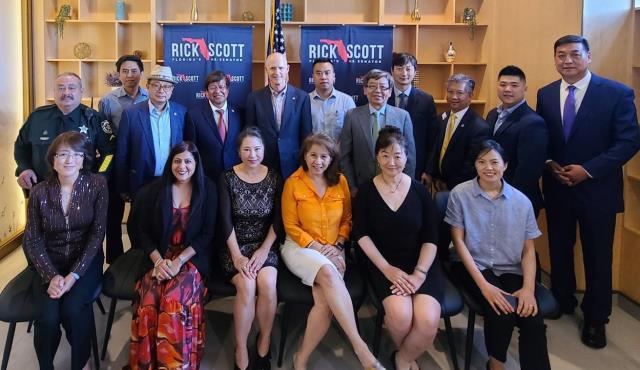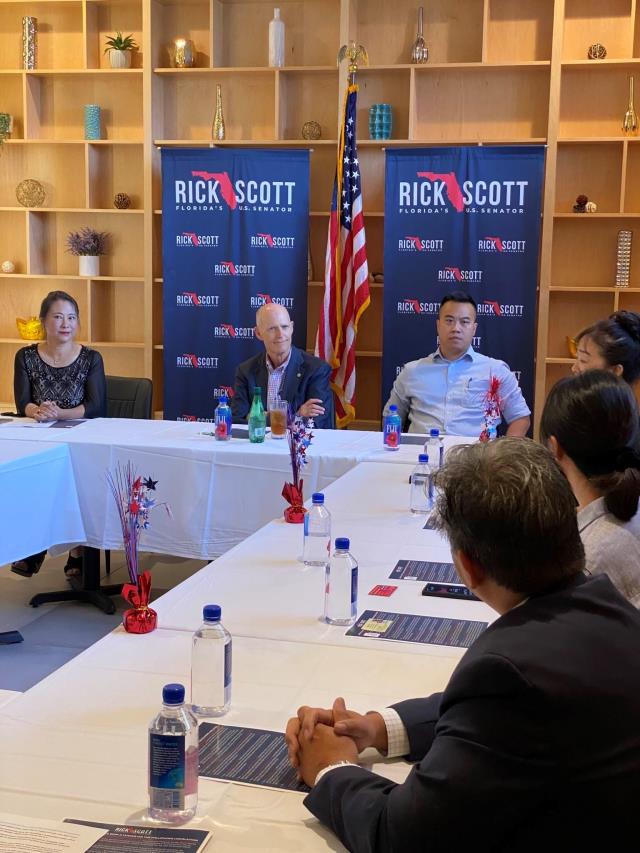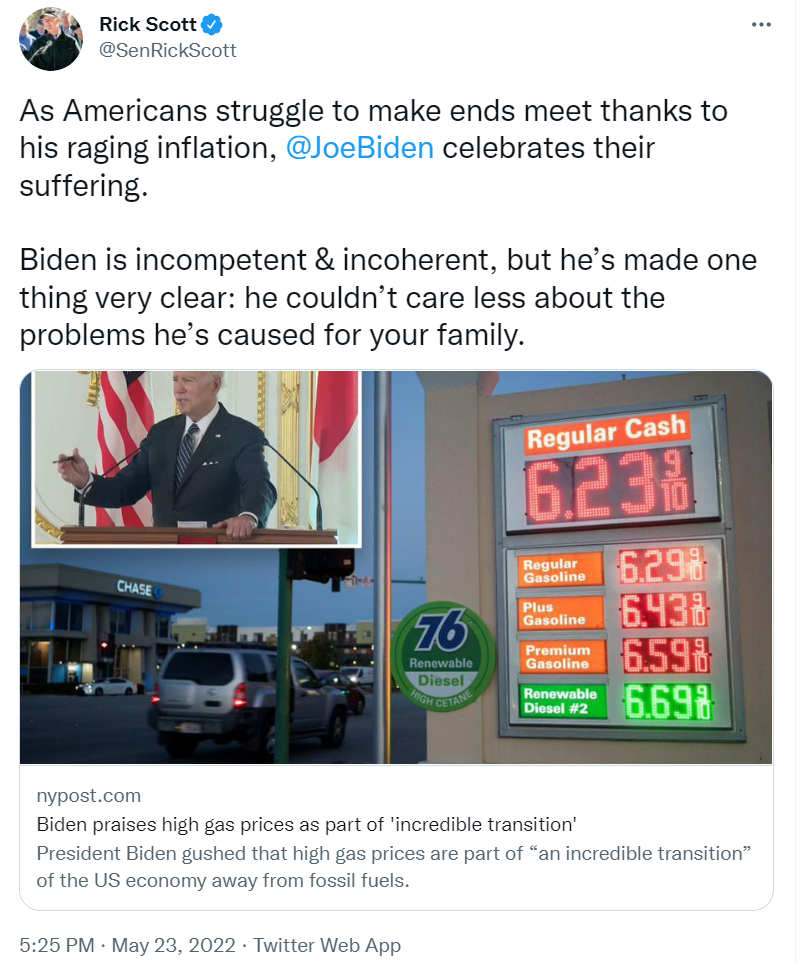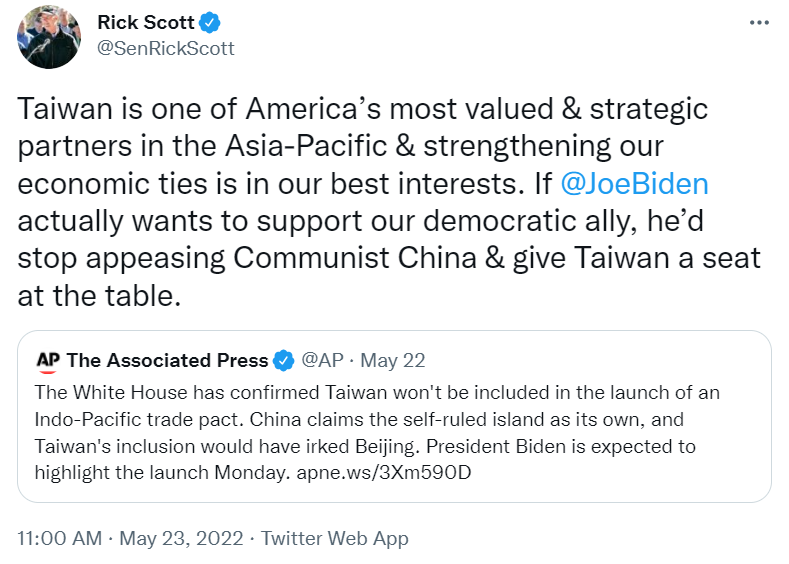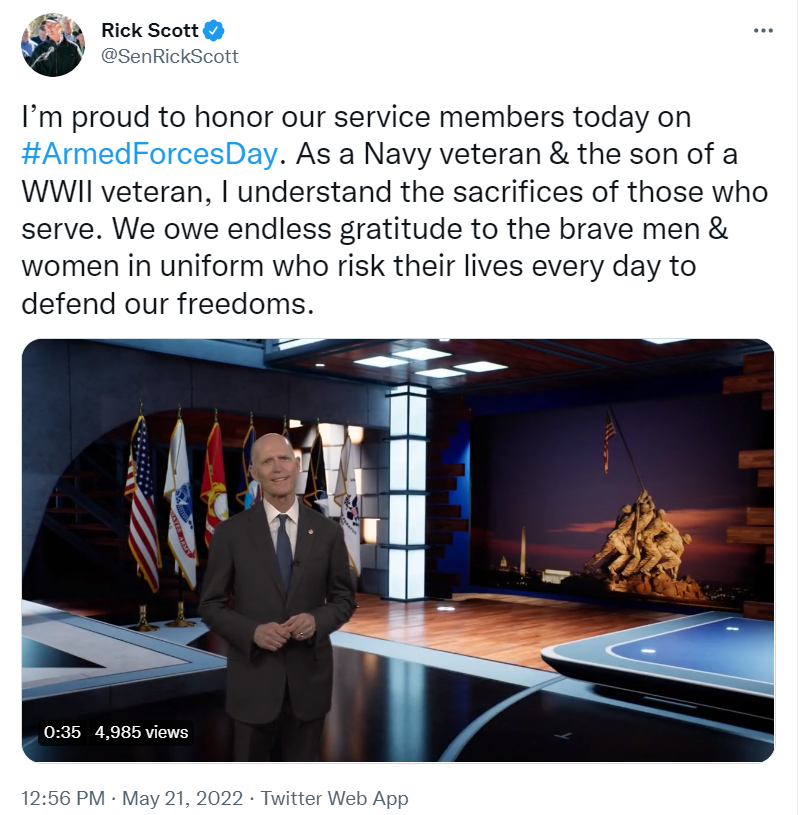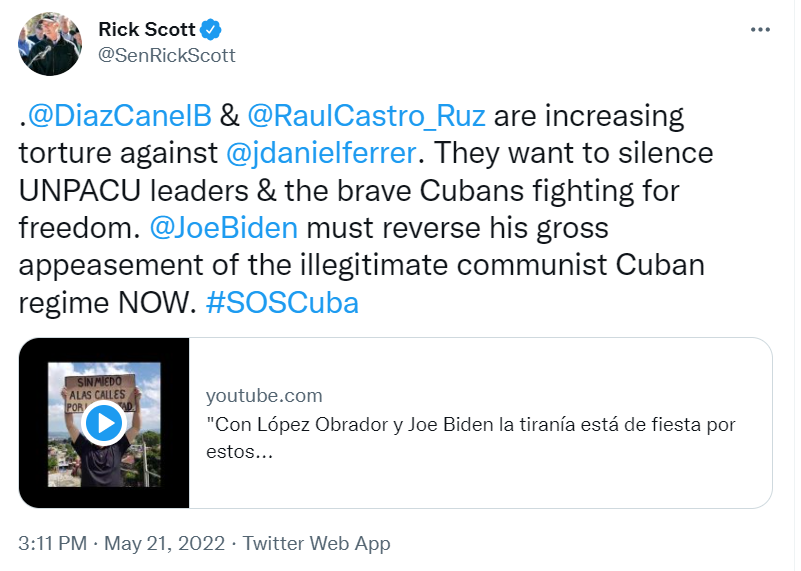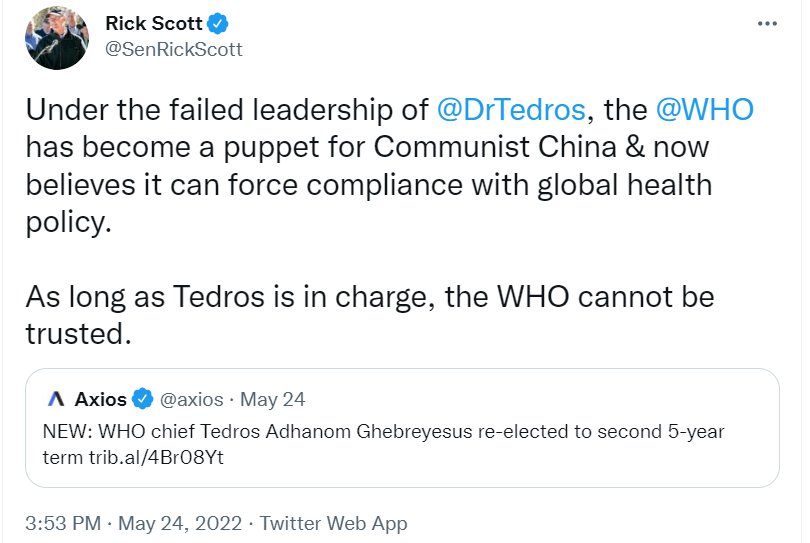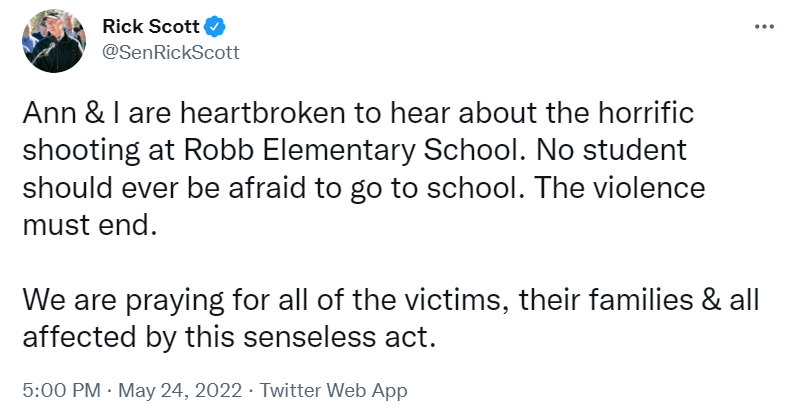 TALLAHASSEE
111 N. Adams Street, Suite 208
Tallahassee, FL 32301
Phone: (850) 942-8415
WEST PALM BEACH
415 Clematis Street, Suite 201
West Palm Beach, FL 33401
Phone: (561) 514-0189
TAMPA
801 North Florida Avenue, Suite 421
Tampa, FL 33602
Phone: (813) 225-7040
KISSIMMEE
1 Courthouse Square, Suite 300
Kissimmee, FL 34741
Phone: (407) 586-7879
PENSACOLA
221 Palafox Place, Suite 420
Pensacola, FL 32502
Phone: (850) 760-5151
MIAMI
901 Ponce de Leon Blvd., Suite 505
Miami, FL 33134
Phone: (786) 501-7141
NAPLES
3299 Tamiami Trail East, #106
Naples, FL 34112
Phone: (239) 231-7890
JACKSONVILLE
400 West Bay Street, Suite 289
Jacksonville, FL 32202
Phone: (904) 479-7227
ORLANDO
225 East Robinson Street, Suite 410
Orlando, FL 32801
Phone: (407) 872-7161
WASHINGTON, D.C.
716 Hart Senate Office Building
Washington, D.C. 20510
Phone: (202) 224-5274
Fax: (202) 228-4535