US Senator Rick Scott's Week in Review 04/29/2022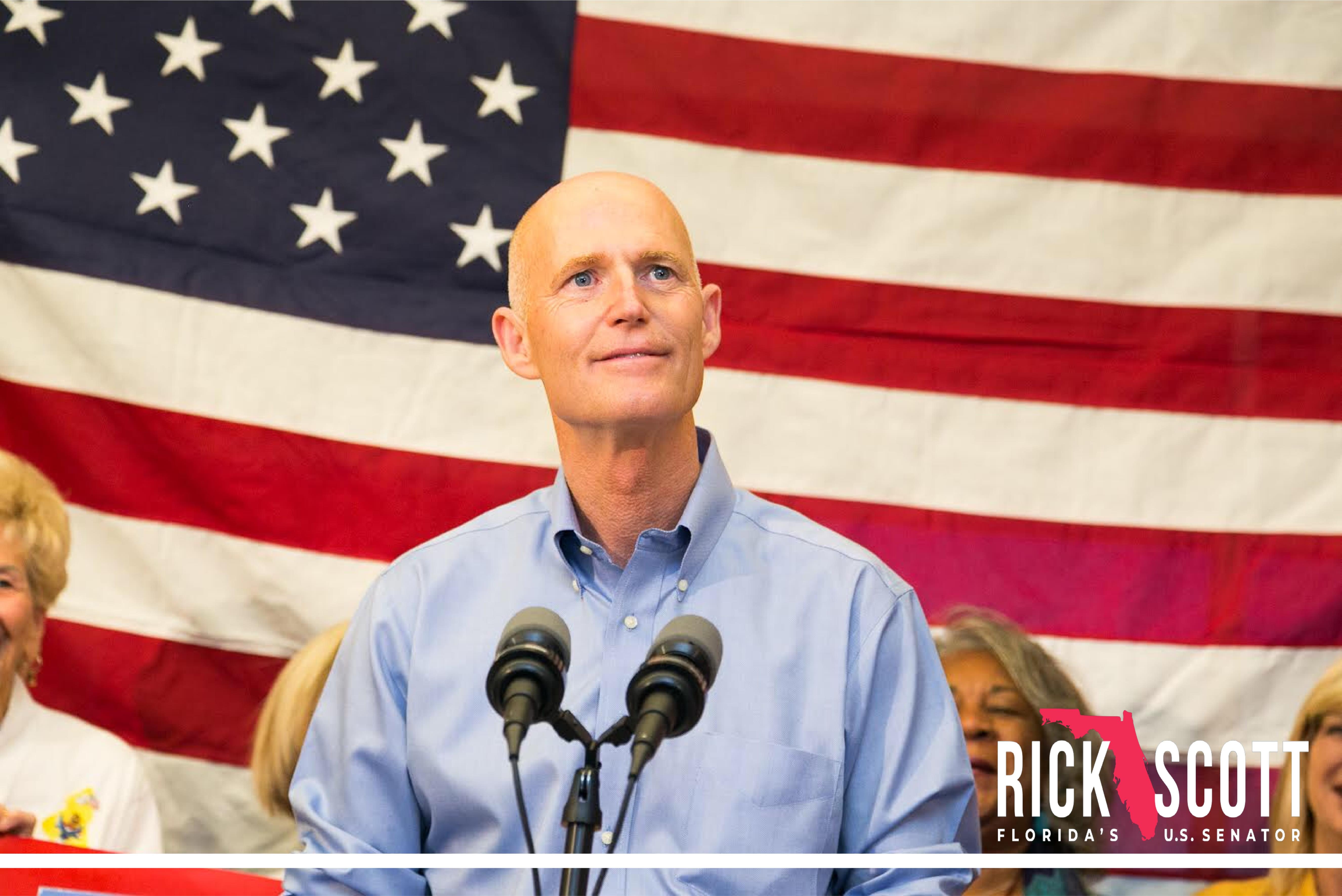 This week, Senator Rick Scott unveiled a package of four finance-focused bills to hold Communist China accountable and better protect the retirements and investments of Florida families. As tensions between the U.S. and Communist China continue to rise, these important bills will put safeguards in place to protect Americans' hard-earned investments and stop exploitation by the Communist Chinese government. 
The proposed legislation will hold Communist China accountable by closing investment sanctions loopholes, protecting investors from dubious Chinese companies, imposing new sanctions, demanding additional transparency and accountability from publicly-traded companies, and identifying vulnerabilities and requiring disclosures so that transactions are transparent and safe for Americans.
The Sanction Transactions Originating from Pernicious Chinese Companies and Policies (STOP CCP) Act, cosponsored by Senators Joni Ernst, Ted Cruz, Bill Hagerty and Mike Braun, would expand the jurisdiction of existing U.S. investment restrictions targeting Chinese entities placed on the NS-CMIC Companies list as well as establish that Chinese companies sanctioned under one U.S. authority be automatically sanctioned under all other authorities.


The bipartisan Protecting American Capital Act, co-led with Senator Jeanne Shaheen, would require the U.S. Department of the Treasury to analyze and submit an annual report to congress on the United States' financial exposure among certain sectors of the Chinese economy that pose significant risk.


The Transaction and Sourcing Knowledge (TASK) Act, cosponsored by Senators Marco Rubio and Mike Braun, would direct the Securities and Exchange Commission (SEC) to report on specific sourcing and transaction activities within the forced labor region of the Xinjiang province. Additionally, this bill would require an annual report disclosing if there is a Chinese Communist Party committee member apart of the companies' operation and summarize the actions and corporate decisions in which such committees may have participated.


The Secure America's Financial Exchanges (SAFE) Act, cosponsored by Senator Mike Braun, would require the SEC to implement specific disclosure requirements for Chinese-based companies seeking access into U.S.-based exchanges through Initial Public Offering (IPOs).
Read more about Senator Scott's proposals HERE.
—
See more of what Senator Scott has been up to this week below.
Sen. Rick Scott on Senate Floor: Biden's Fed Nominees Don't Deserve to Hold Their Seats
Senator Rick Scott spoke on the Senate Floor to express his disapproval of President Joe Biden's nominees to the Board of Governors of the Federal Reserve and slam their disastrous policy decisions which continue to distort credit markets and hurt America's poorest families and those on fixed incomes.
Senator Rick Scott said, "FOR YEARS, I have urged Fed Chair Jay Powell and members of the Federal Open Market Committee to reduce the Fed's unprecedented balance sheet – but they have failed to act. Month after month, the Fed has purchased BILLIONS in Treasuries and Mortgage-Backed Securities, with no plan to wind down and right size its balance sheet. At every turn in recent years when the Fed could have been fighting for American families by mitigating the long-term risks of its massive balance sheet and telling the truth about the terrible consequences of reckless government spending, it instead chose to appease Joe Biden, Wall Street and the Democrats running Washington. These nominees have completely failed the American people and don't deserve to hold their seats." Watch more in the video HERE or below.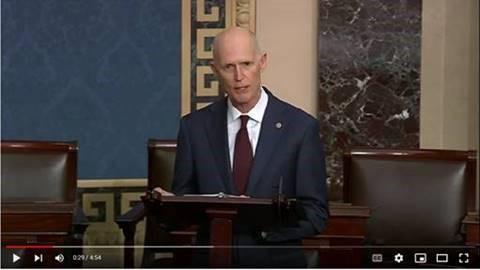 —
Sen. Rick Scott to CBP Commissioner: We Must Enforce STOP Act & End Cartel Drug Smuggling Via USPS
Senator Rick Scott sent a letter to Customs and Border Protection (CBP) Commissioner Chris Magnus urging CBP to take immediate action to close a loophole allowing dangerous drug cartels to smuggle fentanyl into America using the United States Postal Service (USPS), and demanding answers on CBP's enforcement of the Synthetics Trafficking and Overdose Prevention (STOP) Act. The STOP Act, signed into law in 2018, requires USPS to be held to the same standard as commercial shipping services, like FedEx and UPS, to use an informational marker system to share information between shippers, CBP and receivers. Currently under CBP's direction, USPS is failing to follow the requirements of the law; allowing criminal organizations in countries like Communist China to use USPS to smuggle deadly fentanyl into the United States. Read more HERE.
—
Sen. Rick Scott: Biden's Agenda Devastates America, His Confusion & Lies Only Make Things Worse
Following reports that U.S. Gross Domestic Product (GDP) declined at a 1.4% annualized rate, Senator Rick Scott issued the following statement in response to Joe Biden's confused lies about his plan to rescue America and the president's failed agenda.
Senator Rick Scott said, "Today, in response to a horrific GDP report showing 1.4% annualized decline, the president issued a desperate statement lying about my plan to rescue America and calling on Congress to pass legislation to bolster U.S. supply chains, lower the federal deficit and stop inflation. That's rich coming from the man who is single handedly responsible for historically high inflation, wants to raise the federal debt to $45 TRILLION, has no plan to balance the budget and whose failed leadership is pushing our nation into an economic recession where the labor participation rate is shockingly low.
"Joe Biden is clearly obsessed with my plan to rescue America and very confused about his own agenda that is devastating American families. Unlike Joe Biden, I'm a proven tax cutter. I've cut more taxes than anyone in Washington and even the liberal Washington Post has corrected Biden's lies about me. Sadly, it's no surprise after spending a year hiding in his basement before spending another year hiding in the White House and his Delaware vacation home, that Biden has lost his grip on reality. Thankfully, the American people aren't buying his lies. As long as Biden and the Democrats keep trying to destroy this great country, I'll be fighting to rescue it. We'll stop at nothing to hold Biden and the radical Left responsible for the disasters they've created." Read more HERE.
—
Sen. Rick Scott Demands Answers After Biden's Afghanistan Failure Left $7 Billion of Equipment in Enemy Hands
Senator Rick Scott released the below statement after a Pentagon report revealed that more than $7 BILLION of U.S. military equipment was left in Afghanistan due to President Biden's botched military withdrawal. For months, Senator Scott has been pushing for a bipartisan Joint Select Committee on Afghanistan to conduct a full investigation into President Biden's failed and tragic withdrawal of U.S. forces that stranded hundreds of Americans behind enemy lines, took the lives of 13 U.S. service members and left billions of dollars in U.S. military equipment in the hands of terrorists.
Senator Rick Scott said, "Not only has Biden's failed Afghanistan withdrawal led to the tragic deaths of U.S. service members, left Americans stranded and our world in a more dangerous place, it has literally made the Taliban regime that we fought for DECADES better equipped to fight. Thanks to President Biden's failures and incompetence as commander in chief, over $7 BILLION worth of American military equipment, paid for by U.S. taxpayer dollars, was left behind enemy lines in Afghanistan and in the hands of terrorists. Months later, we still have no explanation as to what led to the United States' most stunning, unforced and humiliating defeat in decades. Americans are sick of waiting for the accountability we deserve. We need to pass my resolution to establish a bipartisan Joint Select Committee on Afghanistan and finally launch a full investigation into the U.S. Afghanistan withdrawal." Read more HERE.
—
Sen. Rick Scott Issues Weekly Update on Biden's Inflation Crisis
Senator Rick Scott released the below statement following the Bureau of Economic Analysis report noting the Personal Consumption Expenditures (PCE) Price Index has risen to 6.6% over the year. This is the largest annual increase in the PCE Price Index since 1982 – marking a 40-year high in prices under Joe Biden's failed leadership. This data shows how President Biden's inflation crisis, caused by his and Democrats' socialist policies and reckless government spending, is shrinking budgets for families as the prices of everyday goods continue to skyrocket.
Senator Rick Scott said, "Inflation is a tax on every American and under President Biden's failed leadership, that tax is going up every month. Joe Biden can keep lying about how 'great' the economy is doing and using all the excuses he wants, but here are the facts: inflation is the worst we've seen in more than 40 years, the economy is shrinking, labor participation is shockingly low and labor costs are at record highs we haven't seen in two decades. For small businesses and our poorest families, like mine growing up, Biden's raging inflation crisis is absolutely devastating. Hardworking Floridians simply can't afford another two-and-a-half years of Joe Biden's reckless, socialist policies and tax and spend agenda." Read more HERE.
Florida Daily: Rick Scott: U.S. Needs to 'Stand Up to Thugs Like Xi and Putin'
Last week, Senator Rick Scott traveled to Poland, Lithuania and Ramstein Air Base in Germany to meet with service members, high-ranking officials and community members to reinforce the United States' unwavering commitment to Ukraine and NATO allies in the face of Russia's murderous invasion. While abroad, Senator Scott became the first U.S. senator to visit the Taiwanese Representative Office in Lithuania where he met with Eric Huang, head of the Taiwanese Representative Office, and discussed the importance of working together and continuing to stand up for human rights, freedom and ways to fight communist aggression around the world.
Read more in the Florida Daily article, Rick Scott: U.S. Needs to 'Stand Up to Thugs Like Xi and Putin,' below:
"As Communist China's threats against the peaceful people of Taiwan continue to grow more severe, the United States and our partners in democracy, like Lithuania, must stand strongly against Xi's communist aggression.
…
During my meeting with Mr. Huang I reaffirmed the importance of maintaining a strong partnership between the U.S., Taiwan and Lithuania, and reiterated my commitment to fight every day alongside our partners and allies…
Now is the time for the U.S. government and the entire American business community to show absolute economic and political support for nations like Lithuania that stand up to thugs like Xi and Putin and support fellow democracies like Taiwan.
…
Also last week, Scott visited the U.S. Army outpost in Pabradė, Lithuania to meet with American soldiers stationed there, including several from Florida, and received an operations brief from commanding officers."
Read the full article in Florida Daily HERE.
—
Roll Call: Senate Republicans balk on funds related to Biden's border move
Forbes: 'The Fault Of Joe Biden And Joe Biden Alone': Rick Scott Hammers Biden, Fed On Senate Floor
Orlando Sentinel: Rubio, Scott lead bipartisan push to bring Space Force training HQ to Space Coast
The Capitolist: Florida lawmakers push to bring Space Force headquarters to Florida
Florida Daily: Rick Scott: Customs and Border Protection Need to Crack Down on Fentanyl Being Smuggled Through the Mail
EVTV: Senador Scott pide a Biden no invitar a Cuba, Venezuela y Nicaragua a Cumbre de Las Américas
El Nacional: Rick Scott pide a Biden que los gobiernos de Venezuela y Cuba sean excluidos de la Cumbre de las Américas
Sen. Rick Scott's Office Hosts Mobile Office Hours
This week, Senator Scott's staff held mobile office hours in Lakewood Ranch, Apopka, Miami, West Melbourne, Marianna, Bradenton, Green Cove Springs, Punta Gorda and Sewalls Point to help with issues related to federal agencies.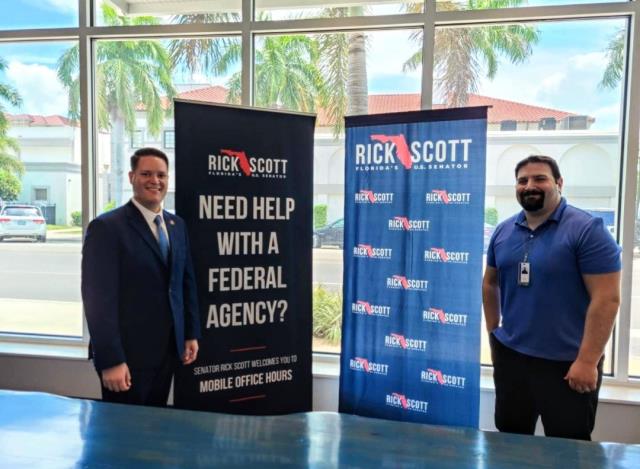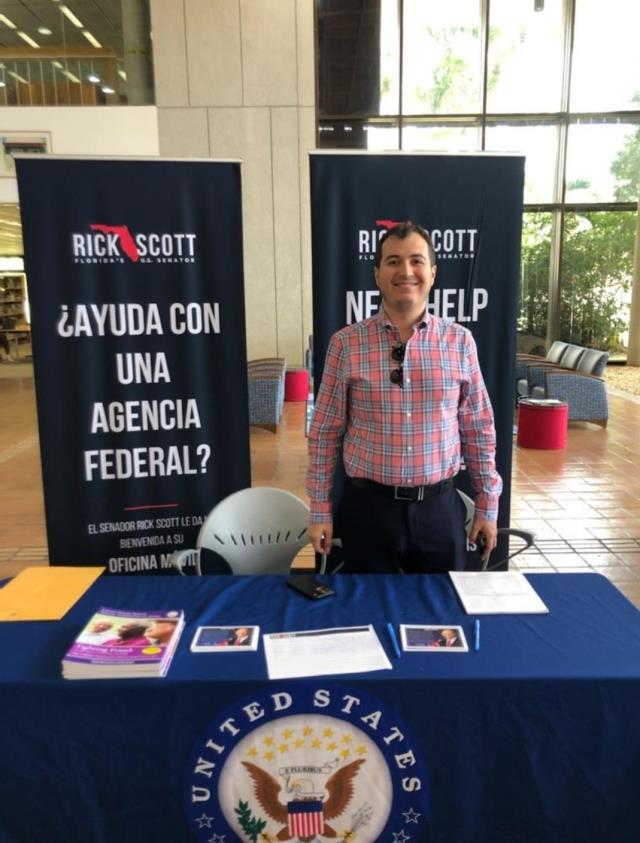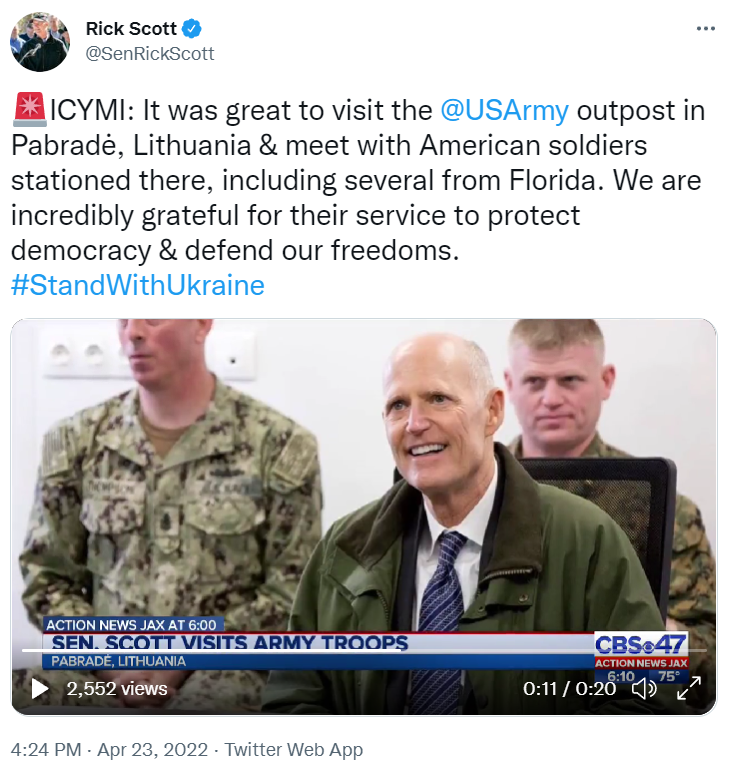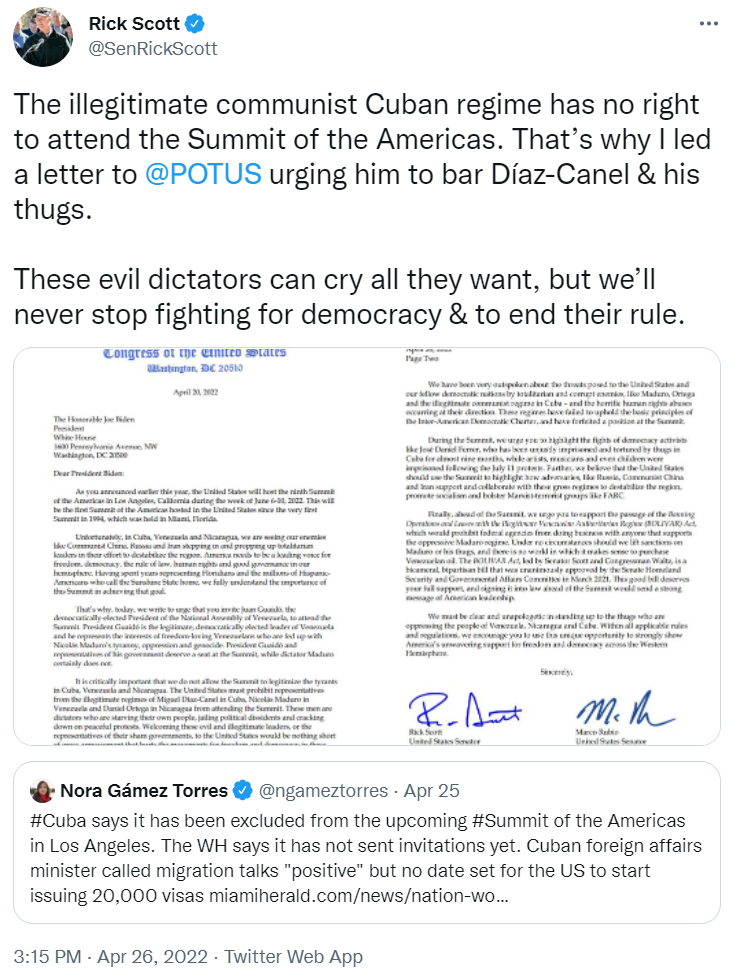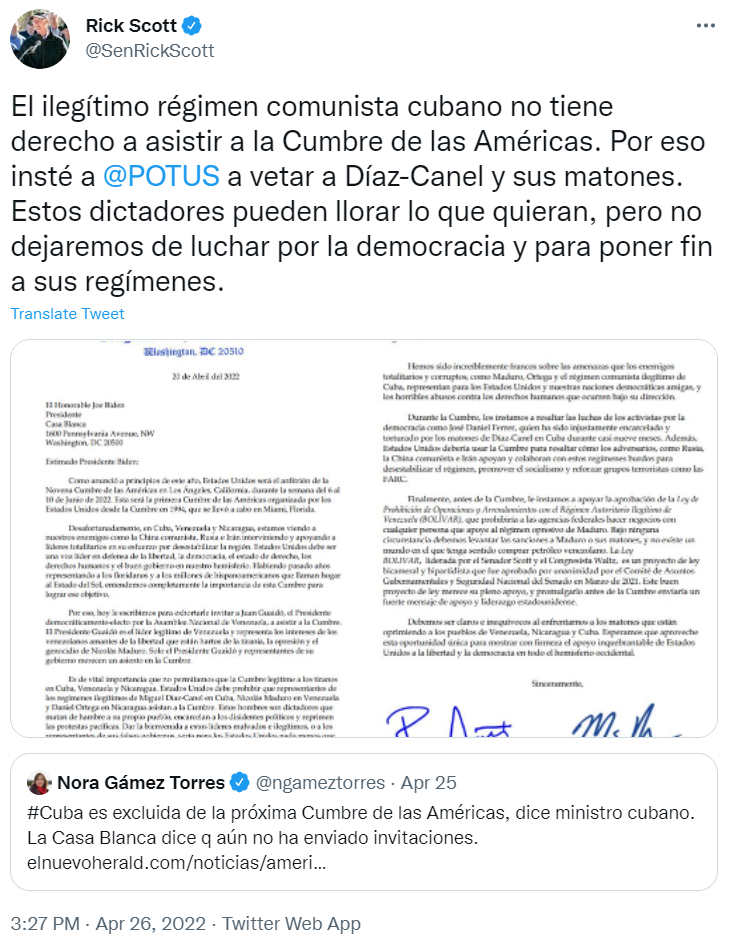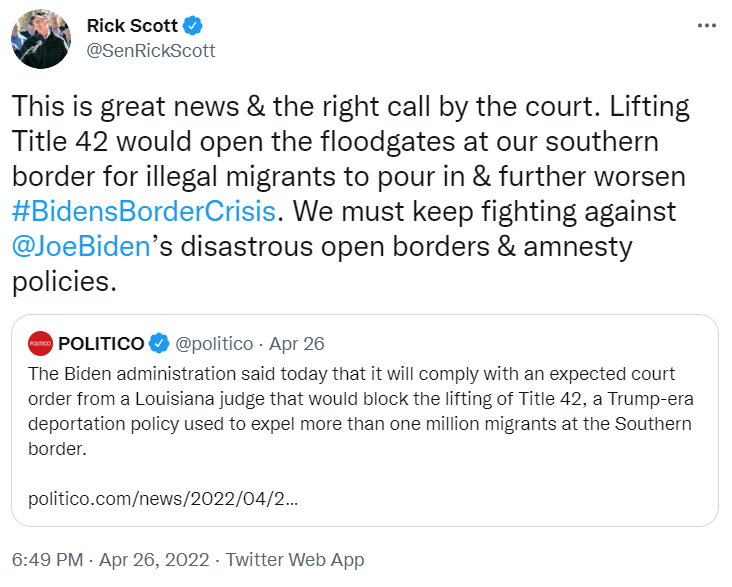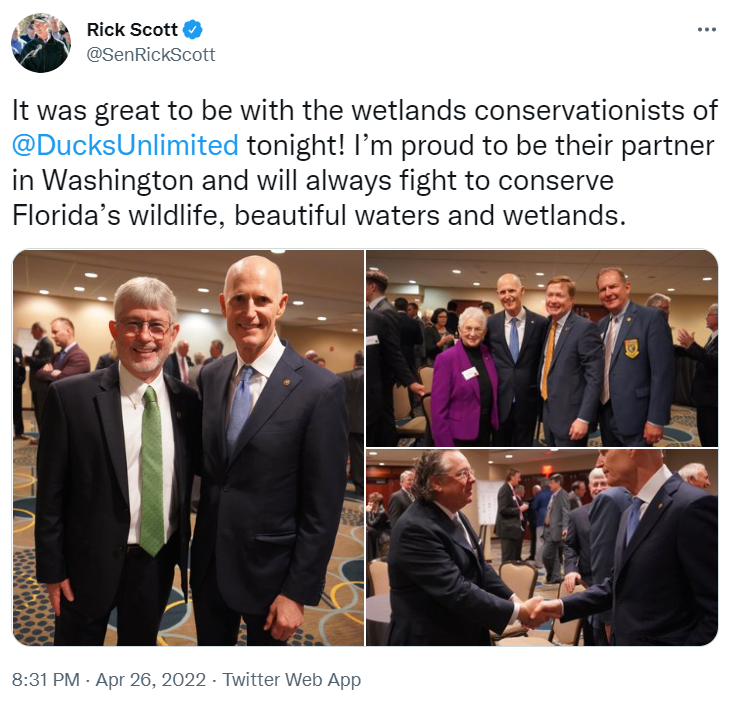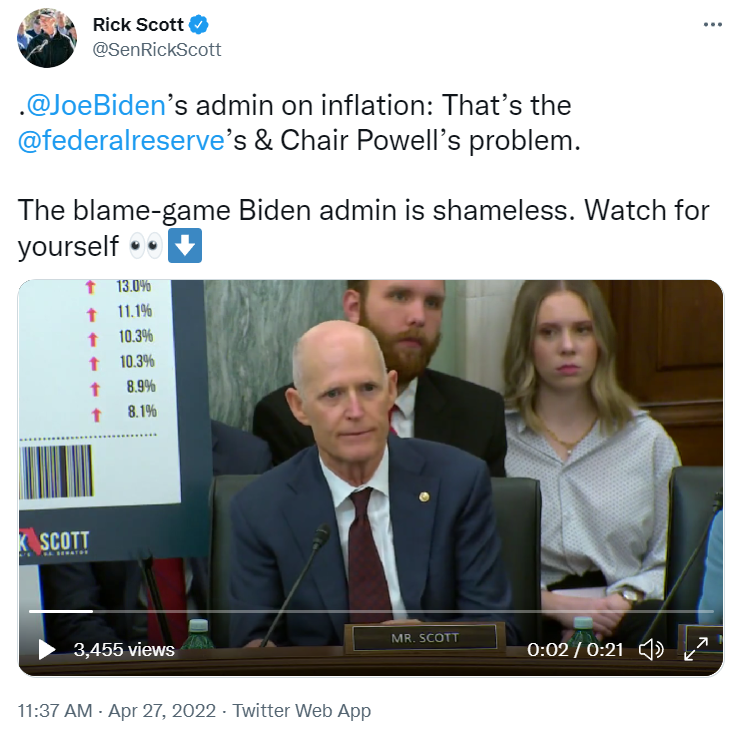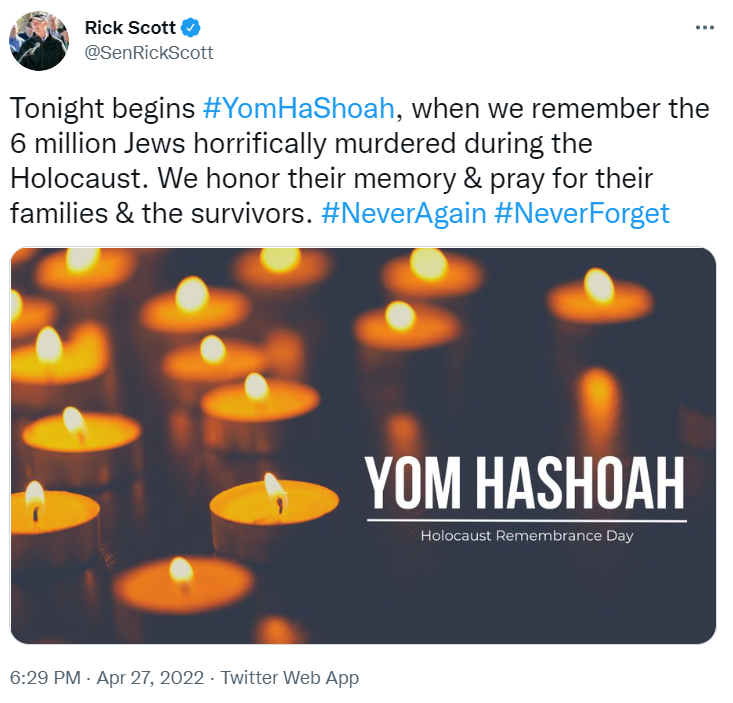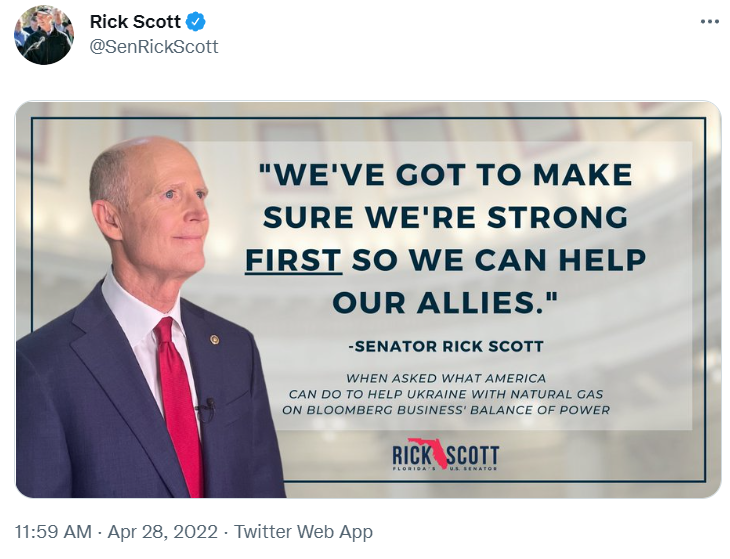 TALLAHASSEE
111 N. Adams Street, Suite 208
Tallahassee, FL 32301
Phone: (850) 942-8415
WEST PALM BEACH 
415 Clematis Street, Suite 201
West Palm Beach, FL 33401
Phone: (561) 514-0189
TAMPA
801 North Florida Avenue, Suite 421
Tampa, FL 33602
Phone: (813) 225-7040
KISSIMMEE 
1 Courthouse Square, Suite 300
Kissimmee, FL 34741
Phone: (407) 586-7879
PENSACOLA 
221 Palafox Place, Suite 420
Pensacola, FL 32502
Phone: (850) 760-5151
MIAMI 
901 Ponce de Leon Blvd., Suite 505
Miami, FL 33134
Phone: (786) 501-7141
NAPLES
3299 Tamiami Trail East, #106 
Naples, FL 34112
Phone: (239) 231-7890
JACKSONVILLE
400 West Bay Street, Suite 289
Jacksonville, FL 32202
Phone: (904) 479-7227
ORLANDO
225 East Robinson Street, Suite 410
Orlando, FL 32801 
Phone: (407) 872-7161
 
WASHINGTON, D.C.
716 Hart Senate Office Building
Washington, D.C. 20510
Phone: (202) 224-5274
 
 
Fax: (202) 228-4535