US Senator Rick Scott's Week in Review 03/25/2022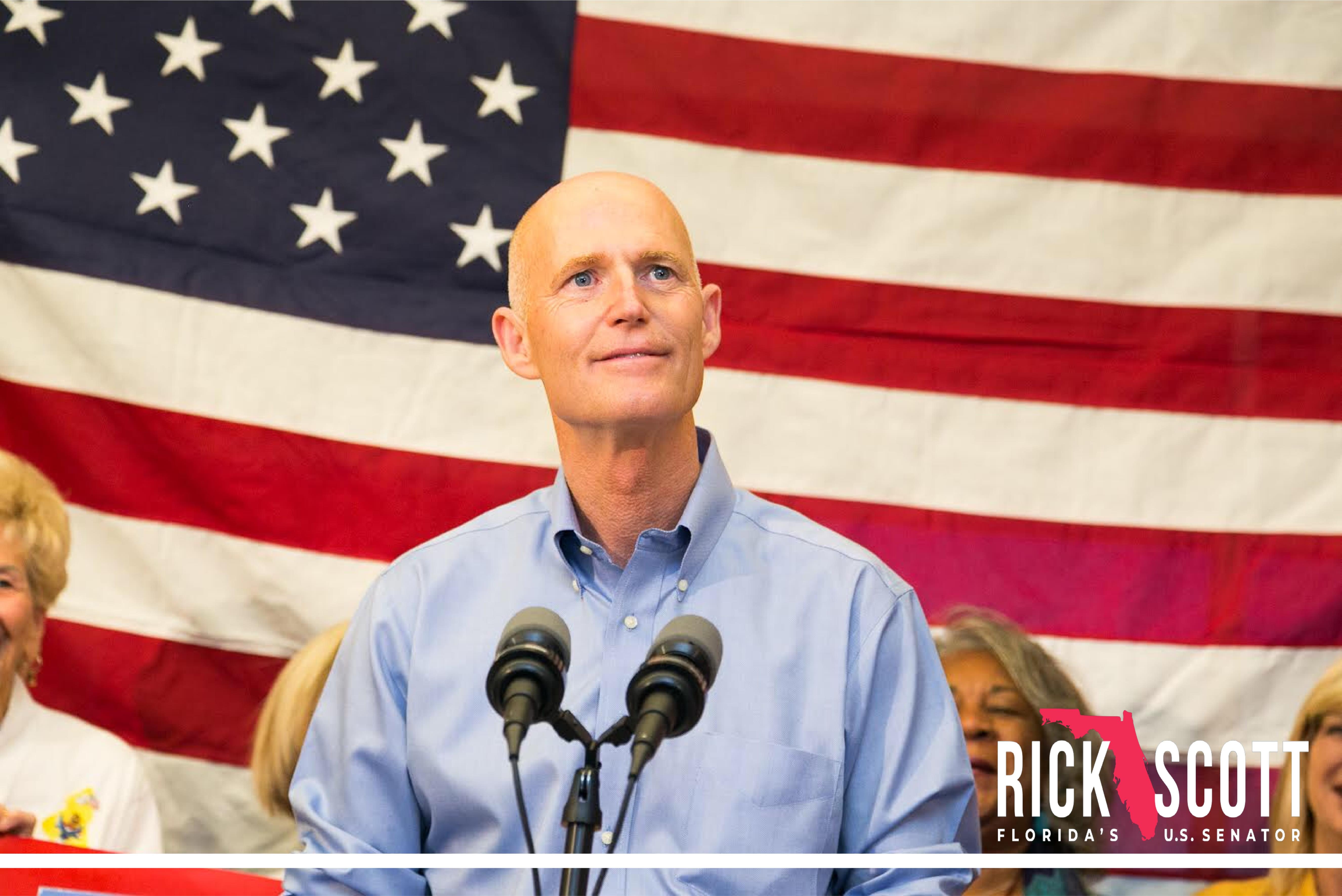 This week, as Joe Biden's border crisis rages and thousands continue to illegally enter the United States every day, Senator Rick Scott led 13 of his Republican colleagues in a letter to Department of Homeland Security (DHS) Secretary Alejandro Mayorkas demanding information on the department's plans to secure the border once the Biden administration rescinds Title 42.
The Biden administration is reportedly planning to rescind Title 42, the rule which allows U.S. Customs and Border Protection (CBP) to prohibit entry into the United States to those who pose health risks such, as COVID-19. The reversal of this rule is expected to cause another overwhelming surge of illegal crossings at the southern border and exacerbate the already massive humanitarian and national security crisis on the U.S.-Mexico border.
Senators John Thune, James Risch, Michael Rounds, John Hoeven, Mike Braun, Mike Crapo, Ted Cruz, Dan Sullivan, Ron Johnson, Tommy Tuberville, John Boozman, Steve Daines and Josh Hawley joined Senator Scott on the letter. Read the full letter HERE.
—
See more of what Senator Scott has been up to this week below.
Sen. Rick Scott to Secretary Mayorkas & Commissioner Magnus: As Fentanyl Crisis Plagues American Families, DHS Must Update 22-Year-Old Drug Interdiction Guidance
As America faces a growing opioid crisis that took nearly 100,000 lives in 2021 alone, Senator Rick Scott sent a letter to Secretary of Homeland Security (DHS) Alejandro Mayorkas and Commissioner of U.S. Customs and Border Protection (CBP) Chris Magnus urging them to update DHS's Narcotics Interdiction Guide Handbook. The Narcotics Interdiction Guide Handbook has not been updated since August of 1999, predating the creation of DHS and CBP. Read more HERE.
—
Sen. Rick Scott: "COMPETES" Bill is $250 BILLION Failure
Senator Rick Scott released the following statement ahead of the Senate's vote to take up the 2,900 page, $250 BILLION COMPETES Act. Last year, Senator Scott and his colleagues fought hard to amend an earlier version of this bad bill to actually pay for the more than $200 BILLION in spending it authorized. Although America is drowning in $30 TRILLION of debt, Senate Democrats blocked these amendments. Senator Scott has introduced multiple bills that counter Communist China's aggression and protect Americans, and offered several of these bills as amendments to the predecessor of the COMPETES Act when it was under consideration in the Senate last year.

Senator Rick Scott said, "The COMPETES Act is a terrible, $250 BILLION bill and I will fight it with every tool at my disposal in the U.S. Senate. Communist China is committing genocide against the Uyghurs, regularly steals U.S. technology and intellectual property (IP), lies and cheats to manipulate markets and has crushed democracy in Hong Kong. The vast majority of the provisions in the COMPETES Act do not do anything to fix these problems and spends BILLIONS we don't have on Green New Deal policies, like the UN Green Climate Fund, and wild handouts to universities partnering with Communist China and tech companies making record profits.

"I have been clear that aggressively combatting the threats posed by Communist China and decoupling our nation from General Secretary Xi's evil regime is critical to protecting the future security and prosperity of America, and we can do that without spending billions of American's tax dollars. If Congress would only take up legislation to actually put Americans first and protect families and businesses by eliminating America's dependence on Communist China and holding it accountable for its crimes, I'll be the first to vote yes. That's not what this bill does and I won't support even more inflation-fueling, reckless spending that will sink America deeper in debt." Read more HERE.
—
Sen. Rick Scott Joins Sen. Rubio in Leading Letter Urging DOJ to Take Immediate Action to Counter CCP Espionage
Senator Rick Scott joined Senator Marco Rubio and colleagues in sending a letter to U.S. Attorney General Merrick Garland urging the Department of Justice (DOJ) to formally recognize and reprioritize the threat posed by the Chinese Communist Party (CCP) to the national security of the United States. The letter follows the DOJ's misguided and dangerous decision to terminate the China Initiative, a national security program established in 2018 to defend against CCP espionage occurring across the nation, but especially at our leading research universities and government agencies. Read more from Senator Rubio's office HERE.
—
Sen. Rick Scott, GOP Armed Services Committee Members Press Biden to Boost Defense Budget by 5% Above Inflation
Senator Rick Scott joined 39 fellow Republican members of the Senate and House Armed Services Committees in urging President Biden to include a 5% increase above inflation for the defense spending in his fiscal year 2023 budget request.
In the letter, Senator Scott and his colleagues encouraged the president to reject progressives' push to cut or freeze defense spending, to target investments in programs that will "modernize the force and fill ongoing readiness gaps," and to ensure that rate of growth outpaces current record levels of inflation. Read more from the House Armed Services Committee HERE.
—
Sen. Rick Scott Joins Sen. Rubio and Colleagues in Filing Amicus Brief Supporting Workers Denied Religious Exemptions from COVID Vaccine Mandates
Senator Rick Scott joined Senator Rubio and colleagues in announcing the filing of an amicus brief supporting the petition for certiorari in Dr. A. v. Hochul filed by The Becket Fund for Religious Liberty and the Thomas More Society. Dr. A. v. Hochul is a First Amendment case over New York's failure to permit religious exemptions to its COVID-19 vaccine mandate for state and private healthcare employees. Healthcare employees with religious objections to COVID-19 vaccines sued to prevent loss of employment and unemployment benefits, noting comments by the Governor of New York that those with religious objections to the vaccine "aren't listening to God and what God wants." Read more from Senator Rubio's office HERE.
—
Sen. Rick Scott: Florida is Safer Thanks to Rick Swearingen
Senator Rick Scott issued the following statement applauding Florida Department of Law Enforcement Commissioner Rick Swearingen's years of public service and hard work to keep Florida families safe.
Senator Rick Scott said, "Florida is a safer state thanks to the hard work, leadership and dedication to public safety that Rick Swearingen has shown throughout his career. When I was elected as Governor in 2010, I had the privilege of having Rick lead the security team tasked with watching over my family and saw firsthand his unwavering commitment to detail and safety. It was my honor to appoint Rick as director of the Capitol Police and then commissioner of the Florida Department of Law Enforcement. At FDLE, Rick led Florida's state law enforcement response to the horrific tragedies at Pulse in Orlando and Marjory Stoneman Douglas High School in Parkland, as well as to hurricanes and other emergencies. In each of these unimaginably difficult assignments, he served our state with the utmost professionalism. Thanks to our hard work, and Rick's leadership at FDLE, Florida's crime rate has continued fall and reached record lows. I cannot thank Rick enough for his service to my family and the people of Florida. We wish him the very best in this next chapter of his life." Read more HERE.
—
Sen. Rick Scott Outlines Priorities in Letter to FDA Commissioner Califf
Senator Rick Scott sent a letter to U.S. Food and Drug Administration Commissioner Robert Califf outlining his priorities for the agency. In his letter, Senator Scott urges Commissioner Califf to address the opioid crisis as it continues to plague American families and cause tremendous loss of life, and increase the availability of COVID-19 therapeutics and end federal rationing of these drugs. Furthermore, he emphasized the importance of filling the current senior-level vacancies to assist in overcoming these crises our country is facing. Read more HERE.
—
Sen. Rick Scott Issues Weekly Update on Biden's Inflation Crisis
Today, Senator Rick Scott released a weekly update on his actions to address America's debt crisis and rising inflation as the federal debt continues to skyrocket over $30 trillion. Following a report that President Joe Biden will submit another weak defense spending proposal that does not keep up with his skyrocketing inflation crisis, Senator Rick Scott released the following statement:
Senator Rick Scott said, "As Russia wages war on Ukraine and threatens the West, North Korea is launching ballistic missiles and Communist China plans an invasion against Taiwan, President Biden is choosing weakness over strength. At a time when the United States should be bolstering our defense spending, Joe Biden's latest pathetic spending request does not keep up with the inflation crisis he has caused — effectively cutting defense spending and leaving our country in a vulnerable position. Biden's raging inflation crisis is hurting America in every way possible and with threats around the world growing every day, we cannot afford more weakness." Read more HERE.
Sen. Rick Scott in South Florida Sun Sentinel: Why has Joe Biden turned his back on Latin America?
In the South Florida Sun Sentinel, Senator Rick Scott wrote an op-ed expressing his disappointment with President Biden's lack of support for freedom and democracy movements across Latin America. Senator Scott is urging President Biden to take immediate action to support the people of Venezuela, Cuba, Nicaragua and combat dangerous foreign influence from Communist China, Russia and Iran in our hemisphere.
In the op-ed, Senator Rick Scott wrote, "President Joe Biden has completely abandoned Latin America.
That statement may shock some, but how else do you explain his complete silence on threats to our democratic partners in this critical region during his State of the Union? More than 7,700 words in an hour-long address, but none was about the importance of freedom in Latin America.
…
Florida is blessed to be the United States' gateway to Latin America. Our partnerships across the region produce significant trade and job creation. Latin American cultures and traditions enrich our communities and help bind us together.
Unfortunately, socialist dictators, supported by the poisonous communist leadership of the illegitimate regime in Cuba, put all of this at risk.
…
These atrocities are happening in our hemisphere, yet Biden has barely done anything to hold these tyrannical communist regimes accountable.
Biden could use the full weight of the United States to support movements for freedom in these countries, but he hasn't given the region any serious attention outside of begging Maduro's regime for more oil while demoralizing the pro-democracy movement of Venezuela.
…
Why should the United States care about these countries? The atrocities occurring there aren't happening in a vacuum. Socialist and communist regimes in Cuba, Venezuela and Nicaragua fuel instability, violence and corruption throughout the region, threatening our southern border and our economy. Dictatorships directly influence the flow of illegal immigrants and drugs across our border.
…
That's why Biden's do-nothing approach is so dangerous and irresponsible, and his silence on freedom for Latin America has been so deafening.
…
Want to quickly understand just how wrong this path toward socialism is for America? Visit with families in South Florida from Venezuela, Cuba and Nicaragua. They've seen socialism and communism firsthand.
…
Americans expect the United States to be an unapologetic promoter of democracy and freedom.
…
Freedom in Latin America is critical to the preservation of freedom in the western hemisphere. Joe Biden may have abandoned this cause, but we will never stop fighting."
Read the full op-ed in South Florida Sun Sentinel HERE.
—
El Senador Rick Scott en South Florida Sun Sentinel: ¿Por qué Joe Biden le ha dado la espalda a América Latina?
El Senador Rick Scott escribió un artículo de opinión ayer en el South Florida Sun Sentinel, expresando su decepción por la falta de apoyo del Presidente Biden a los movimientos por la libertad y la democracia en América Latina. El Senador Scott insta al Presidente Biden a tomar medidas inmediatas para apoyar a los pueblos de Venezuela, Cuba, Nicaragua y combatir la peligrosa influencia extranjera de la China comunista, Rusia e Irán en nuestro hemisferio.
En el artículo de opinión, el Senador Rick Scott escribió: "El Presidente Joe Biden ha abandonado por completo a América Latina.
Esa declaración puede sorprender a algunos, pero ¿de qué otra manera explica su completo silencio sobre las amenazas a nuestros aliados democráticos en la región durante su discurso en el Estado de la Unión? Más de 7.700 palabras en un discurso de una hora a la nación, pero ninguna sobre la importancia de la libertad en América Latina.
…
Florida tiene la suerte de ser la puerta de entrada de los Estados Unidos a América Latina. Nuestras asociaciones en toda la región no solo producen una importante extensión de comercio y empleo, sino que nuestras relaciones con las culturas y tradiciones latinoamericanas han enriquecido a nuestras comunidades y han creado una fusión cultural que nos une.
…
Desafortunadamente, los dictadores socialistas, apoyados por la venenosa dirección comunista del régimen ilegítimo en Cuba, ponen en riesgo todo esto.
…
Estos abusos y atrocidades están ocurriendo en nuestro hemisferio, pero el presidente Biden no ha hecho nada para responsabilizar a estos regímenes comunistas tiránicos.
…
El Presidente Biden podría usar todo el peso de los Estados Unidos para apoyar los movimientos democráticos por la libertad en estos países, pero ha decidido no prestar atención seria a la región, más allá de rogar al régimen de Maduro por más petróleo, mientras desmoraliza al movimiento pro-democracia de Venezuela.
…
Algunos pueden preguntarse por qué Estados Unidos debería preocuparse por lo que está sucediendo en estos países. He aquí el porqué: las atrocidades que ocurren en estas naciones no están sucediendo en el vacío. Los regímenes socialistas y comunistas en Cuba, Venezuela y Nicaragua alimentan la inestabilidad, la violencia y la corrupción en toda la región que amenaza la seguridad en nuestra frontera sur y daña nuestra propia economía. Sus dictaduras influyen directamente en el flujo de inmigrantes ilegales y drogas a través de nuestra frontera.
…
Es por eso que el enfoque de no hacer nada del presidente Biden es tan peligroso e irresponsable, y su silencio sobre la necesidad de libertad en América Latina ha sido tan ensordecedor.
…
¿Quiere comprender rápidamente cuán equivocado es este camino hacia el socialismo para Estados Unidos? Visite a las familias en el sur de la Florida, que han venido de Venezuela, Cuba y Nicaragua. Ellos han visto el socialismo y el comunismo de primera mano.
…
Lo que esperan los estadounidenses es que Estados Unidos sea un promotor incondicional de la democracia y la libertad
…
La libertad en América Latina es crítica para la preservación de la libertad en el hemisferio occidental. Puede que Joe Biden haya abandonado esta causa, pero nunca dejaremos de luchar".
—
Florida Politics: Rick Scott's 'STOP PUTIN' Act eyes crackdown on Russian oil companies
Senator Rick Scott introduced the Stop Top Oil Producers and Protect Ukraine from Tyrannical Invasions Now (STOP PUTIN) Act, to require the federal government to review top Russian oil companies, including Rosneft, Surgutneftegas, Lukoil, Gazprom and others, every 90 days to determine if they should added or removed from the United States' Entity List, and mandate an act of Congress to remove any such company from the list. The Entity List is a tool used by the federal government to restrict the export, re-export, and transfer of items to individuals, organizations and companies reasonably believed to be involved, or to pose a significant risk of becoming involved in activities contrary to the national security or foreign policy interests of the United States.
Read more in the Florida Politics article, Rick Scott's 'STOP PUTIN' Act eyes crackdown on Russian oil companies, below:
"U.S. Sen. Rick Scott continues to campaign against Russian aggression in Ukraine, promoting the introduction of legislation that would compel a closer look at Russia's oil companies.
Scott has filed the 'STOP PUTIN' Act. The measure would require a review of the biggest Russian oil companies, including Gazprom, Lukoil, Rosneft, and Surgutneftegas every 90 days to ascertain if they should be on the banned entity list for posing threats to American national security. If these companies were added to the list, only an act of Congress could remove them.
…
"'We MUST make completely clear to Russian oil companies that the U.S. stands for freedom; and they will be completely black listed and stay that way until it is proven to Congress they deserve to do business in our freedom-loving nation,' Scott added. 'That's exactly what my Stop Top Oil Producers and Protect Ukraine from Tyrannical Invasions Now (STOP PUTIN) Act does. We need to revitalize American energy production NOW. We should NOT be turning to murderous regimes like Venezuela, Iran and Communist China to fill Russia's place.'"
Read the full article in Florida Politics HERE.
—
The Hill: GOP pressures DHS over Title 42 withdrawal
National Legal and Policy Center: Senator Urges Companies to Decouple from China Before Taiwan Invasion
The Epoch Times: 'Read the Bill' Petition Calls on Congress to Wait 72 Hours Before Adopting Spending Bills
The Daily Mail: Republican senators eye sweeping probes into Joe Biden's family, Dr. Fauci and the southern border: Top lawmaker blasts 'lack of transparency' and promises inquiry into Hunter should the GOP take back majority
Forbes: Rick Scott Raises Concerns About China's Ambition To Build Military Bases In Africa
Florida Daily: Rick Scott to DHS, Customs and Border Protection to Update Drug Interdiction Guidance for Opioid Crisis
Florida Daily: Marco Rubio, Rick Scott Back Religious Objections to Vaccine Mandates in SCOTUS Case
Florida Daily: Rick Scott, Lindsey Graham Want Biden to Transfer Aircraft and Defense Systems to Ukraine
Florida Daily: Taking Aim at Russian Oil Companies, Rick Scott Introduces the STOP PUTIN Act
Florida Daily: Rick Scott, Scott Franklin, Michael Waltz Call for 5 Percent Increase in Defense Spending
Sen. Rick Scott Visits Lipman Family Farms
This week, Senator Rick Scott visited and met with hardworking growers at Lipman Family Farms in Immokalee, Florida to hear continue about their work to feed our communities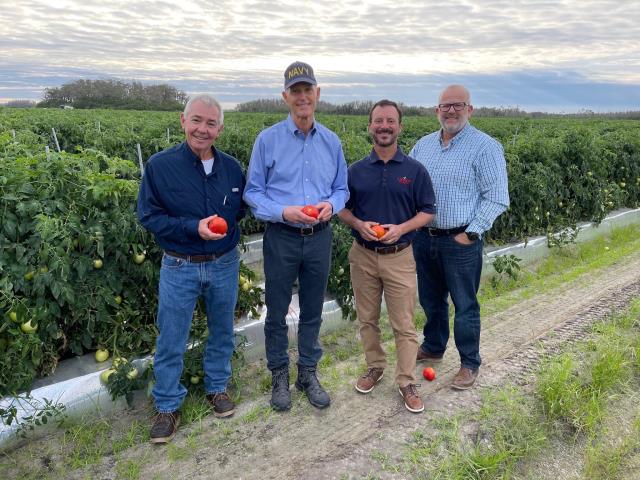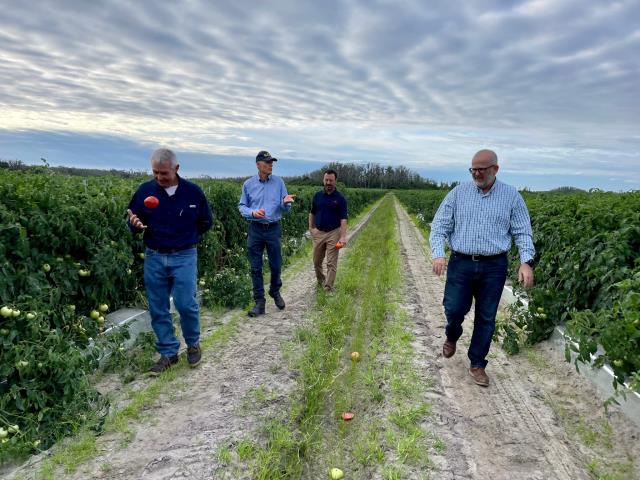 —
Sen. Rick Scott Celebrates 200th Birthday of Key West
This week, Senator Rick Scott visited Key West where he met with local officials and Florida families to celebrate the city's 200th anniversary.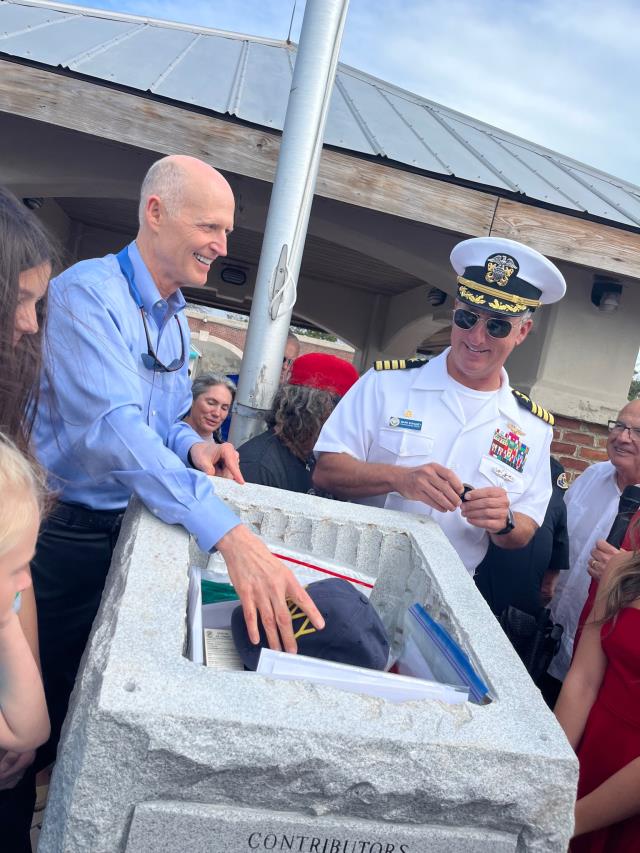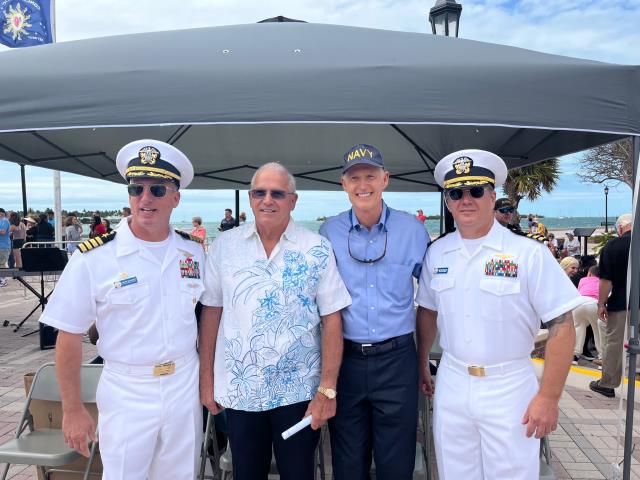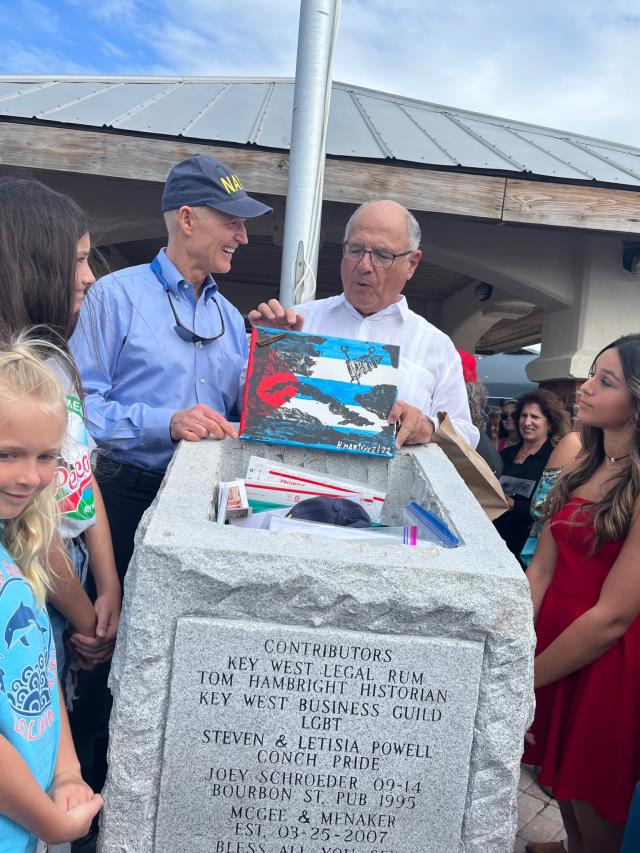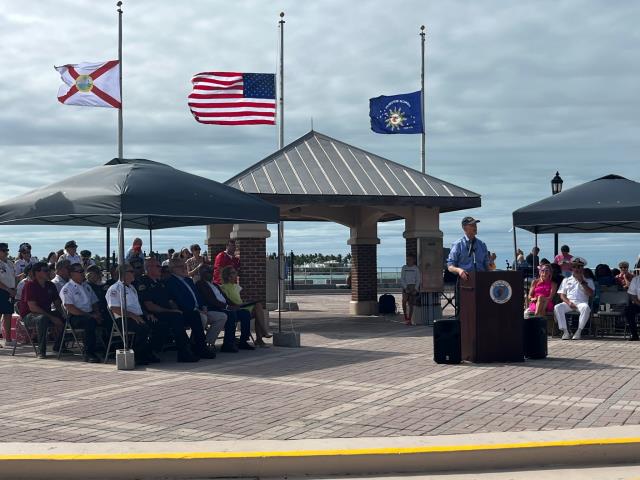 —
Sen. Rick Scott's Office Hosts Mobile Office Hours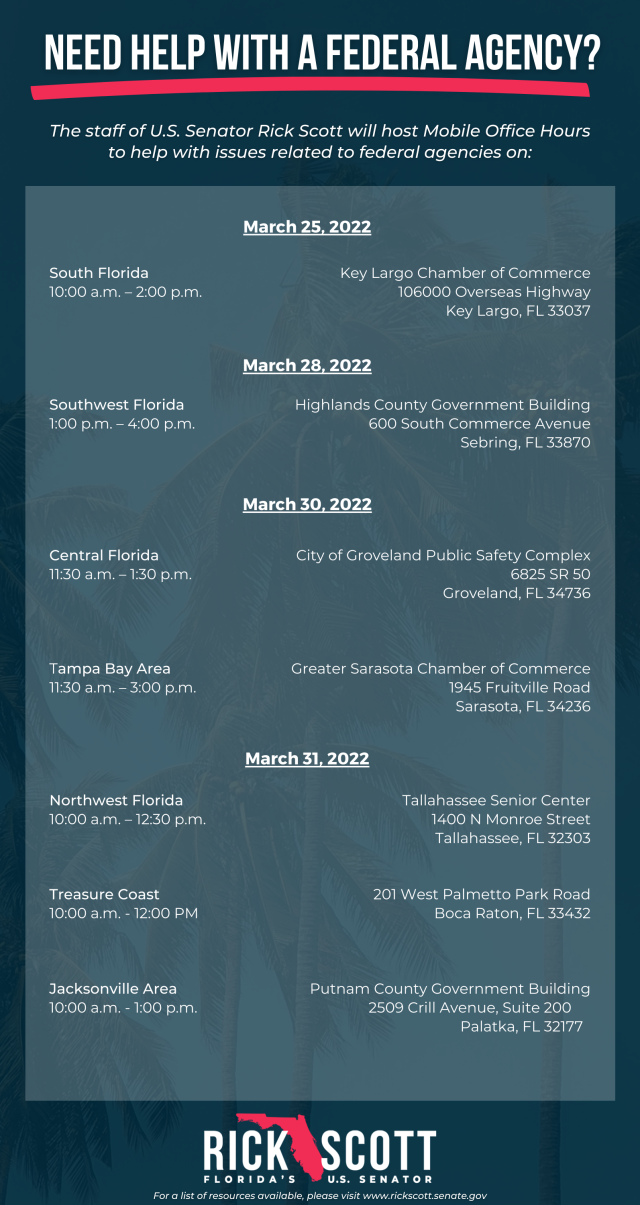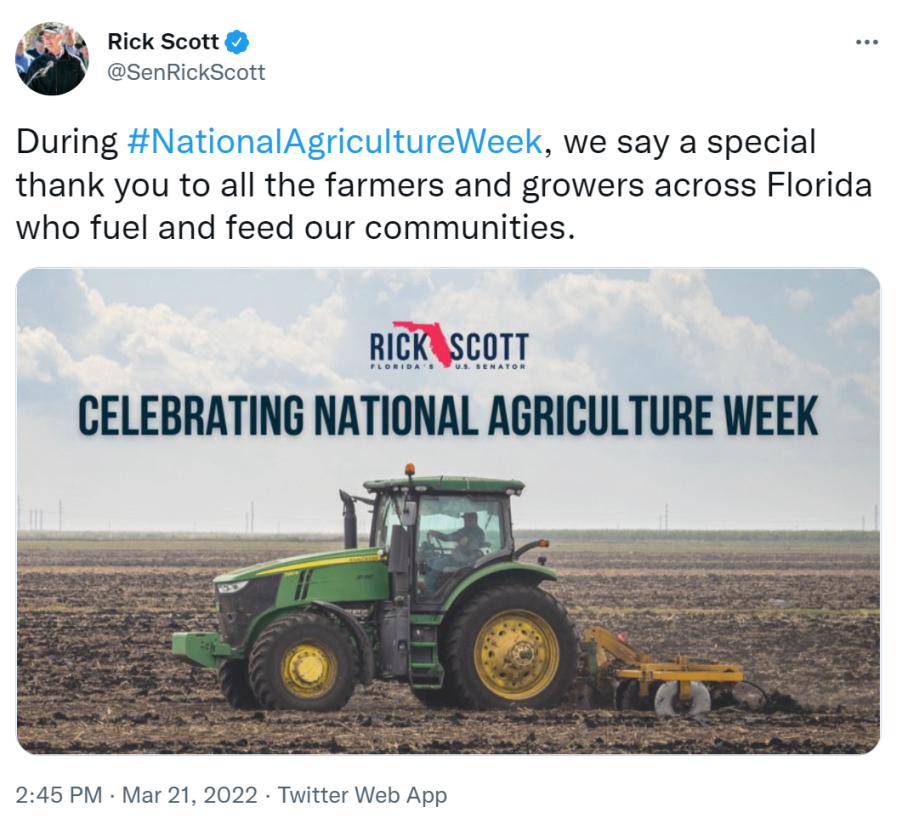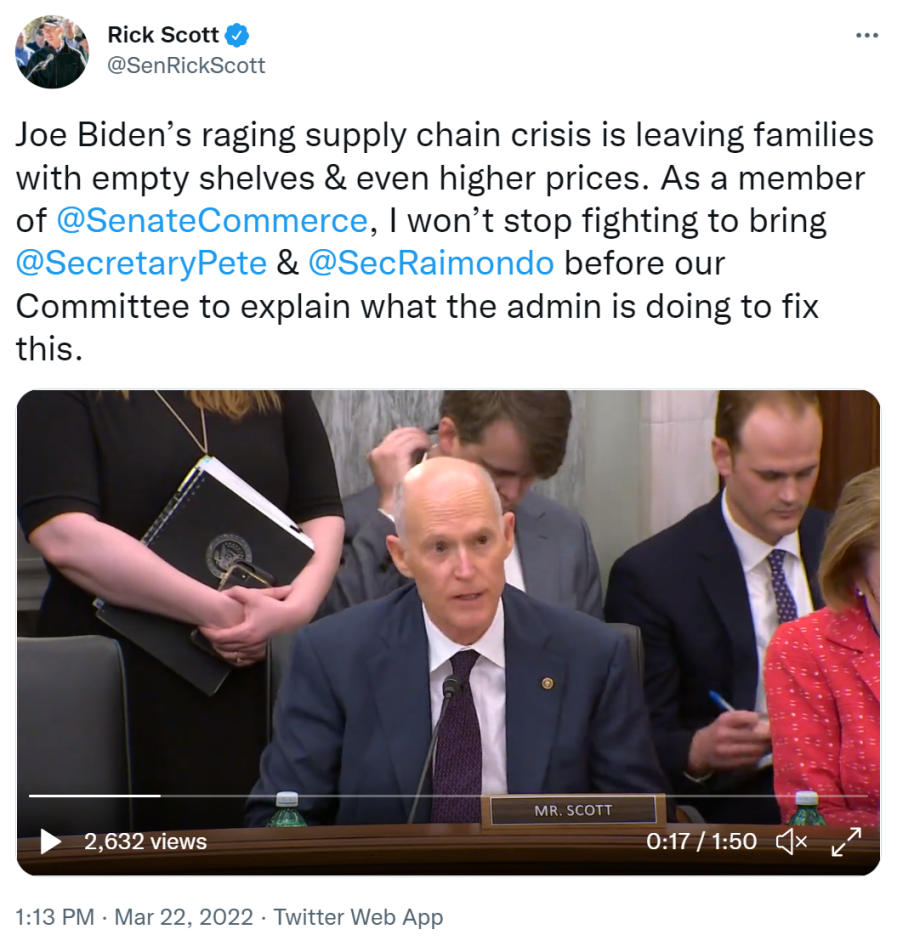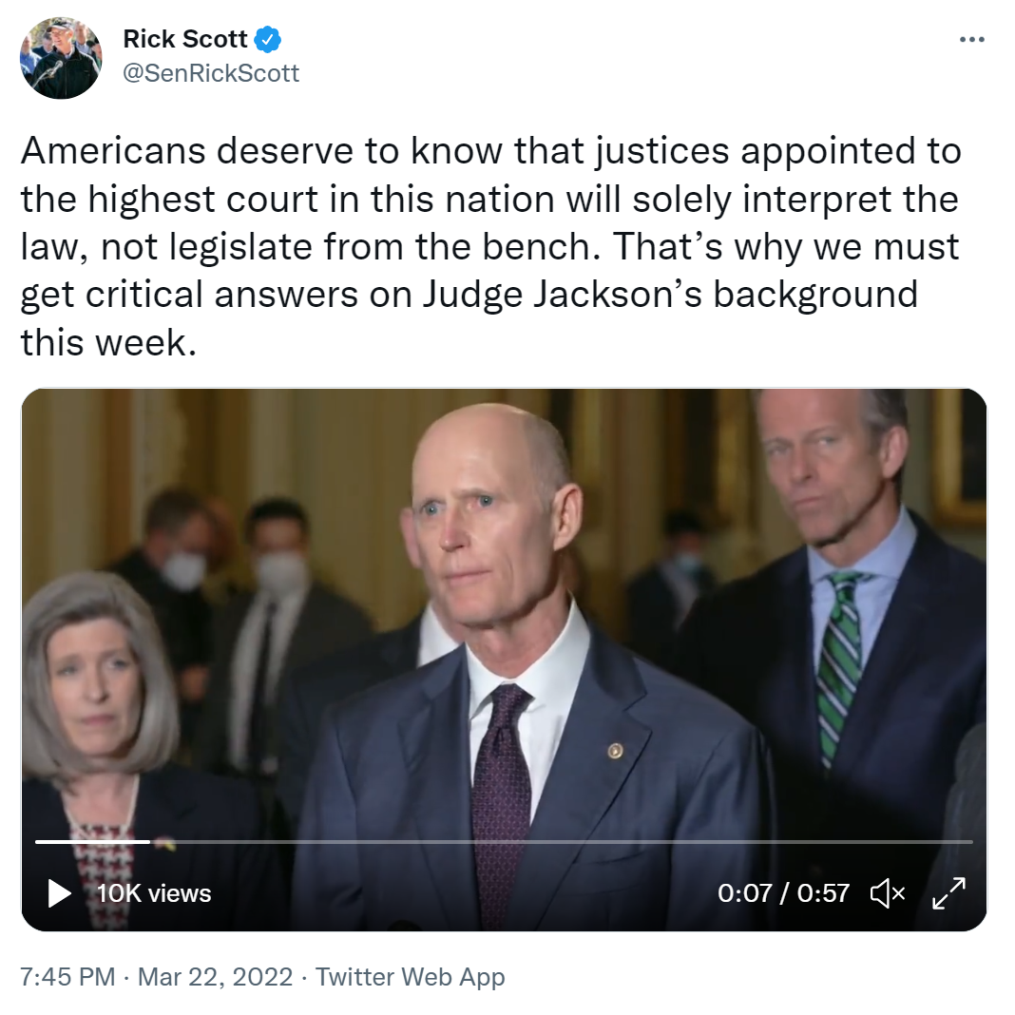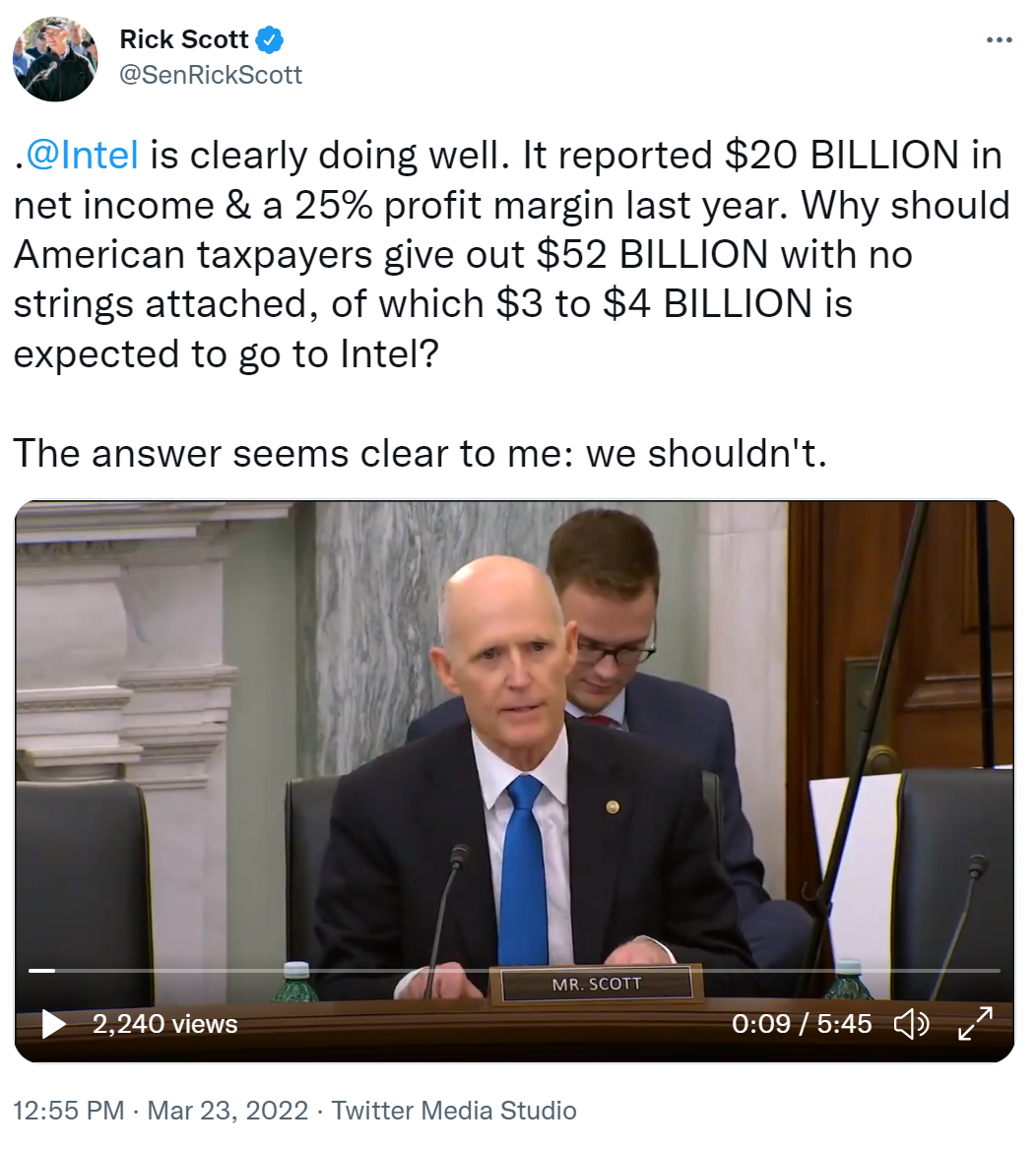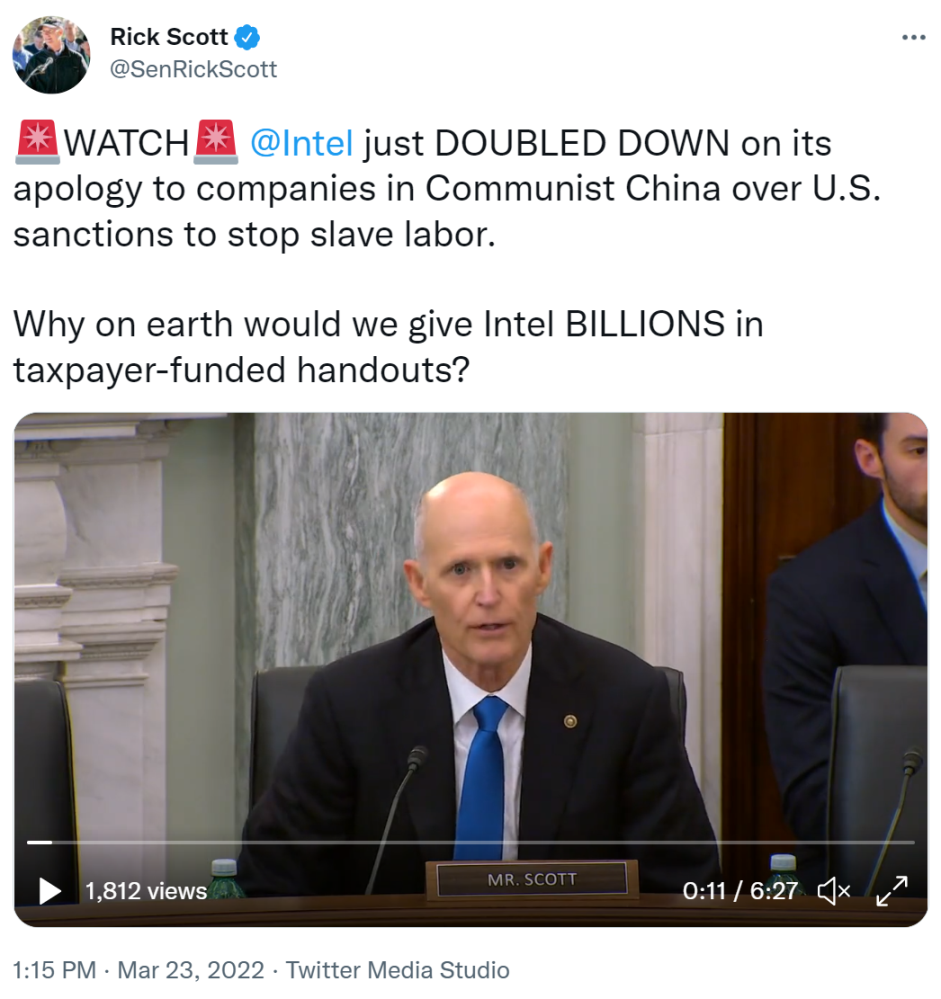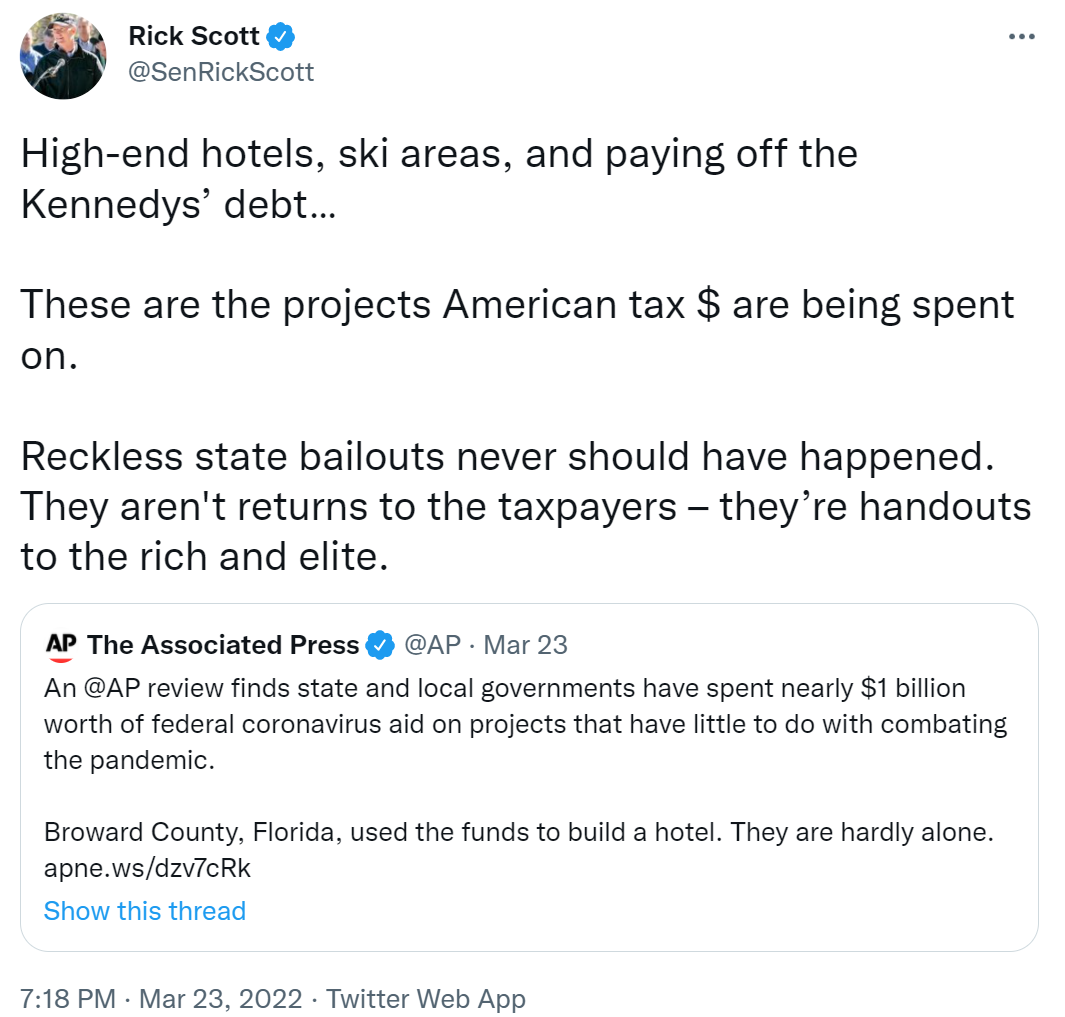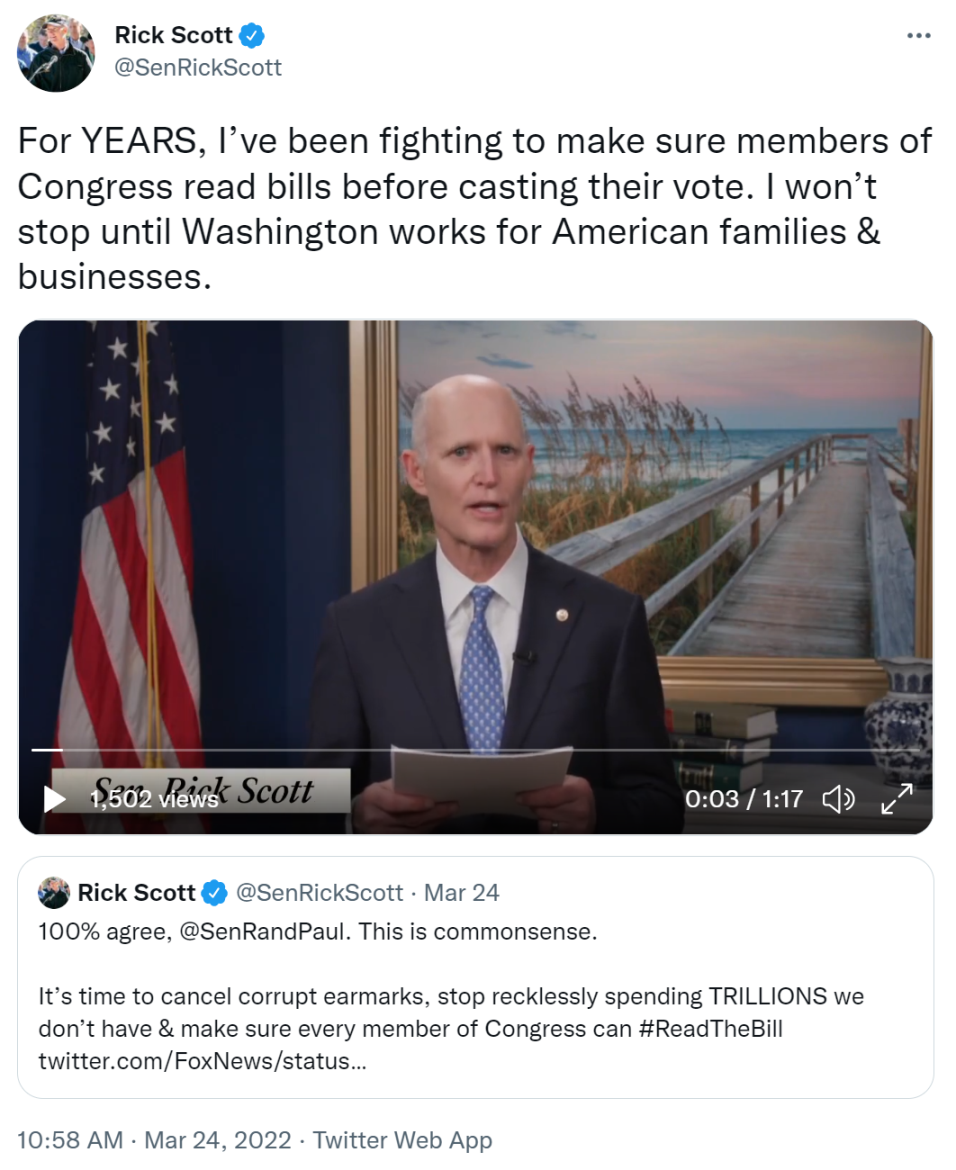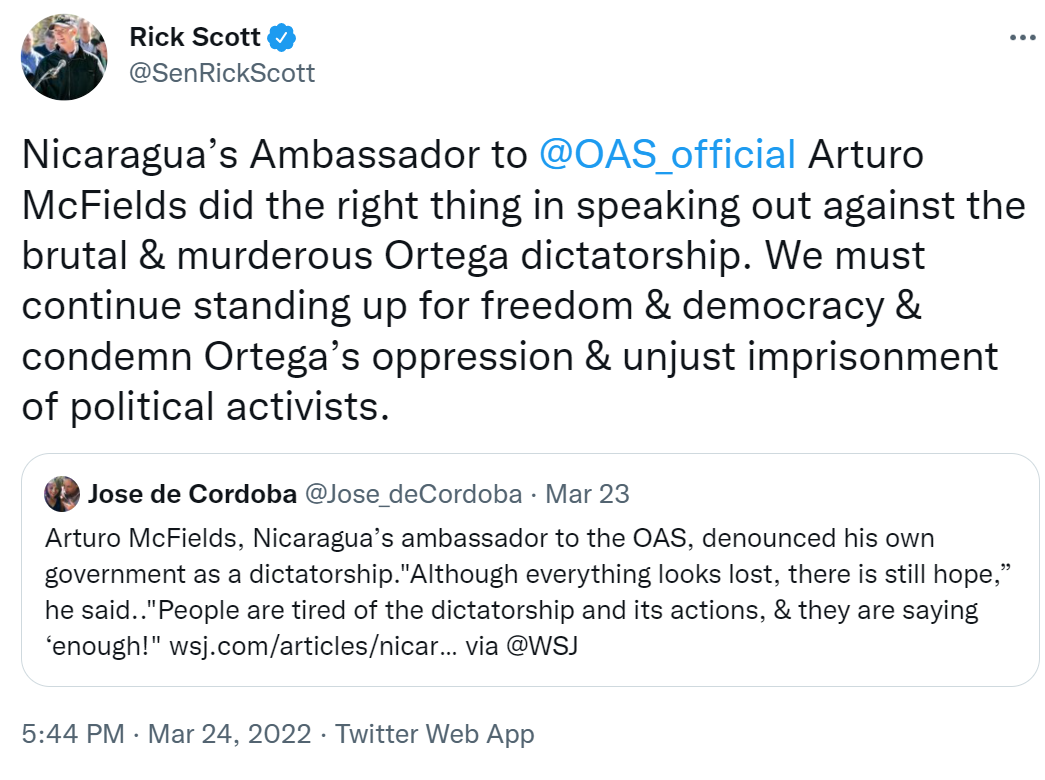 TALLAHASSEE
111 N. Adams Street, Suite 208
Tallahassee, FL 32301
Phone: (850) 942-8415
WEST PALM BEACH 
415 Clematis Street, Suite 201
West Palm Beach, FL 33401
Phone: (561) 514-0189
TAMPA
801 North Florida Avenue, Suite 421
Tampa, FL 33602
Phone: (813) 225-7040
KISSIMMEE 
1 Courthouse Square, Suite 300
Kissimmee, FL 34741
Phone: (407) 586-7879
PENSACOLA 
221 Palafox Place, Suite 420
Pensacola, FL 32502
Phone: (850) 760-5151
MIAMI 
901 Ponce de Leon Blvd., Suite 505
Miami, FL 33134
Phone: (786) 501-7141
NAPLES
3299 Tamiami Trail East, #106 
Naples, FL 34112
Phone: (239) 231-7890
JACKSONVILLE
400 West Bay Street, Suite 289
Jacksonville, FL 32202
Phone: (904) 479-7227
ORLANDO
225 East Robinson Street, Suite 410
Orlando, FL 32801 
Phone: (407) 872-7161
 
WASHINGTON, D.C.
716 Hart Senate Office Building
Washington, D.C. 20510
Phone: (202) 224-5274
 
 
Fax: (202) 228-4535